IT was like running back in time.
With stately colonial homes set on the coast and the mountains as the backdrop, the 2nd Bataan International Triathlon (Bi3) is well on its way of becoming one of Asia's most unique triathlon events.
As expected, three-time Ironman world champion Mirinda 'Rinny' Carfrae topped her division with a time of three hours, fifteen minutes and 36 seconds. Her nearest competitor, Aira Sawada of Japan crossed the finish line 17 minutes later while Katja Rabe of Germany (3:38:41) completed the podium finish.
In the men's overall category, Deo Timbol of Batang Tri clocked in the fastest overall time with 3:09:38, followed by August Benedicto (3:11:17), with third place going to Jet Ramos (3:20:30).
Staged last Nov.28-29 at the Las Casas de Acuzar, a seaside resort modeled after Spanish era township that features restored colonial houses that were from different parts of the Philippines.
The second edition of the annual end-of-season race had two categories: the Largo is composed of a 1.5 kilometer swim leg, a 55 km bike, and an 11 km run, while the Rapido is more of a sprint distance with a 750 meter swim-30 km bike-5.5 km run course.
Participants compete in solo and relay in both categories.
Indonesia's Andy Wibowo ruled the Rapido men's division with a time of 1:44:04. Second went to tri coach Matt O'Halloran (1:46:51), while Xy James Dacayanan took third with a time of 1:57:01.
Grace Laurenciana topped the distaff side with a time of 2:16:56 followed by Noelle de Guzman (2:25:08), and Kimbery Li (2:27:20).
Age group and relay competitors comprised the majority of 650 participants with notables including senator Pia Cayetano and actor Onemig Bondoc.
Carfrae said she wasn't sure what to expect when she was invited to race in the country for the first time.
"It's been such a wonderful experience. Great people. Great food. And they looked after me very well and the race itself was fantastic," Carfrae told SPIN.ph after the race.
She described Bi3 as "more about fun rather competing" and added the event will soon be one of "the bucket list" races people will add to their season and schedules, adding at some point she would like to come back and bring her husband to race, too.
The 34-year old Carfrae, a basketball point guard for 11 years before switching to triathlon, said she was "really impressed" how the Philippines has taken to triathlon "in a big way" while describing Filipinos as "a tough people."
As an indicator of triathlon's popularity, the former Ironman champ spent more than 30 minutes signing autographs to fans.
Raymund Magdaluyo said more in the event which he said is "tailor made" for Las Casas as "Asia's Top Heritage Triathlon."
"It's a magical venue and it's expanding more, they're building more clusters. The hills of the coastal town of Bagac are 'mystical.' The whole point is each country deserves an international race that promotes the local culture. That's the role of Bi3 (for the Philippines)," Magdaluyo told SPIN.ph.
He said the mid-to late-November timing of the Bi3 is good considering the race calendar allows preparation for athletes planning to race in the first quarter of the next year.
Bi3 allows athletes the time to rest and enjoy Christmas and at the same time they don't plateau too much and too long. The Rapido is an entry level event that is perfect for newbie triathlete while Largo's half Ironman distance will cater to more experienced triathletes.
The course was designed by race director Thumbie Remigio who said they make it a point to integrate the uniqueness of Las Casas and the beauty of the quaint sitios of coastal Bagac with the difficulty and challenge of an international triathlon.
"In other races, they would just come to a place and that's it. The beauty with Bi3 is Bagac siya talaga, the people here are involved and they can call this race their own," he pointed out.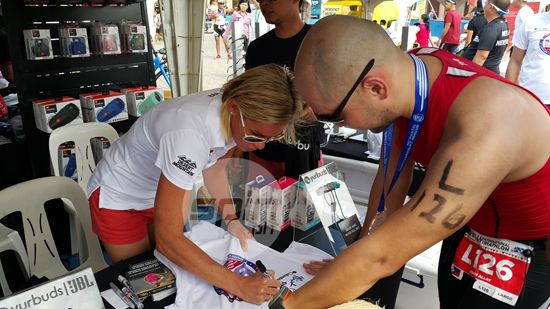 Recommended Videos