Now, you may not think of an obstacle course as fun or exciting. To be honest, it may sound excruciatingly boring. But there will be some PRETTY HUGE changes to the tired old obstacle course, and that's all thanks to Pretty Huge Obstacles (PHO).
Touted as Asia's largest indoor obstacle course training facility, PHO has a huge number of obstacles configurable into over 100 flexible combinations. It includes both an Adult and Kid Obstacle Zones, a 100-meter elevated indoor race track, functional and obstacle training classes, 5-star level changing rooms, and a health food lounge. Among the obstacles inside are quintuple angles steps, monkey bars, 5-foot wall, balance beam, small wheels, 9-foot wall, island hops, gymnast rings, weaver, cliffhanger, Tarzan swing, and the famous warped wall—all designed to push one's limits. Reminds you of American Ninja Warrior doesn't it?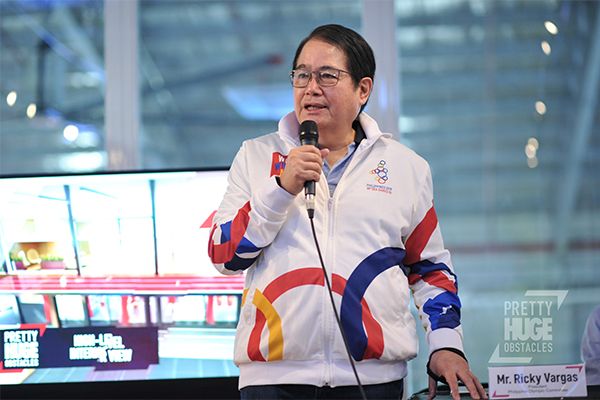 Continue reading below ↓
Recommended Videos
Ambassador of Pretty Huge Obstacles Noel Agra described obstacle course racing as a functional sport that involves various types of movements to fully utilize every joint and muscle in the body for a more active and fun fitness routine.
That's why the PHO will be the training base of the Philippine Obstacle Team as they prepare for the sport's debut in the Southeast Asian Games. With the competition taking place in the country from November 30 to December 11 this year, the squad will have a lot of time to develop a strategy and snatch the six gold medals. Furthermore, at least eight of the 20-man pool will be taking a trip to Colorado to train there.
The members of the national training pool are Jeffrey Reginio, Manolito Divina, Nathaniel Sanchez, Vernier John Miranda, Sarah Jane Lim, Chrystalle Joan Omaga, Kaizen dela Cerna, Juvelle Pua, Alex Gabriel Rosario, Mervin Rencel Santiago, Racky Madorable, Kyle Redentor Antolin, Glorien Merisco, Anne Kathleen Santos, Rochelle Suarez, Klymille Keilah Rodriguez, Jose Mari de Castro Jr., Mark Julius Rodelas, Ali Zandra Chongbian, and Milky Mae Tejares.
"They will train with the top OCR (Obstacle Course Racing) racers in the world for two weeks," said Atty. Al Agra, president of Pilipinas Obstacle Sports Federation (POSF), at the PHO's launch last Friday.
Agra added that conquering obstacle in a playground-like environment will make you feel like a kid again. "I believe that by conquering physical obstacles, you get to conquer the mental and harder obstacles in life."
More than its state-of-the-art facility, Pretty Huge Obstacles is a breeding ground wherein members will be part of a supportive and bully-free community of OCR enthusiasts. Plus, it is safe and more personalized since PHO's OCR instructors are certified, highly-capable leaders in their field, who motivate people to go beyond their limits and reach their utmost potential. They come from diverse obstacle training backgrounds and have even participated in professional obstacle race competitions worldwide.
If you're up to the challenge of conquering some Pretty Huge Obstacles, visit Pretty Huge Obstacles at 2/F Civic Center, SM Aura Premier, Bonifacio Global City, Taguig City.
For membership, training programs, and race event inquiries, contact them at info@prettyhugeobstacles.com.
For the latest updates, visit PHO's Facebook and Instagram Page at @prettyhugeobstacles. You may also check out PHO's website at www.prettyhugeobstacles.com.