ADIDAS launched a maiden HomeCourt at the UP Town Center on Thursday, the first of what will become several concept stores around the country.
During the official launch, members of the media and the online community were given a tour of what the future of adidas stores would look like.
Jen Dacasin, adidas brand communications and sports marketing manager, said they took the HomeCourt concept from the adidas Brand Centre in Beijing, the largest adidas store in the world that later expanded to different global locations.
Dacasin said they chose one of the latest Ayala Malls along Katipunan Avenue near schools such as Ateneo and the University of the Philippines as their initial location since one of their thrusts is to remain connected with the youth.
Five more HomeCourt stores will open within the year in Metro Manila, Cebu and Davao, with each having distinct sections that feature basketball, adidas originals and men /women training.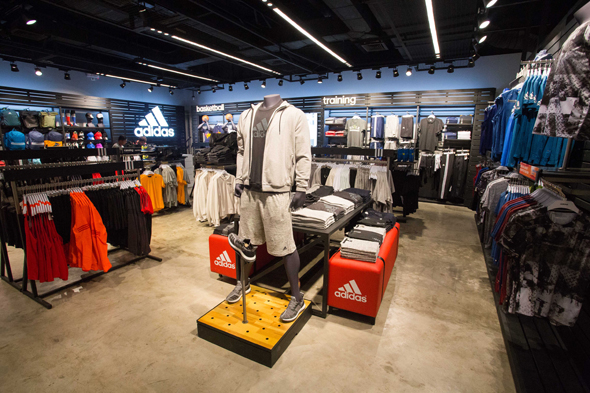 Continue reading below ↓
Recommended Videos
The 220-square meter adidas HomeCourt store in Katipunan is designed as a retail space where consumers "can experience the excitement and thrill of the game, and feel the hype of the fans."
Among the HomeCourt features is an Arena Façade, similar to the entry points of many sporting venues. Some stores will also have a Tunnel Entry that will allow customers to feel the unique atmosphere that the athletes' tunnels give.
Acknowledging their footwear's importance, the heart of the store is what adidas calls "the Shoebase at Centrefield", the prime spot where customers can check out the latest footwear across all sport categories in different formats.
Another highlight is the Team Room, a themed changing area that elevates consumers' fitting experience. Featuring a team locker room environment and comfortable seating areas, this is a social space where shoppers can try on products and connect with the brand online.
"Footwear is the heart of our brand and we now make it the heart of our stores placing it in the center of the floor radiating to the apparel categories that surround it. We have really expanded the ways that the consumer can experience our Brand stories both digitally, 3D and 2D in our stores. The footwear zone plays a big role in really bringing that all together," Dacasin said.
Shoebase also comes with the shoe bar, an interactive table with huge touchscreens designed to help shoppers learn more about the shoes' benefits and technologies, and a shoe finder that gives product recommendations to consumers.
Adidas also announced that it will soon open "Neighborhood" stores that will focus on lifestyle merchandise.