TO promote health and wellness, CEOs and celebrities joined thousands who ran in pairs for the 8th Robinsons Supermarket Fit & Fun Wellness Buddy Run on Sunday at the Bonifacio Global City in Taguig.
The overwhelming turnout is a testament to the consistently increasing number of health-conscious individuals actively seeking healthier lifestyles, organizers said.
The annual Fit & Fun Buddy Run is in keeping with Robinsons Supermarket's commitment to health & wellness. It aims to empower those who are leading healthy and active lives, and encourage the rest to start healthier days by going on a wellness journey with Robinsons Supermarket.
Around 4,500 recreational runners took on the 5KM and 10KM run, including triathlete Nikko Huelgas, who recently bagged a gold medal for the sport in the 28th Southeast Esian Games, Philippines Volcanoes captain Jake Letts and celebrities James Reid and Jessy Mendiola.
"While eating healthy is at the core of a healthy life, we cannot discount the immutable contribution of exercise. And running is always better when done with a partner hence, the Fit & Fun Wellness Buddy run," said Robinsons Supermarket general manager Jody Gadia.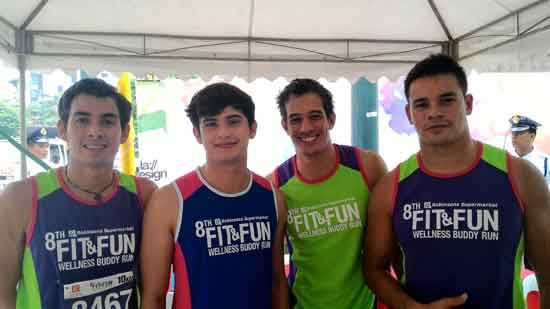 Continue reading below ↓
Recommended Videos
At the end of the run, top pair finishers received prizes from Robinsons Supermarket officials - 5K winners won a trip for 2 to Coron, Palawan while 10k winners bagged a trip for two to Yangon, Myanmar, with the second to fifth-place finishers receiving Robinsons gift certificates as consolation prizes.
Special awards from event sponsors were also given away. Outstanding pairs were awarded the following: Close-up Couple award, Rexona Do More Buddies, Breeze Sige Mom-child Tandem, Nestle Best Shape-up Buddies, Milo Energy & Milo R2 Twin Buddies, and the Johnson & Johnson Active Fresh Award.