FROM the lobby to the 59th floor in a little over six minutes.
Piotr Lobodzinski finished in six minutes and 20 seconds in the multi-national elite category of the Kerry Sports Manila Vertical Run at the Shangri-La at the Fort on Sunday.
The victory gave the 31-year old from Warsaw points to top the in the 2016 World Vertical Circuit.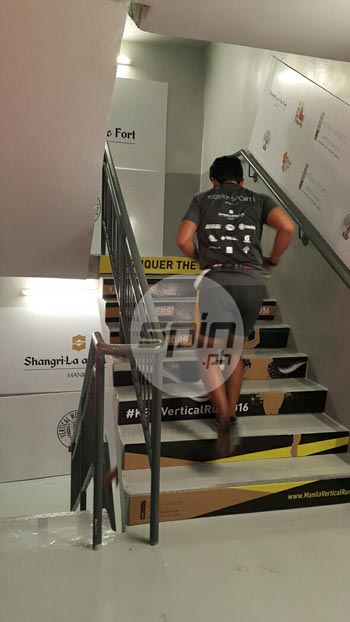 The Manila first-timer hardly broke a sweat after leading through all 1,353 steps.
"I was really impressed with my time. The handrails were a little low for me but everybody had the same conditions so I couldn't complain."
Mark Bourne of Australia finished 44 seconds later, while Spain's Ignacio Cardona took the final place on the podium with a time of 7:12.
Continue reading below ↓
Recommended Videos
Suzy Walsham topped the women's side with a time of 7:39, Alice McNamara made it a 1-2 for Australia in 8:21, while Italy's Cristina Bonacina clocked 9:24 for third.
"The last 10 to 15 floors was a little tough. I was a bit ahead and I couldn't hear the next person so I tried to stay motivated," said Walsham, a Singapore-based accountant.
A former track athlete, Walsham said tower running offers a lot less impact compared to running on a horizontal course,
"I used to do 1800 and 1500s so I'm very used to the lactic. You recover a little bit quicker and you don't get injured," said Walsham.
Stair running has more in common with rowing than running due to the effects of lactite on the glutes not only the legs but the arms and head, especially during the first 50 floors.
More than 500 participants from 27 countries took part in the event, many in the team and individual categories.
Among the partners of the event were Under Armour, De Los Santos Medical Center, Vita Coco, Gatorade, Life Fitness and Sporting Republic.