THERE aren't that many opportunities to run, much less race, in a historic battlefield.
On the early morning of March 15, I was at the ferry terminal at the CCP that was already filled with more than 200 runners for the 5th Corregidor International Half Marathon.
The race was originally slated for January but was moved back two months due to the 'no sail zone/no fly zone' declaration by the government due to Pope Francis' visit.
I was part of a group being trained by running coach Janette Agura. We were all first-timers to the tadpole-shaped island located at the mouth of Manila Bay. I felt that running in Corregidor is a more intimate way of getting to know a place I only read about in history books.
'Fortitude, courage, and honesty' were among the virtues raised during the commencement program. The trail included uphill and downhill slopes, grasslands, stairs, trails and a "killer" one-kilometer uphill in the final stretch.
While singing the national anthem, my thoughts went to the fallen soldiers – Filipinos, Japanese, and American – who fought on Corregidor during World War II as well as the recent deaths of the 44 SAF commandoes in Maguindanao.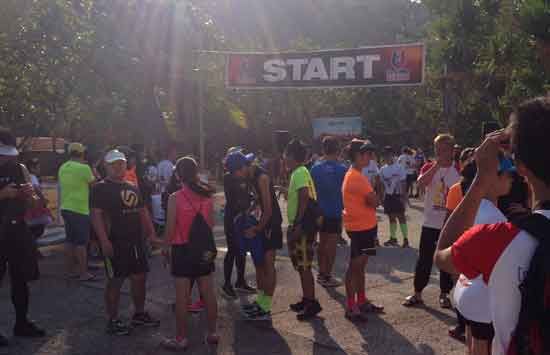 Continue reading below ↓
Recommended Videos
The race started at 8:15 a.m. from Bottomside. We quickly tackled an uphill run - flat roads were scarce and there was a surplus of rolling trails. We passed the San Jose Chapel before entering the dimly-lit, 253-meter long Malinta Tunnel.
Grass-covered Kindley Airfield was flat but there was no wind and it was very hot. My running buddy Ellen and I wanted to get out of there as fast as we could.
To counter the oppressive heat, I rubbed cold water on my legs using sponges in the water station. I placed ice inside my sports bra and at the back of my shirt. Some marshals gave me curious looks and laughed. At this point I really didn't care if I seemed absurd.
"Sabon na lang ang kulang ma'am," one marshal said. "Actually, dishwashing liquid na lang ipatak mo dito sa sponge, para na akong plato niyan," I replied.
I refilled my small water bottle at every stop. We were given sliced bananas dipped in honey, jelly candy and raisins – good for a quick energy boost.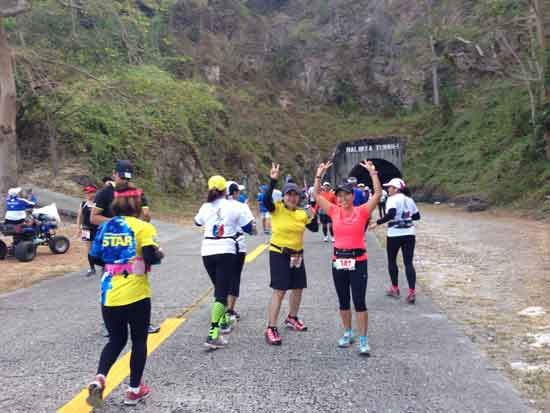 I occasionally stopped to take photos of the crumbling pre-war barracks and the huge cannons along the route. A sponsored sign read: "This is a war memorial zone. Show your grit." There was another quote: "Running is a mental activity and we are all insane." I totally agree.
There were scenic views of the beach and nearby islands: the interesting yet creepy Malinta Tunnel that served as headquarters for the American and Filipino troops and the seat of Manuel Quezon's government and battered by daily bombardments; the ghostly buildings in Topside and the massive artillery pieces pockmarked with shrapnel in the gun batteries.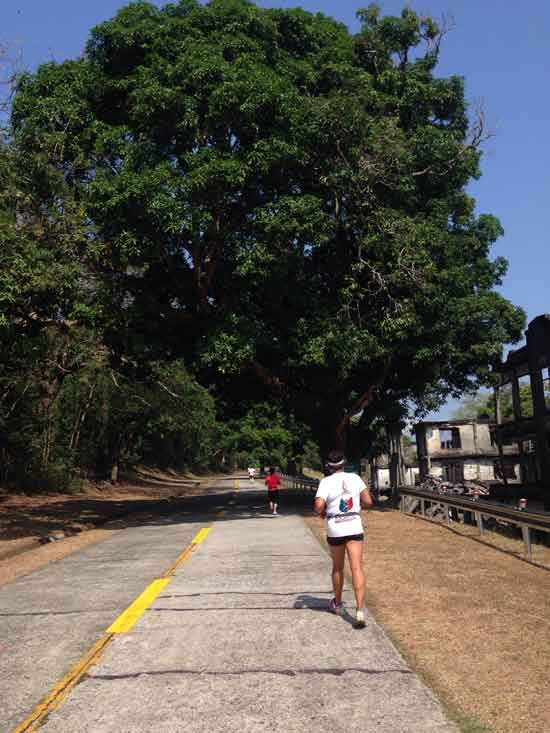 You don't need earphones on Corregidor — it's peaceful and allows you to take in the sounds of sea, the rustle of dried leaves, the occasional blowing of a welcome wind urging you to speed up and stride longer on downhill slopes. Inside Malinta I heard the creepy pounding of a big guy's feet and the cadence of his deep and steady breathing.
Outside there was an abundance of "Kaya mo yan!" and "Malapit na, pababa na lang iyan!" We would pay it forward to other runners.
One marshal asked, "Bakit nyo ba kasi ginagawa iyan?" I smiled before responding: "Kami rin po hindi rin namin alam pero ginagawa namin!"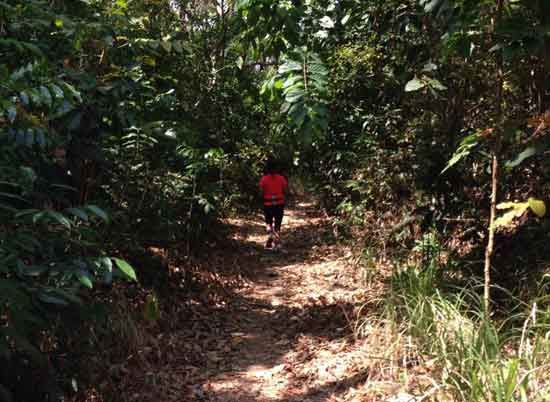 The last seven kilometers were mostly downhill. I allowed the slope to push me forward with minimal effort and I took advantage of descent by making longer strides.
I wasn't cramping yet as I passed Lorcha Dock, where General Douglas MacArthur boarded a PT boat for Mindanao before flying to Australia to reorganize the Allied forces against Japan.
Advised that the finish line was near, I found myself facing the steep 1km slope my friends warned me about. I did not expect that it would be such a killer! I thought the road - with its 30 to 45 degree incline — was playing tricks on me! My attempt to run was reduced to quick, heavy steps.
Just when I was about to reach my goal, that's when it became hardest. I glanced at my shirt for final motivation: "Don't change the mountain, let the mountain change you."
After the ascent and with 1k to go, I had to apply ice to my calves before going through the Malinta Tunnel for the third and (thankfully) last time. The toes on my left foot were starting to twitch so I did leg stretches to prevent them from cramping.
Once I recovered, I carefully gained speed to the finish line. I could hear Coach Janet and Ellen cheering me to beat the clock. I completed the race in 3 hours and five minutes. I found it tough but it felt like I can do anything after that. Coach Janette placed third overall in the women's category with a time of one hour and 50 minutes.
After a lunch buffet, we decided to explore. It was nice to roam at a leisurely pace without the pressure of a time chip.
Onboard the shuttle, we noisily reminisced moments of hardships and funny experiences, causing one of my companions to quip, "Ang hirap pala nito. Para tayong mga loko-loko e pwede naman palang sumakay!"