FITNESS buffs who want to keep their mobile phones handy even during a workout will dig Samsung's latest smartwatch offering.
The Korean electronics giant hopes it can give activity trackers a run for their money with their latest offering in wearable technology, the Gear S2.
During its media launch at Chef Jessie at the Rockwell Club in Makati City, examples of the smartwatch were provided for a an up close look to gathered members of sports and tech media.
To be released on Saturday, the new Gear S2 will allow users to enjoy more than just the conveniences of your smartphone right on their wrist and allows them the freedom and independence from their Android phones in certain moments to allow them to perform their activities while staying connected.
"(It) personifies and embodies what a true watch exactly is - the weight, the feel, the way it sits on your wrist but with the true functionality of a smartwatch," Digs Dimagiba, business unit head for IT & Mobile Division, Samsung Electronics Philippines.
One thing going for the Gear S2 is its rotating bezel control which makes it suited to both right-handed and left-handed people. The rotating bezel makes navigation easier - avoiding clumsy ways of trying to adjust the crown - while providing an unobstructed view of apps and messages on a clear and bright, 1.2 inch Super AMOLED screen.
Two models are available: the Gear S2 and Gear S2 Classic.
The Gear S2 has an SRP of P13,490 and the Gear S2 classic goes for P15,490. Samsung said only 500 units will be available for pre-order. Selected Samsung Experience Stores are offering freebies for those who will pre-order the Samsung Gear S2 from November 6 to 13 —Level U headphones for the Gear S2 and a free genuine leather strap for the Gear S2 Classic.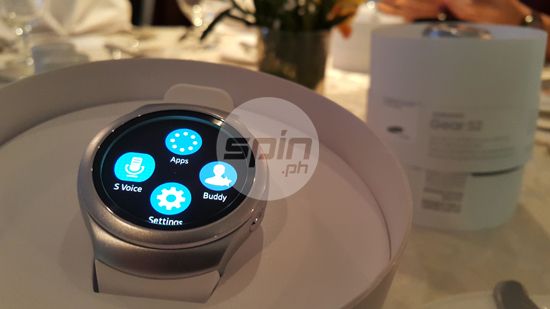 Recommended Videos