POLAR LOOP
P6,995 at RUNNR and TOBY'S
ONE of the latest trends in personal computing has been what techies would call the "quantified self." In layman's terms this means harnessing technology to measure what you do (and sometimes what you feel) as you go about your daily life. A big part of this phenomenon consists of activity monitors – basically wearables that monitor calories burnt – which push you to move a bit more. For some people, that extra motivation is all they need to improve their fitness.
It's no wonder then that Polar has entered the fray with their Loop. Launched earlier this summer, we've been putting the black bracelet through various paces since then – and you can treat this review as a mid or long-term test of the product.
The Loop comes in the form of a back rubber TPU bracelet, secured by a metal clasp reminiscent of a diver's watch. It's tempting to just slap it on your left wrist and go, but chances are you will need to trim a healthy part of the strap for it to fit your wrist. Luckily Polar includes a measuring and cutting guide. Though we measured twice and cut once, the Loop wasn't a perfect fit. We trimmed away a bit more of the strap, and all was well. We reckon Polar's guide is a bit conservative – after all, if you cut it too short, you're out of luck. The red LED display gives the Loop a retro, 1970s-watch feel. Functions are cycled via a single button, displaying modes of time, activity goal, calories burned, and steps taken. The back of the Loop has a magnetized docking port for the sync cable.
Continue reading below ↓
Recommended Videos
The Loop also requires Polar's FlowSync software – which is available for various operating systems. After downloading the software, we hooked up the Loop to input our vital stats: birthday, height, weight, training background, etc. These serve as a baseline for the Loop as it monitors your daily goings-on.
You'll need to wear the Loop at least 10 hours a day, for three weeks (preferably during the daytime when you're awake) so it can get a "feel" of how your typical days are. During that period it counts the number of steps you take, estimates the calories you burn, and also gives you activity goals to improve your fitness. The goals come in the form of steps to take or minutes (or hours!) jogging. Remember though that this is an activity tracker and not a training tool – but it can sometimes enter the realm of the latter with the addition of a mobile app and/or a compatible heart rate strap. (SPOILER: We'll discuss that in a later review).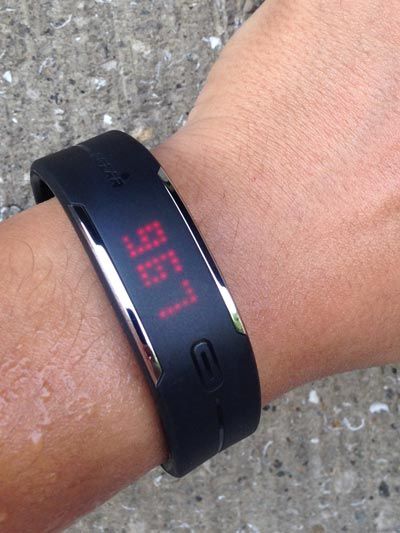 Worn daily, the Loop is unobtrusive – we hardly noticed we were wearing it. It's black rubber construction with metal accents means it can be worn with most anything (it can also double as a conversation piece). There are three activity levels that it monitors: UP (which we assume means uptime, when you're awake), WALK, and JOG. A bar slowly fills up with red LED dots the more you move around, and flashes GOAL when you top it up and achieve your activity target. We couldn't help but manage a smile the first time it did that. To see how capable the Loop was, we decided to take it along for a run.
Worn by itself, the Loop can only monitor the number of steps you take (it doesn't know if you're running, walking, or even Zumba-ing), but it does a fairly good job at keeping up. The unit is waterproof, so getting all sweaty then jumping in the shower or pool poses no problem to it. We did notice, however, that in direct sunlight, the LED display washes out and becomes unreadable.
During the course of our review, the Loop (and its accompanying FlowSync software) have had several updates – which shows that Polar's labcoats are hard at work tweaking the Loop. The website has also gotten a bit more functionality, with different views and filters so you can check on your progress. There's also a social component involved, if you're into that sort of thing.
The Loop claims to have a battery life of almost a week, and its memory can also store a week of activity data as well as seven hours of exercise. Regular syncing helps keep the Loop topped up and the memory free (and your activities uploaded to your Polar Flow Diary). It also has Bluetooth connectivity, which expands its capabilities.
Priced at P6,995, the Polar Loop isn't the most affordable activity tracker out there – though it definitely doesn't look cheap either. Underneath the premium looks, however, is a gadget that can potentially improve your fitness, especially when paired with your smart phone or Bluetooth-enabled heart rate monitor. We'll discuss this further in an upcoming review. Till then, keep on moving!