SORRY Kobe Bryant fans, there's no more Black Mamba in NBA LIVE Mobile.
There are, however, many reasons to get hooked on the newest mobile basketball game from EA Sports that lets players build the ultimate team for 5-on-5 action on their smartphones and tablets.
SPIN.ph was invited to a press event at the NBA Store in Glorietta 2 on Wednesday morning to talk to NBA LIVE Mobile producer Justin Sheffield on what gamers and fans can expect since it was released last July.
Sheffield, who just flew in Wednesday from Florida, said the game is based on a previous and successful NBA LIVE game for their latest entry into mobile gaming. Considering the app is free for download, the results are solid graphics coupled with a smooth and stable gaming experience,
"It's actually built on a lot of the code of NBA Live 10. We simplified the controls so you can play it on your tablet or your phone. You want to have a fast experience on your mobile. You don't want to sit down on your couch, settle in for half an hour or 45 minutes. You want a really short experience so we built a lot of quick, little experiences," said Sheffield, who also worked on the NBA LIVE console versions.
Continue reading below ↓
Recommended Videos
"As someone who's worked in both games, one the mediums are so different. (With mobile) I can play wherever I want. We made the game easy to pick up and play but we didn't want it too simple, with lots of depth and made it feel like a real basketball game," Sheffield explained.
"In terms of gameplay, we wanted it to be super responsive. We wanted it to be simple. We knew we couldn't put shoulder buttons or combinations and all that kind of stuff. It had to be easy to control the guy and have really good movement on the left stick. We wanted a mode where you could have very few buttons if you wanted."
NBA junkies who can't wait for the regular season to start can form their own teams. Each player gets a random roster to fill various lineups such as Two-Way, Big Man, Small Ball Defensive and Shooting. Players accumulate "coins" for every game they play and also receive various rewards for every accomplishment they achieve. They can then use these to help improve their squads by purchasing players or upgrades.
"Through Auctions you can go chase after the players that you want and we have a lot of sets. Say if you want your Small Ball team to get better. You can go after one of those Award Winners or Supremacy Players and really focus on that, " Sheffield pointed out.
EA Sports will continually provide updates and new features for the game. The updated NBA rosters will be made available at the end of September, in time with the NBA's preseason training camps.
"When the new season tips off you'll see the new rosters, the new jerseys, the new courts, the whole thing," Sheffield assured.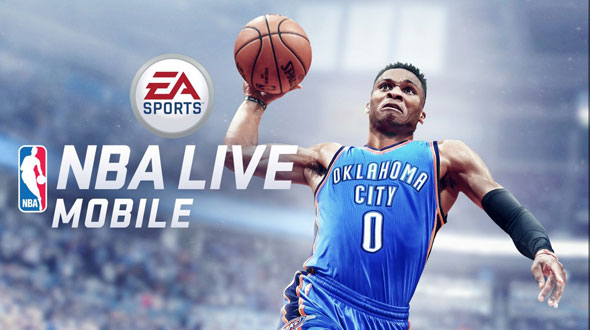 So far, the game has been a success, judging by the 20 million downloads in Android and iOS devices. Outside the US, the Philippines is third in installs and first when it comes to daily active users - both in number and the average - and is No. 1 in hours played per day.
Sheffield describes the reception of the mobile version of LIVE as "phenomenal."
"People are loving it. Right when we soft launched in February in selected countries, right away we saw people around the world playing and we saw it as a good sign. On average, people are playing 12 times a day and six minutes a session."
Down the line, the mobile game of the popular franchise will continue to evolve as EA receives more input from users and tries to make the game as inclusive as possible to attract non-basketball fans.
"There's depths to the game. So if you don't learn right away the crossovers, the spin moves that's ok they're pretty basic. But because it came from a Generation 2 game there is a lot of stuff in there. We're always working on the learning curve. We always watch different people play. We make sure the first time user experience gets better and better. We make sure we welcome as many people in, there are so many basketball fans in the world."
After playing the playing the game for months, Sheffield said that every once in awhile he sees animation that he's never seen before.
NBA Philippines managing director Carlo Singson is sold on the game's promise of attracting more fans to the world's premiere basketball league.
"It already has (attracted a large following). Even before it was launched there was a lot of people playing the game. If you take a look at the combination of NBA fans in the Philippines and how many gamers and mobile users we have. I think all those factors coming together almost guarantee the success of this game."
"For us it's being where the fans are. As more of them access content on their mobile device we want to make sure that we're there, whether it's thru games, League Pass or any other content we want to make sure that we deliver the NBA experience to as many fans as possible," added Singson who is looking to integrate the game into some of their on-ground events and has introduced EA to their marketing partners to see how they could have access to the game to help promote it.