KIKUO Ibe, the inventor of the G-Shock line of watches, had one last demonstration before he concluded his press conference for Shock the World Manila.
The Japanese engineer calmly took off his watch and threw it at a board with a bullseye held by a Casio sales executive.
The dapper Ibe apologized for the first attempt since it was off-center and was, to put it mildly, lame.
The second throw was quite different. Like a Japanese baseball pitcher, Ibe hurled the watch and struck the hard board with a force felt inside the large room. Ibe, picked up the watch and showed the audience a still whole and functioning timepiece to the sound of applause.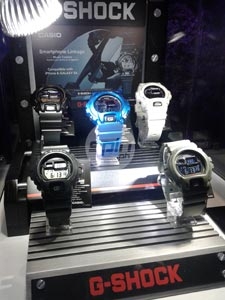 Continue reading below ↓
Recommended Videos
The presence of the 'Father of the G-Shock' in Manila was part of a worldwide commemoration of the 30th anniversary of the G-Shock, the iconic watch known for its ruggedness and innovation.
Ibe came in a barong tagalog for the occasion and throughout his presentation spoke in phonetic Filipino during his press conference at the Hyve Bar in Bonifacio Global City last Friday.
The Japanese engineer expressed his sympathies for the victims of Super Typhoon Yolanda. In fact, portions of the sale of the Philippine exclusive Shock the World Manila watch will be for the benefit of the survivors.
With the help of anime, Ibe told the story on how the G-Shock came to be.
"I had a shocking accident on my way to work one day in 1981: I dropped a precious watch my father had given me and watched it break into pieces. In those days, watches were fragile instruments that required careful handling. But I decided to develop a tough watch that wouldn't break, even if dropped. That day marked the beginning of the G-Shock story."
At a time when watchmakers were competing to develop increasingly slim watches, Ibe said his idea of an unbreakable watch was not well received by other developers. It seemed inconceivable that consumers would be interested in a thick and bulky watch.
Using a third floor men's room as his "secret testing facility," Ibe conducted testing of more than 200 prototypes by dropping them from there. His research and development efforts were based around the triple ten concept: a watch that has a 10-year battery life, is water resistant to 10 bar, and can survive a 10m fall onto a hard surface.
"This led me to developing a shock-resistant structure involving five steps to protect the engine: a case cover to absorb shocks, a metal case, a rubber guard ring, a metal guard ring and a rubber protector to cushion the engine," he said.
According to Ibe, combining these elements to allow a dramatic reduction in the size of the watch was challenging since if he reinforced one part, others would break in tests. He said he faced what seemed to be an insurmountable obstacle.
The breakthrough came during a walk in the park, where the engineer saw a little girl playing with a ball.
"Suddenly the solution was obvious, I had been concentrating on absorbing shocks … but when I saw the girl bouncing her ball, I had the inspiration of floating the watch engine. I constructed a new prototype in which shocks were absorbed in five steps, while the engine was separated from parts impacted by eternal shocks," he said.
"Though our initial target was to create a watch that could withstand tough conditions, I am very happy to know that G-Shock is well accepted in both fields of fashion and sports," Ibe said, adding he was very pleased there were so many fans in the Philippines of the "watch that never breaks."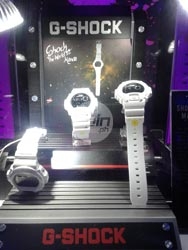 Ever since the first G-Shock was released in Japan in 1983, more than 70 million versions of the rugged and tough watch have been sold worldwide and is very popular with sports, military and adventure-oriented activity.
During the event, several new models, highlighted by the limited edition Shock The World Manila watch available only in the Philippines, were also introduced. Also included were a Bluetooth version which connects with mobile devices and artist collaborations which include Eminem and Louie Vito.
To help promote G-Shock in the country, Casio also introduced several brand ambassadors from the street culture, music, art and urban communities.
Several aficionados and collectors later attended the Shock the World Manila party where they saw performances by local musicians and artists Urbandub, Motherbass, Up Dharma Down and DJ Aryan. Several lucky attendees also received new release G-Shock watches via raffle.
Ibe, who posed and signed autographs with raffle winnters during the party, had a simple message to his fans.
"Never, never, never, give up."