Read the story? Tell us what you think!
How and where can I get this?
GONE ARE the days you had to pack a heavy-duty camera, radio, and gaming console in your bag. When you've got a sub-P20,000 smartphone packed with multitasking features and upgrades, you can slip all three in your back pocket without having to break your wallet. And with the new normal accelerating at full speed ahead, you'll definitely need a device that can work quickly, efficiently, and enhance your daily life.
So when we saw that the OPPO A95 is now available on Lazada for only P15,999 SRP, the young tech-heads and multitaskers in us had to see for ourselves if the device lives up to the hype and more. With notable specs like a 48MP triple camera, a 6.45-inch AMOLED FHD+ punch-hole display, and a 5000mAh battery, we knew we're on to something. Here's what we can say about the device:
Its lightweight design makes it ideal for heavy use
Just like other OPPO models, the A95 is slim at 7.95mm, lightweight at 175g, and looks absolutely stunning in the palm of your hand. Its soft, slightly rounded edges make it easy to hold, whether you're taking photos and editing videos, attending an online meeting, or scrolling through social media for hours. No need for a pop socket, tbh. Your thumbs won't go numb from holding this smartphone.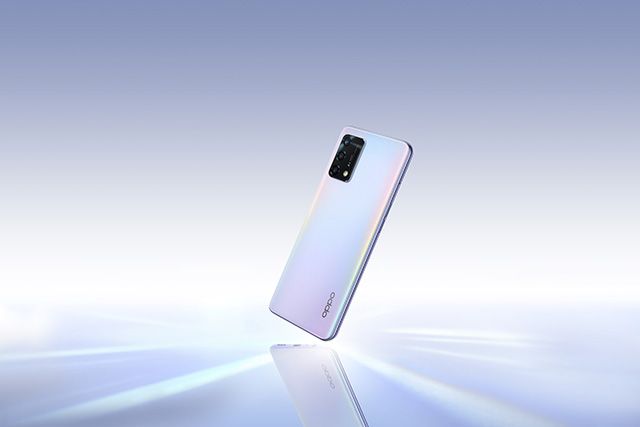 The back of the device is matte (ours came in glowing rainbow silver, but you can also choose from glowing starry black), but still appears luminous and pearlescent, thanks to OPPO's patented Reno Glow design that's the basis for the design of the popular and trendy OPPO mid-ranger Reno series. So hey, even if you're not into aesthetics, you'll have to admit that it makes a good-looking accessory to carry around.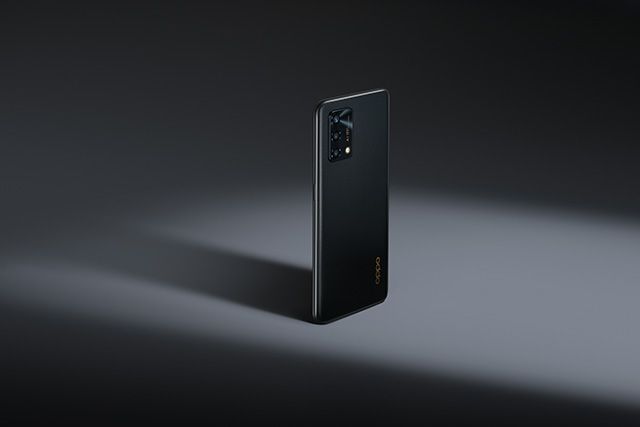 It's designed to protect your eyes
Ever looked at your screen for a couple of minutes, only for you to have a pounding headache after? The OPPO A95 is pretty much designed for users with poor eyesight (and that's pretty much everyone) as it comes with an All-Day Eye Care feature. And get this: We spent the entire weekend binge-watching Hellbound on Netflix, and we still felt at ease and relaxed after (a bonus: the device itself didn't feel hot or fried after, but we'll talk about its productivity specs later). Anyway, bye eye strain.
The All-Day Eye Care feature combines AI Smart Backlight, which intelligently adjusts your phone's backlight throughout the day, with DC Dimming, which alters screen brightness to reduce on-screen flickering and prevent eye strain. This way, you can stay a smart performer for long hours without having to pop that painkiller at the end of the day.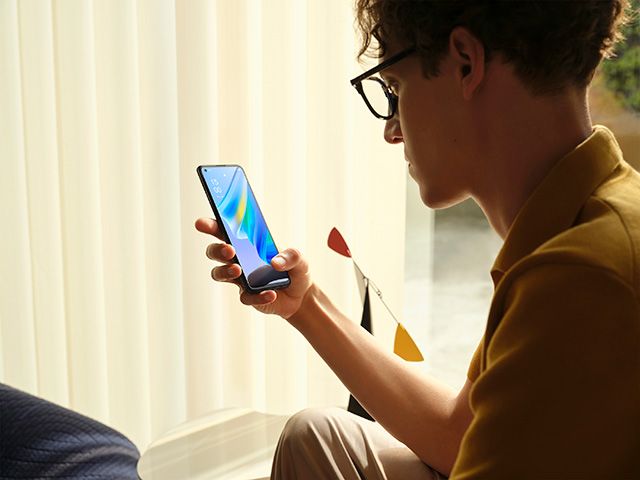 It's gamer-friendly
Here's the best part for casual gamers and multitaskers: The phone features ColorOS 11.1, which is made to help improve productivity, privacy, safety, and entertainment. Its special features also include Game Space, Game Assistant, Game Focus Mode, and Bullet Notifications which allow you to enjoy your playthroughs all you want.
The A95 is also powered with OPPO's proprietary Hyper Boost technology, which gives stable frame rates during gaming, while consuming less battery and making sure your phone doesn't heat up, and we got the best out of our gaming experience too. Admittedly, our correspondent isn't a pro gamer or anything, but she swore to playing Pokemon Unite till the wee hours of the morning. Leave it to the OPPO A95 to convert a casual gamer to somebody who just couldn't get enough.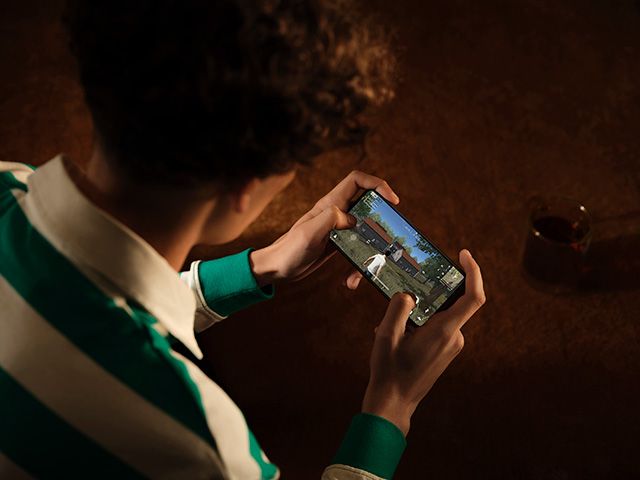 Photos turn out great, wherever you are
Indoors or outdoors, content creators can bet that their photos will come out vibrant and feed-worthy. The OPPO A95 is built with a 48MP triple camera set up with an f/1.7 aperture, allowing it to capture the most light regardless of where you are. Its front camera is pretty impressive too, as it has a 16-megapixel sensor making it prime for selfies.
The device also has a whole roster of AI-powered features. Set it on panorama and you can take wide, expansive shots of landscapes and wildlife, making it ideal for all the revenge travel we all plan to do in the coming year. Set it on portrait and you can capture favorite moments with your pets. You can also set it to Slo-Mo, Time-Lapse, and Night Mode, so you can document your workouts, cooking experiments, or evening runs with your friends (and post it to prove it happened).
Expert Mode is perfect for both budding photographers and small business owners. For the latter, you can use it to take quality product shots and easily upload them to platforms like Instagram and Facebook.
Its battery won't let you down
If you've got your phone racked up to its charger the entire day, then it's high time you get an upgrade. After using the phone on a busy workday for video calls, mobile bank transactions, photos and videos, doomscrolling on Facebook and Instagram, online games, among other mobile activities, the OPPO A95 has proved that it has a powerful, long-lasting battery.
What makes it extra convenient is that it is also paired with a 33W Flash Charge and fast charging speed powered by the Qualcomm ® SnapdragonTM 662 and System Booster. That said, you can count on it to reach a full charge within half an hour.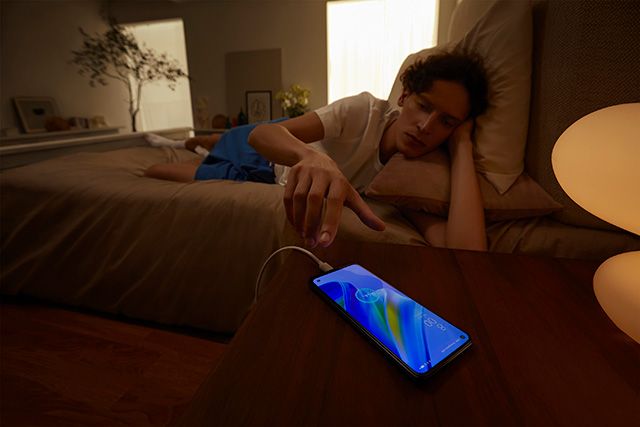 So, is the new OPPO A95 worth it?
Really, the best thing about the OPPO A95 is that it's made for literally anyone, but most especially for the multitaskers who can't go a day without being productive. Whether you're a content creator, aspiring photographer, tech enthusiast, gamer, or just somebody who's aching for a device with a powerful battery, then this device is worth the upgrade. I mean, finally, you get a smooth-performing, incredible device that's still totally affordable. Anything is possible with the OPPO A95.
Apart from the key features we mentioned above, you'll be thrilled to know that the device also offers various connectivity options such as a 5G-enabled connection, Wi-Fi, GPS, Bluetooth, and USB Type C. It also features an accelerometer, ambient light sensor, gyroscope, proximity sensor, and an in-display fingerprint sensor. Seriously, in a world where smartphones and gadgets can run your bank account dry, the OPPO A95 makes for a cost-effective option that'll still give you a bang for your buck.
And FYI, if you're planning to make that upgrade soon, then you better do it now. With the ongoing JoyFull OPPO Sale, you can look forward to tons of prizes and giveaways! Anyone who purchases an OPPO smartphone of P9,500 and above (including the A95) can get a chance to play the roulette raffle and get a chance to win a P700 OFF IoT Voucher, G25 Earphone, or 32GB Memory Card from November 19 to December 31 in ALL OPPO brand stores and partner retailers nationwide. Just swing by any OPPO flagship store to find out more.
You can also conveniently order your smartphone via Shopee or Lazada. To get more information, drop by the OPPO website.
Per DTI Fair Trade Permit No. FTEB-129221 Series of 2021.