WHAT do basketball stars Mark Barroca, Chris Lutz, and Marc Pingris - to name a few - have in common, aside from mad court skills? They, along with a host of our national athletes, have all trained at the Unlimited Sports Performance Centre, otherwise known as USPC. Fittingly enough (pun intended), we were recently invited to sample a session by USPC head coach and owner Nico D'Haenen.
All his life, D'Haenen has been "involved with athletic training in one form or the other," he says. He is known as one of the purveyors of kettlebell training here in the Philippines, establishing the PKC (Philippine Kettlebell Club) back in 2009. He started out training a small group of KB enthusiasts at the PhilSports Arena, but as the movement gathered steam, more and more people recognized the benefits of training with kettlebells. "It's a hand-held gym, and I take it wherever I go," D'Haenen says. On a recent trip to Mindoro, D'Haenen was surprised that people there know about kettlebells.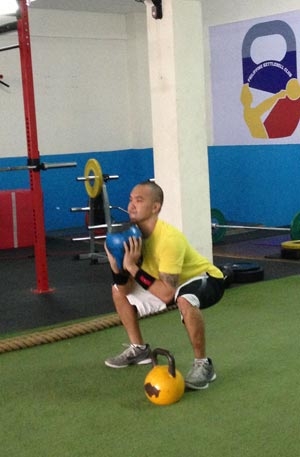 Continue reading below ↓
Recommended Videos
But kettlebells are just one of the many fitness tools that D'Haenen has at his disposal at the USPC.
The USPC came about when D'Haenen, entrusted with training our national athletes by the Philippine Sports Commission, saw the need for a standalone facility. This freed the program from the time, space, and equipment constraints at the PhilSports Arena, and allowed everybody to focus on the task at hand: to build a better athlete.
For D'Haenen, FMS, or the Functional Movement Screen, is the conerstone for any program in USPC. FMS evaluates not just an individual's flexibilty, but also mobility and stability across different planes. This identifies muscle imbalances and helps D'Haenen, or any trainer in particular, customize certain aspects of a program to correct it. As such, the USPC doesn't have treadmills, weight machines, or any of the equipment you'll see in a typical gym. Instead there are kettlebells, sandbags, sleds, ropes - tools that train the body to move as a unit. "It's all about playful movement," says D'Haenen.
Indeed, it does feel like you're playing. After a 10-minute stretching/activation session, the workout began in earnest. D'Haenen set us up in a circuit that comprised of any, several, or all of the following: sandbags, sleds, skipping rope, agility ladders, and thick rope. Rather than aiming for a target set of repetitions, he sets a timer for 30 seconds or one minute. Movements varied from the dynamic and powerful: such as jumping up and slamming down a sandbag or pushing a weighted sled; rhythmic: making consistent waves with the heavy ropes; to arbitrary: doing what you feel like with the agility ladder (we chose to do frog jumps). We joined a trio of future basketball stars, and while the workout is challenging, the team atmosphere, and randomness of the movements, keeps you on your toes and focused on executing everything properly.
"Exercise shouldn't be complicated," says D'Haenen, when we remarked that the movements in the workout came to us naturally. As for the seemingly "random" nature of it all, it is all about changing things up and keeping your body guessing. D'Haenen shares that "studies have shown that random training can be more effective than block training."
D'Haenen's programs aren't limited to athletes, however. He says anybody can benefit from FMS, as most people have a muscular imbalance of one sort or another. He also wants more people to get active, and yes, the solution can be just as fun. "If we can spend 10 minutes everyday just playing with our kids, like running with them, we'd be fitter." Come to think about it, the word player is synonymous to athlete.
Speaking of which, Mr. Barocca, you've got several future MVPs on your tail.
To see the goings on behind USPC, follow them on Instagram at USPC_sportsperformancecenter