UNITED Volleyball Club's purple long-sleeve jerseys are the hottest trend in the Philippine Superliga Grand Prix and it's for their Filipino-American standouts to feel at home.
With four former US NCAA players bannered by Fil-Ams Kalei Mau and Alohi Robins-Hardy as well as imports Yaasmeen Bedart-Ghani and Tai Manu-Olevao, UVC team manager Vian Serranilla and his group came up with the an idea that will make their team unique and their players feel at home.
A collaboration between UVC and PSL's official outfitter Team Rebel Sports Pilipinas resulted in the crafting the long sleeves jersey that brought a new trend to Philippine volleyball weeks ago.
"Our club naman ever since we always wanted to try something different, try something new," Serranilla told Spin.ph. "Because we have four NCAA players and kami naman ni Josh. We just wanted them to feel at home, Alohi, Yasi, Tai, Kalei."
"Wala pa kasing gumagawa rito nun. We thrive with innovation para naman maiba sa paningin," he added.
United VC head coach Joshua Ylaya was happy that their previous plan to innovate their jersey even they were representing Cocolife finally happened this conference.
"It was something na we've always wanted to do to be something different, to be a trailblazer, to be unique kaya namin naisip yan," Ylaya said.
Continue reading below ↓
Recommended Videos
The lightweight spandex long sleeves jersey colored by Purple for Royalty was well-executed by Erben Ayon of Team Rebel Sports Pilipinas as made sure that each players will get a perfect fit, which is the most crucial part of the creation.
"Yung sa fitting siguro kasi kailangan sakto talaga doon sa tao na gagamit. Hindj siya pwedeng huhulaan mo lang, hindi siya pwedeng kung ano yung ibigay sayo na length ganun na agad," Ayon told Spin.ph. "Kailangan tutukan mo yung sukat pupuntahan mo yung player kasi pag lousy tignan hindi maganda yung uniform tsaka dapat fit, yung tela na gagamitin dapat spandex."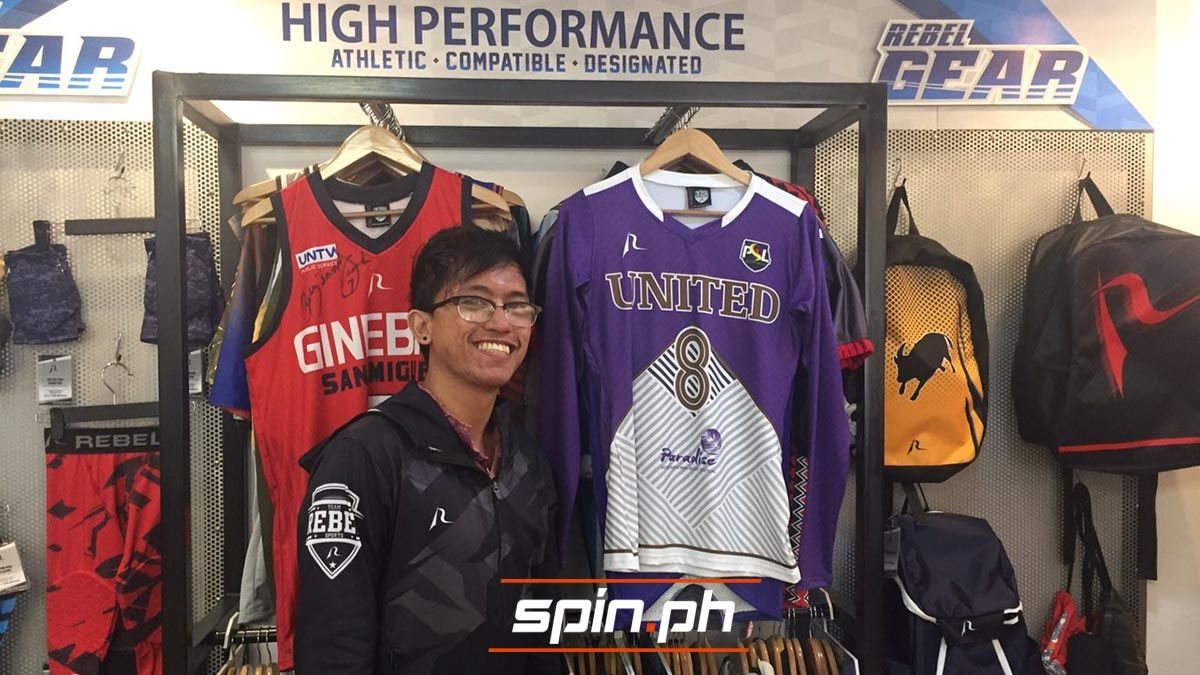 UVC team captain Mau, who played for University of Minnesota and University of Arizona in the US NCAA, was pretty comfortable with their new jersey and bringing her back to the memory lane when she was college.
"That's awesome. I think as Americans we requested it, I always wear sleeves anyway so why not try it. So when we got the okay, I was like that's dope," Mau said. "It's nice. Even if I wear the cut-off I love to have sleeves because I'm also a very sweaty player. I just feel comfortable with my passing and making sure that the ball where it's gonna be."
For Rebel and UVC it's a win-win situation for both of them as Ayon bared that customers are already inquiring to design long sleeves jersey for export after the first US NCAA-inspired kit made its debut in the PSL and in national television.
"Nung sa social media may mga posts na maganda yung naging reception ng tao," said the 26-year-old designer, who crafted Blackwater's jersey in the current PBA Philippine Cup, Globalport's previous black and neon kit and Parañaque's green jersey in the MPBL.
"Nakakatuwa rin kasi bihira yung ganoong pagkakataon na (magka-long sleeves jersey) tsaka sa market ng Philippine halos kami rin talaga yung first na naglabas ng ganun," he added.
With the hot trend created by UVC and Rebel Sports, other volleyball teams might join the bandwagon and try the long sleeves jersey.
If that happens, Ayon and Team Rebel Sports Pilipinas are ready to innovate the jerseys of Philippine volleyball.
"Oo ready na yung Rebel para sa future ng longsleeves na uniform for volleyball matter of yung kagustuhan din ng teams na pupunta sa amin para ready kami," Ayon said.