AS with most life-changing decisions, this one began at the dinner table.
Three years ago, Alex Flores and his family had just migrated to Cebu from Manila for Alex's work assignment as site director for one of the main offices of Convergys Philippines.
"My world has been practically upside down: working at nights and sleeping in the daytime. We used to live an unhealthy lifestyle for several years: eating junk (food), drinking and smoking," remembers the 36-year old operations director for one of the country's largest BPOs.
His wife Madhel, a registered nurse and devoted yoga practitioner, was "the constant voice" in their household who encouraged the family to start living healthy. Add to that the persistence of his son Miguel that he quit smoking. Alex, an athlete in his younger years, finally became convinced of the need for a lifestyle change.
"The thought of living a healthy lifestyle - exercising and eating right - has always been a topic at the dinner table. I guess all we needed was a kick-off point to begin living it," he said.
That point came in January last year in the form of repeated invitations from his boss, a devoted triathlete, to join him in a race.
"He teased me several times about it and I would tease him back and say, 'Sure' sarcastically, without really thinking he was dead serious about it," said Alex, who was soon introduced by his boss to a triathlon coach.
"That meeting practically started it all," he recalls.
Pretty soon, husband and wife found themselves at the Plantation Bay Resort in Mactan, Cebu taking part in their first race as a couple in April 2012 at the National Age Group Triathlon.
"The whole event was just as fulfilling and pleasant as the resort was. We all had a blast!" Alex said.
Alex's sentiments were also shared by his teenaged son Miguel who became interested in what his parents accomplished.
"I saw my dad racing and when he was done, I wondered if I could do what he did," Miguel said.
The 13-year old told his dad that he may not like triathlons at this time but was willing to give it a try and if he enjoyed it, he might keep racing.
"After finishing my first race for Super Trikids at the Ateneo de Cebu, I enjoyed it so much that I joined another race a month later – the National Age Group Triathlon at the Alegre Resort in Sogod, Cebu," the seventh grader proudly shared.
Miguel registered for another big race, the Tabuelan 111, but when the trikids event was cancelled he became so discouraged that he lost his interest to race.
Fortunately, Miguel's disenchantment disappeared when dad signed him up for the Ironkids triathlon in August - a move that would allow all members of the Flores family to compete: Alex signing up for the individual race - made up of a 1.9km swim, 90km bike, and a 21km run - and Madhel becoming part of a relay team to take on the bike leg for team 'Hot Mommas.'
Joining triathlons soon became a new challenge for the family, particularly finding enough time to train in their regular family routine.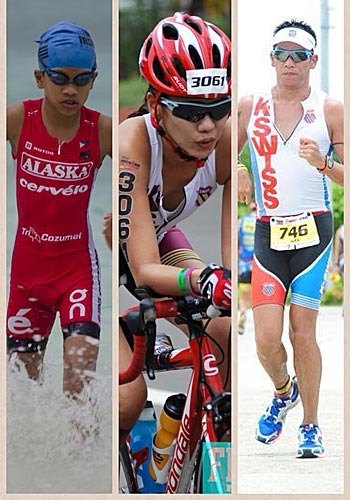 "Time management became critical. Miguel also had to balance school work with training and is just as similar to juggling work and training for me. Time is a worthwhile investment that has to remain constant for a triathlete," Alex explained.
Madhel, his wife, sums up the philosophy of their approach: "We'd rather do the things we love to do while we're young and able as it's hard to do all of that when you're old and weak."
With this in mind, the Flores family didn't flinch in the face of the challenge and their efforts paid off.
"The Ironkids and Ironman 70.3 events at the Shangrila in Mactan last month would have to be the most memorable – this was to be my son's long-awaited race of the year. He had joined a couple of races prior but Ironkids 2013 would have to be the race where he prepared the most," recounted the proud father.
"I was determined to do good and with the training I did, I felt like I was ready for anything," Miguel said.
Alex had his best 70.3 finish yet - shaving off 20 minutes from his previous try at the same distance. His wife, Madhel, fell off her bike at the first five kilometers of the 90km bike leg but like a true 'Hot Momma,' gamely endured the rest of the way with a bruise on her knee.
For Alex and his family, the Ironman was not only a race but also a family event after his parents flew to Cebu to cheer them on.
"The energy and atmosphere of that weekend was indescribable. Athletes young and old gathered in one event with the same thing in mind – doing their best! Every time we cross the finish line in any race is always memorable. It is at that moment when all the hard work, pain and sacrifice culminate," Alex said.
After his experiences in Mactan, it's obvious that Alex considers the triathlon as more than just a race.
"Triathlon has opened our eyes to a sport that the entire family can enjoy. Nowadays, we continue practicing and training and even sometimes, we get to swim and run together as a family. It's the most fun we have when we run together."
Recommended Videos