EVER since the first NBA Store opened in the Philippines in 2014, the American league has continually expanded its presence in this hoops-crazy nation.
With the opening of the third NBA Store Philippines at the TriNoma mall in Quezon City, the world's most popular basketball league has targeted an area it hasn't served yet - northern Quezon City.
"It has the most complete assortment of (NBA) products and merchandise in the Philippines," said NBA Philippines managing director Carlo Singson in an interview with reporters during Monday's formal opening.
The new branch is managed by International Athletic Trading Company (AITC), which also oversees the NBA's flagship store in Glorietta 3 in Makati City and its second store in Mega Fashion Hall at SM Megamall in Mandaluyong City.
IATC president and CEO Melvin Lloyd Lim said he is bullish with their new Quezon City presence, observing that the North Edsa area is "always packed with people" due to the amount of human traffic and the presence of two (soon to be three) large commercial malls.
"Based on my experience with retailing, this mall is one of the most successful Ayala malls," Lim pointed out.
Practically all 30 NBA teams are represented in terms of merchandise in the NBA Store's 280 square meter space including official jerseys, footwear, performance gear, lifestyle apparel , basketballs and collectibles.
Continue reading below ↓
Recommended Videos
Products from adidas, Nike, Under Armour, Spalding, Mitchell & Ness, New Era are available in the premises as well as a host of other brands.
"Here in the Philippines the following of the NBA and the demand for the products, we saw it in the Glorietta store, we're seeing it again at the Megamall store and I know we will see it here also. The strategy is we know where the fans are," noted Singson, who said that the move further north in Metro Manila will widen the scope for the NBA's fanbase.
Singson said "there are gaps still that we need to fill," noting the NBA needs to open a new branch "down south," a possible nod to the Alabang area in Muntinlupa City and another store outside Metro Manila.
"We're not done. Three is not our magic number. There will be many more of these stores in the near future," he added.
Filipino basketball consumers, according to Lim, are "very player-based" when it comes to their purchases and tend to support a player more than a specific team.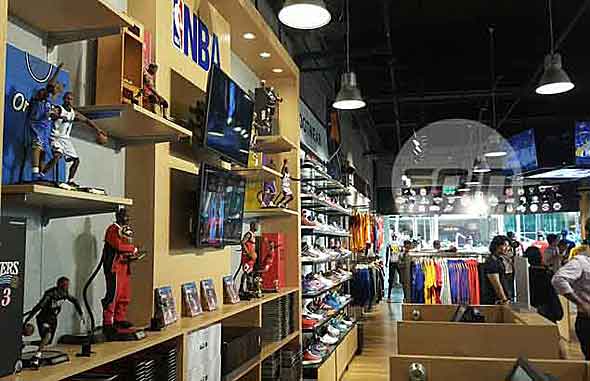 "There's still a lot of things I can see on how to cater to Filipinos, "that's why I opened this store so I can put more stuff that they don't find. Like right now I have (Kristaps) Porzingis (jersey and player shirts). Not a lot of stores will have that or (Charlotte Hornets guard) Kemba Walker," said Lim.
The most popular teams for Pinoys right now, according to the IATC CEO, are the Golden State Warriors, the Los Angeles Lakers and the New York Knicks, cities that incidentally have large Filipino populations. An exception is any team that has LeBron James whose fans will follow their idol to whatever team he plays for.
Lim maintained he will bring in what Filipinos want.
"I'll support whatever they want. That is why I opened this store - to give the Filipinos what they want from an NBA Store."
According to the NBA's Singson, the growth is spurred by the Filipinos' "tremendous" reception which he described is "beyond expectations."
"Nowhere in the world do we have multiple NBA Stores, including the US.. . We don't have an NBA Café anywhere in the world. In the Philippines we have three stores and one NBA Café. It really goes to show how passionate the fans are here, how important this market is for the NBA. We're so happy to be here and continuing these cool initiatives to give NBA fans what they want."
Round neck player t-shirts and accessories are among the most popular buys and the staple jerseys, are also "doing very well." Customized jerseys, a feature fans have requested, are also available in-store.
To determine what NBA Stores offer, both NBA Philippines and IATC sign on before a decision is made on what players, teams and items are featured and sold.
"No decision is made unless both parties have signed off. We work together very closely with IATC, they are our retail experts here in the Philippines. (NBA Philippines) manages and control the brand. We know the brand, the products—what sells and moves. We take learnings from other markets and share those with IATC to help guide them in planning and direction setting," Singson explained.