YOU may think of going out on a date on February 14 as equivalent to heading to Boracay on Labor Day—aka madness, hell on Earth, or the most fun ever—but sometimes you just need to go with the flow to please the missus.
Here's our 10-point checklist of do's and don'ts to make things go as smooth as possible presentation-wise. If you want to be lucky in love, hey, you've got to be dressed for it.
DO: Check your clothes ahead of time
"Ahead of time" is days before and not the afternoon of the 14th. So if you realized this just now, you have plenty of time to prepare for next year. You may have the perfect outfit in mind only to find out it's actually in the laundry, a lint-ridden disaster, or just flat-out missing—trust us, this happens. So don't cram because this opportunity only comes once a damn year!
DO: Ask what she's wearing
If you've got the fancy reservation at eight, then don't be shy to find out what your lovely date is wearing so you can level your outfit accordingly. She'll hate it if you're underdressed, but you don't want to be so macked out that she becomes the underdressed one instead either.
Continue reading below ↓
Recommended Videos
Start off with anything in a collar.
And make it long-sleeved. You're basically good for 90% of situations.
(Worried about jabar if you're al presko dining? Fine, make it a short-sleeved button down or a nice non-tech fabric polo shirt)
Is she going to be in a dress? Throw a coat on for good measure.
A gown? Well, we hope you have a suit ready.
DO: Shave
Not going for a last-minute haircut pre-V Day is more or less okay really, but we highly recommend a shave. Nothing makes you look fresher for less effort. If you're the beard-wearing type, make sure all your lines are nice and tight—that's the key difference between scruffy and suave.
DO: Empty out your wallet
And by that we mean please reduce the clutter in your wallet. Since you'll be wearing pants, don't pack a wallet that creates a bigger bulge than your actual meat tool. Bulging pockets are the worst! If you're lazy, just transfer your cash, credit/ATM card, and license to a spare (we're sure you've received a wallet for Christmas at least once) and leave the rest behind.
DO: Wear fresh underwear
Underwear means your boxers/briefs/boxer-briefs and socks. It feels great to have crisp tight undies and you don't want your date catching you while you try to sneakily hike up your sagging briefs.
BONUS DO:
Do you regularly trim your pubes? That feels great, too. If you don't, then try to catch-up on this often unspoken aspect of grooming during big dates such as these.
DON'T: Wear a hat
Even if you have the coolest hats, this is one night where you want to see each other's faces nice and clear—unless you're the ultimate hypebeast couple, then by all means put some lids on.
DON'T: Wear shorts
If you're thinking, "man, we aren't even having a fancy dinner, why I gotta be uncomfy?" then just get a well-worn pair of jeans. It's not romantic to feel leg hair while you lovingly rub each other's thighs under the table. This is a don't even if you have those fancy chino shorts!
DON'T: Rush out and buy something new (or expensive) to wear just for V-Day
New shoes feel great. That "new shoe sensation" where you live in constant fear of the first stain? Not so great. So unless you're the type who loves to shop all the time, we recommend just bringing out the swankiest thing you already own for that big date confidence boost. Stuff like:
Your dress shoes
That nice shirt you never use because you don't want to unnecessarily wear it out—even to the point that you don't use it for actual special occasions.
Fancy pants—like ones with side stripes.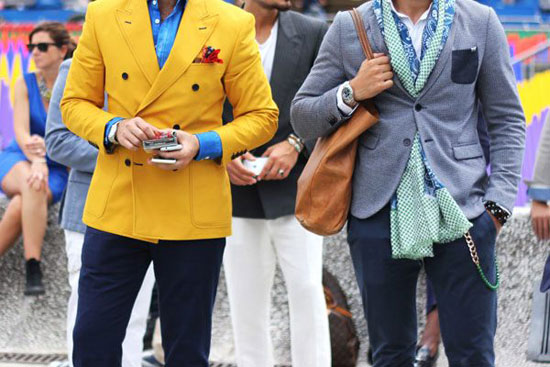 DON'T: Overdo perfuming
Common advice for the un-perfumed is to break out the scent bottle for a fancy date. Go ahead but please do not drench yourself in perfume. You want her to smell you and be pleasantly surprised when you meet and not getting a nostrilful from you all night long. We have two favorite ways of applying in moderation:
Spritz a bit onto each inner wrist, rub together, then rub on your neck
Spray into the air in front of you then swan gracefully through the mist
DON'T: Wear jewelry
Remember when there was a raging debate on whether it was suitable for dudes to wear jewelry? We don't really remember how that issue ended, but there's no need to reignite the topic on date night. Strap on a fancy watch and leave it at that if you feel the need for some bling, and make your date the rest of your arm candy.
This story originally appeared on FHM.com.ph.