WHEN Jay Villarama decided to start The Lab four years ago, he ended up quitting his day job shortly before his wedding, spent his days alone inside a one-room workshop, and practically lived with the shoes he was bringing back to life.
"That's how I started. At first I was doing it on my own. No staff. I had a small rented room along White Plains, 5 to 10 squarer meters. When you open the door, there's my counter where I do my restorations, every customer can see it," the 34-year old entrepreneur and sneakerhead told SPIN.
"It was hard at first … I believed in the industry so much that I was willing to give up my job, considering I was going to get married that same year. I joked if this doesn't work, hindi tuloy ang kasal!"
Since then, Villarama has become an institution in the sneakerhead community when it comes to restoration and customization.
Located above a popular restaurant along Katipunan Avenue in Quezon City, The Lab is a go-to place that caters to sneakerheads who are looking to raise their shoe game or simply extend the lives of their favorite pairs.
Villarama said he got the idea for his business during a visit to the US in 2009. He learned how to customize sneakers from a friend who did it as a pastime and offered to teach him.
Continue reading below ↓
Recommended Videos
"Sneakers in the US is a big thing. It's a lifestyle for them. When I got back in 2010, wala pang masyadong hype," said Villarama, who brought back some paints to work on his sneakers when he returned to the Philippines.
He said his love affair with sneakers began in fourth grade at La Salle Greenhills, and he soon asked his dad for Jordan IXs as Christmas gift.
"I was hoping I would fit sa kid's size but my feet were too big. Since the price back then was P4,500 (an astronomical price for sneakers at the time) my dad said if I was getting the Jordans, he won't be getting me any pairs next year."
He agreed.
Bitten by the shoe bug, Villarama said the following year he coveted a pair of Nike Air Max Strongs. "I asked my dad if I could get them for my birthday but he reminded me of our deal."
Instead, his father gave him a bottle of cleaner with instructions to do whatever it takes to make them look new again. "I spent all night working on those pairs." On the morning of his birthday, he was surprised to be gifted with the Strongs. "That was when my fascination for sneakers started."
The De La Salle University graduate dabbled in shoe restoration for friends while working for two years in an ad agency. He was soon getting requests from friends of friends and the idea for the business grew.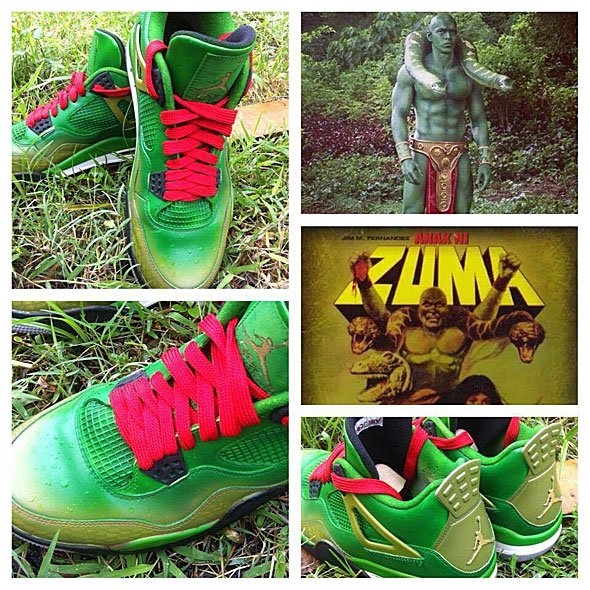 IMAGE Photo courtesy of Jay Villarama, The Lab
In the beginning, he admitted the process was more of trial and error. He explained that every shoe is made from a different material that requires a different treatment.
"At first I messed a lot of my own pairs," said Villarama. His supportive wife would tell me him it was part of doing business.
The transition from paperwork to manual work - the cleaning and the painting that consist a majority of the restoration process - was a welcome change for the Behavioral Science major.
"It was for the love of the game. I loved the sneaker industry. I loved the sneaker world. I was willing to do it every single day. Above all, it's more of a public service. A way for me to return something to the sneaker community," said Villarama, who pointed out that he has not even changed his prices (P1,000 to 1,500 per shoe) since 2013.
Inspiration comes from comic artist Alex Ross and painter Vincent Van Gogh. For sneaker restorers he turns to Mache, considered as the No.1 sneaker restorer in the US.
The Lab in Katipunan now has a staff of four, each of whom Villarama personally trained for a specific role: one person receives the pairs, another performs the re-gluing, one does the paint job (using paints bought from the US) while another member is responsible for the cleaning.
"This kind of craft, hindi ka puede kumuha ng kahit sino dyan. There's no school for that," said Villarama who maintains his staff should also be sneakerheads. "These shoes are luxury so hindi lahat willing to do it."
At the time of our interview, The Lab had 160 pairs undergoing service, 80 percent were restorations. Some of the shoes came as far as Baguio, Cebu and Davao.
The Lab's clientele also includes several PBA players: San Miguel Beer point guard Chris Ross had all of his Kobe 9 Flyknits modified to low tops (the unique shoes were even featured in a basketball magazine). Import Arizona Reid had his Jordan IXs personalized. Global Port playmaker Stanley Pringle had his Jordan Xs restored. TNT guard Ryan Reyes had his Kobe 4s re-glued. Journeyman Marvin Cruz had his Air Max restored and Jordan XI re-glued.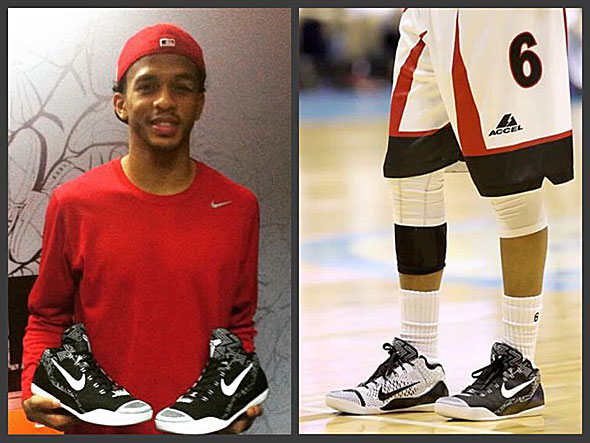 IMAGE Photo courtesy of Jay VIllarama, The Lab
Villarama classifies his clients as 'the Kids' (high school or college students who mostly get 'heat pairs' -Jordan Brands and lifestyle kicks). There are the 'Players' - the ballers who mostly bring Kobes and performance-based kicks often for cleaning and customization. And finally the 'Elites.' "Walang particulars but when you look at their pairs those are the hardest to collect. They have the OGs of the OGs!"
One such high profile client is sneaker and art collector "Bigboy" Cheng.
"I was on my own back then, wala akong staff. I was about to have lunch then this guy called, 'Jay punta akong shop mo ha? After five minutes the guy calls, 'Andito nako!' The guy had five bags filled with shoes. I was like, 'Ano kaya gusto niya pagawa?' He said cleaning lang daw so we pulled out the first pair and said it was his favorite but vomited on the shoe during a drinking spree the other night. It was a rare Jordan 5 'Tokyo.'"
"When he left my shop I opened the other four bags - they contained some of the holy grails from Nike: Yeezy 'Platinums', 'What The' Dunks, Dunks 'Paris.' He also left his 'Oregon' Dunks. Wala akong stay-in before sa shop, I would just lock the door. When I had those pairs every time I left the shop I would bring them with me!" he laughed. For the uninitiated, the Dunks "Paris" pair was one of only 200 ever made which Bigboy bought for US$4,000 in an auction.
"I was like, 'WTF?'"
Cheng was referred by a friend and referrals are a good part of The Lab's business which relies on social media and word of mouth. Villarama said he receives 70 to 90 inquiries daily which he personally answers.
"They'd ask questions: "Is it doable? Usually I would tell them, 'Yeah we could do this.' I would tell them the cost and for how long in terms of days. There are particular concerns for certain types of Jordans such as the III and IV which have the foams on the midsole - if they are exposed for quite some time they become rough and eventually crumble."
Villarama said he tries to be as truthful as he can to manage expectations.
"I would tell them (the older sneakers are) obviously not the same - the foam itself is not in the best condition. Before we work on it, I would tell them my honest assessment. We have the hype pairs and they go from highest to the lowest and if there's no sentimental value I would suggest that they should dispose of it instead of spending thousands of pesos."
Every shoe has a lifespan and Villarama would remind his staff they are "a restoration and not a resurrection shop."
"If your pair is gone, you can't revive it. You can only do so much. It's not like a car where there are parts that are readily available. For sneakers you can get materials but not the entire piece. It's not a matter of adding money to the build," he explained, pointing out that Nike and other brands often re-issue models every four to five years.
Despite the difficulties, shoe restoration was very satisfying for The Lab proprietor.
"When I was starting out, I loved the challenge. Lahat bago sa iyo e. Every time na matapos mo siya and you were satisfied with it, sh*t man that was the bomb!" And when the client gets and goes, 'Wow!', 'Galing!', 'Ganda!' that was more than enough fuel. Kahit hindi ka bayaran ok ka na nun!"
Ross actually wore his pared down Kobe 9 Elite "BHM (Black History Month)" for a game and the pair was featured when the PBA Finals MVP won a poll for athletes with the best sneakers.
One cardinal rule for Villarama is that he would never copy a competitor's work, "It's not that I am insulted but I explain to the customer it was their idea and concept. It would be unethical from a business standpoint."
Describing what he does as "70 percent art and 30 percent science," Villarama prefers to stay low key and lets his work advertise his business. He attends shoe conventions but prefers to stay in the background.
But four years in, Villarama said he is trying to rekindle the enthusiasm.
"To be honest I just choose the projects I'm going to work on … I've been doing the same thing over and over again. I want to go back to what I was before I started the business. I wanted to treat it as a passion and as a hobby. Not as a job."
With the challenge of handling two businesses (the latest venture being a jersey line) and creating enough creative juices, Villarama has contemplated as to whether to close one to focus on the other.
"If I were to leave the game right now, I'm glad na nakita kong nag-evolve siya into something else. I think I paid my dues as a sneakerhead that I did some good work for the community."