WHEN Stephen Curry led the Golden State Warriors to their first NBA title in 40 years, it wasn't only his fame that skyrocketed in the Philippines.
The demand for the sweet-shooting guard's jersey also took off and since it takes some time (count months, as noted in a recent interview) for official outlets to add new stocks, retailers such as adidas and Toby's have had to scramble to add Curry to their roster of official NBA merchandise.
Enter your friendly neighborhood tiangges!
When Spin.ph dropped by the airconditioned tiangges of Greenhills Shopping Center recently, it was pretty obvious there was a changing of the guard in the works as far as the sales of NBA jerseys is concerned.
Although 'Type A' jersey staples of superstars Lebron James and Kobe Bryant and replicas of Michael Jordan's iconic Chicago Bulls road jersey are widely available, Curry's threads have taken center stage, judging from the prominent spot they occupy on display.
"Siya kasi ang champion kaya siya ang bestseller namin," said Carol, one of the shopkeepers at Virra Mall.
Her words ring true. Virtually all stalls that sell basketball jerseys have stocked up on Curry jerseys and Warriors T-shirts.
"Nung (NBA) Finals maraming naghahanap ng Curry kaya iyun ang mga inorder namin sa suppliers," said Teddy, a store owner in Shoppesville.
Continue reading below ↓
Recommended Videos
In an earlier Spin.ph article, adidas and top sports retain chain confirmed that Lebron James ranks as their No.1 seller among official NBA jerseys in the Philippines, judging from demand from their stores.
But it's a different story in the deep warrens of the tiangge and for basketball fans looking for a bargain for the NBA's fastest rising star.
[See LeBron, Kobe or Curry? Here's the No. 1 NBA jersey among Filipino fans]
Since this Spin.ph story came out last August 1, readers have urged us to look at the sales of unofficial NBA jerseys in tiangges which, they claim, is a better gauge of the players' popularity in this basketball-crazy country.
Here now is our answer to the clamor.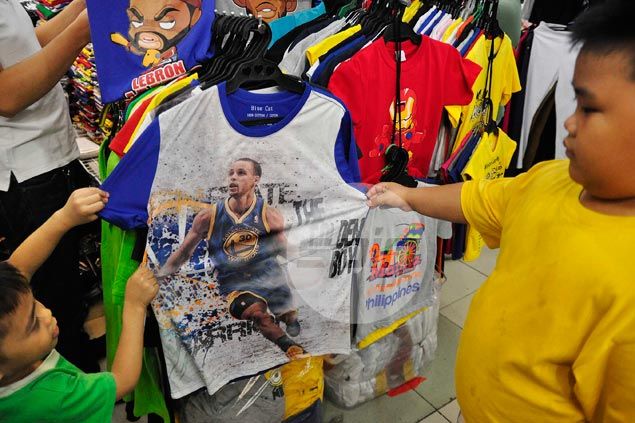 So who buys the 27-year old NBA MVP's uniform?
Sellers say most of their customers are on the young side, many of whom are teenagers and pre-teens who ask their parents to get them the Curry jerseys.
By the way, 'Chef' Curry is set to visit Manila on September 5 as part of his Asia tour to promote the Under Armour brand.
Depending on overall quality and the accuracy, the jerseys cost from P350 to 700 at the popular shopping center located in San Juan City, which makes them cheaper alternatives (since they pay no royalties) to branded versions that carry heftier price tags that run up to the thousands.
Despite their unofficial status, the jersey selection is quite impressive. Aside from the Warriors' home whites and road blues, there is also the yellow alternate plus the sleeved black and red jersey the Warriors wore to commemorate Chinese New Year (a nod to the city of San Francisco which has the largest Chinese community outside Asia). Curry also has sublimated jerseys that feature his images embedded on the fabric.