IT'S that most wonderful time of the year for Pinoy sneakerheads who are eagerly waiting to get their hands- and feet- on a brand-new pair of their favorite player's signature shoes.
Whether as a present, a balikbayan box padala or a Christmas bonus purchase, basketball shoes are one of the most sought after items by Filipinos during the yuletide season. And those bearing the name of NBA stars are desired more than the rest.
Spin.ph decided to check out the malls and stores to compare how the current crop of signature kicks stack up. And hopefully serve as a guide when you want to rock shoes to 'represent' your favorite baller.
When Nike announced Cleveland Cavaliers guard Kyrie Irving was getting his own shoe line, the Kyrie 1 was touted as the cheapest signature shoe in the Swoosh line with a P5,795 price tag when it releases this January. The term 'cheap,' however, is a relative term.
No shoes are created equal. Cost is largely determined with the endorsement contract of the player who's on-court and marketing skills would work in conjunction to sell the merchandise bearing his name (it's a business after all). But it pays off. For example, a staff of the Nike Park in Bonifacio Global City said their bestsellers are those models endorsed by active players Kobe Bryant, LeBron James and Kevin Durant even though these comprise the high-end line and are priced at almost half as high as regular models.
Continue reading below ↓
Recommended Videos
Among the trio, the impressively engineered Lebron 12 is the most expensive at P10,495 a pair. The boxing boot-inspired Kobe 9 goes for P9,900 (the sleek, low top EMs (Engineered Mesh) are a slightly cheaper P8,495. Not far behind is the weather-inspired KD 7 (P8,195) whose colorways chronicle the current NBA MVP's journey.
In a class of its own is His Airness. Even though Michael Jordan played his last NBA game 11 years ago, his shoes, particularly the examples the 'greatest basketball player of all time' are still the yardstick by which others are judged and is proof that legacy can sell basketball shoes. The latest Jordan shoe, the XX9 can be had for P11,995 while the Jordan 13 Premium goes for P10,595 ('regular' versions go for about half that). The recently released fan favorite Jordan 11 sold out almost immediately and is now being sold by resellers for as much as P15,000. For those with a penchant for history and a smaller budget, there's the classic Air Jordan 1 Low (P5,295) in the Chicago Bulls colorway. Jordan Brand also has its own endorsers with athlete Chris Paul's CP3 VIII going for P6,995.
Adidas has a good selection for fans who don't have deep pockets and consider performance on the hardwood prime factor in picking shoes currently sported by active players. The D Rose 5 Boost (P7,995) endorsed by Chicago Bulls star Derrick Rose has a full-length Boost midsole with energy return. Although not named after him, Damian Lillard is the foremost athlete when it comes to the Crazylight Boost P6,995 that looks like it was built for speed with Boost foam and SprintWeb upper. For those who operate on the post there's Dwight Howard's DHoward (P6,495) while the latest edition to its signature line, the J Wall 1 (P5,995) is a clean design that combines old school looks with new technology.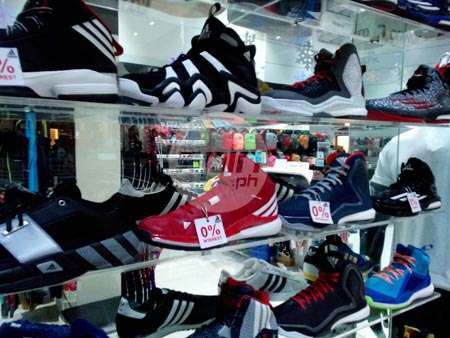 Even though Reebok has focused on sports fitness, it occasionally goes back to its nineties heyday with re-issues of the Kamikaze (Shawn Kemp), Shaquille O'Neal's Shaqnosis and even Nick Van Exel's (of Laker fame) The Blast. These cost in the P5,000 range (if you can find them, that is). But their most popular basketball offering is Allen Iverson's The Question (P6,000 and up, depending on colorway).
Under Armour, a new player in the Sneaker Wars, has to unveil a rumored Stephen Curry signature model but the Warriors guard's shoe of choice, the futuristic looking Clutchfit Drive (P7,400) with its 'second skin' and tall profile has been quite popular even with limited availability in its few local stores fast running out last we checked.
Despite the impressive names in their respective rosters, Nike and adidas do not have an exclusive monopoly on NBA franchise players. Adding to the diversity are several Chinese brands have managed to sign some big names that have as much talent and in fact have championship pedigrees to back up their reps.
Li-Ning is well-known for luring Dwyane Wade from the Jordan Brand and 'His Way of Wade' goes for a Jordanesque P7,495. Peak locked in Tony Parker with their TP1 which sells for P5,295 and is the only shoe that comes with a free basketball. Under the Anta fold are former teammates Kevin Garnett and Rajon Rondo whose shoes (KG, P4,995 and Rondo 1 P4,295, respectively) present more affordable options.
Fila, which used to be a big player in the 1990s, has fallen by the wayside but their Fila 95 GH 1 is still eye candy and it's P2,999 price tag is hard to beat.
And if you're curious how it felt like to be Magic and Bird when they faced off in the eighties, 'Choose Your Weapon' with the Converse Weapon (5,270) that comes in the Lakers' purple and gold as well as the Celtic's black versions.
The Philippines has been jokingly described in the international scene as a nation of guards so it's not surprising that the more popular shoes are those endorsed by players who play that position. But in the end, it's still all about personal preference.