AFTER he crossed the finish line at the INEOS 1:59 Challenge at Prater Park in Vienna, Austria, an exultant Eliud Kipchoge proclaimed, "I can tell people that no human is limited. I expect more people all over the world to run under two hours after today."
As they say nowadays, sana all.
Kipchoge had accomplished a peak-human feat. As any long distance runner can tell you, a marathon is a 42.195-kilometer ordeal through hell. For many, just completing a marathon is a bucket list entry in itself. "For my athletes, most [finish] in the mid three to four hours," says Andy Leuterio, director of Alpha Training Systems who's a running, triathlon, and cycling coach. To complete it under two hours? Almost unthinkable.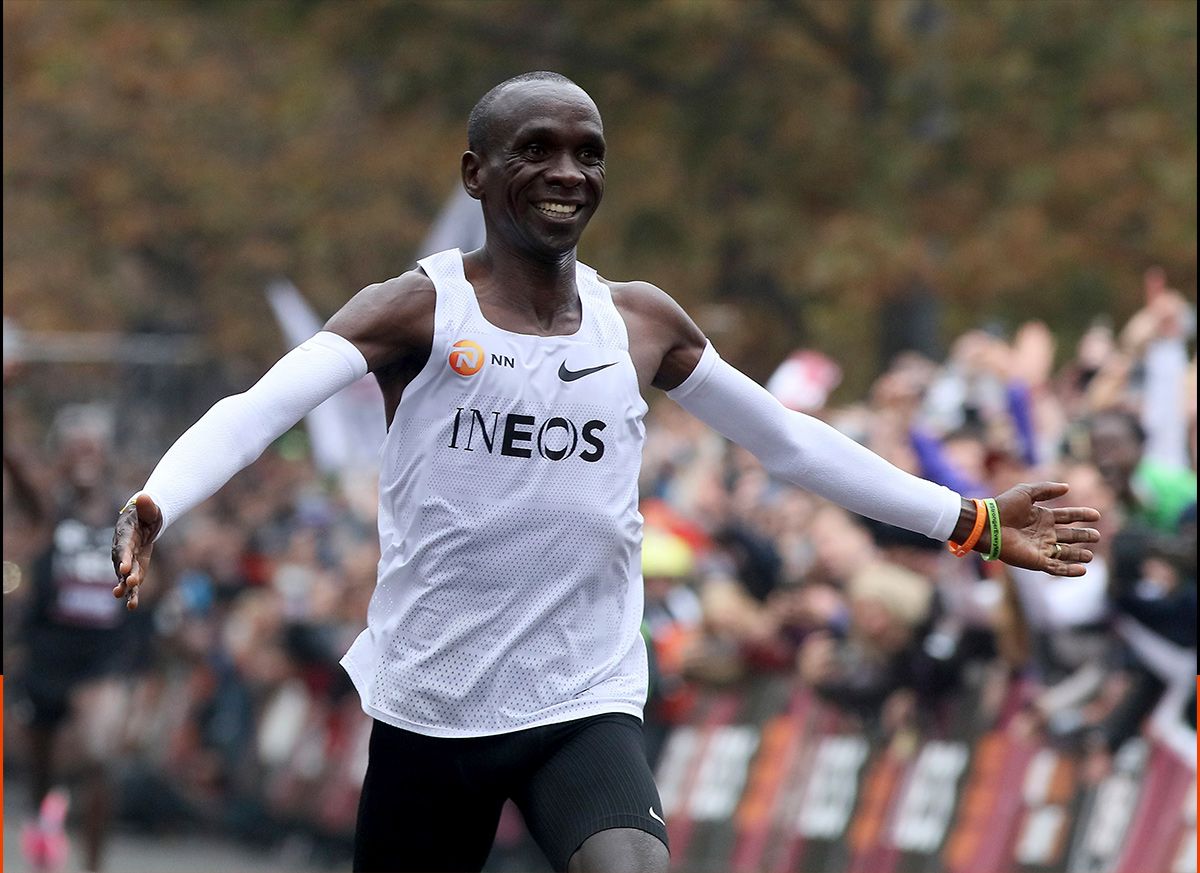 Continue reading below ↓
Recommended Videos
Kipchoge's feat was accomplished via a highly specific set of circumstances. The entire event—essentially a one-man race—was built for the express purpose of getting the 34-year-old Kenyan runner to beat the record. (This is also the reason why the run was not ratified by the International Association of Athletics Federations, the governing body of the running world.)
This is not to take away from his superhuman achievement. After all, completing a marathon in 1:59:59 means rocketing through 100 meters in just 17 seconds...and then doing that 422 times. But the course he ran was a highly-engineered time trial. Essentially, the organizers transformed an entire Viennese park into a 42-kilometer running lab, isolating variables that could shave precious seconds and enable superhuman feats.
Will they enable yours?
Get better shoes
For Kipchoge's run, Nike gifted him with an experimental pair of shoes, the ZoomX Vaporfly Next%.
Its predecessor was called the Vaporfly 4%—so called because it would improve your running economy by 4%. Independent research from the Locomotion Laboratory at the University of Colorado Boulder has confirmed that the Vaporflys do make marathon runners run faster, thanks to a foam that's both absorbent and resilient. In addition, a carbon fiber plate inside the sole helps stabilize your gait. Improvements in the Next% meant that Kipchoge's run could have been upgraded even further.
If you can't find Vaporflys (and really, who can?), Leuterio has this advice: "Get a shoe with ample cushioning and support. Save the flats for the shorter races. For marathon running, you're going to be putting on a lot of miles in training, so a cushy shoe will help, especially if you're not a lightweight." He also recommends getting multiple pairs of shoes to avoid wear and tear.
Run with your wingmen
To eliminate as much air resistance as possible, a platoon of wingmen accompanied Kipchoge—41 of them, in fact, representing some of the world's best runners. Seven of these pacemakers ran with him at a time: five formed a V in front of him, effectively blocking the wind; two followed right behind, helping set his pace. After each lap, a new team of seven would rotate in.
Ahead of the entire formation was an electric car. On its back was a display of estimated finish times. It also had a laser projection system that would display the ideal racing line. Most importantly, writes Matt Burgess of Wired, "[I]t acted as a large barrier that can reduce drag."
Fill up your tank
Marathon runners know how to pack energy bars and gels in their belt bags for much-needed mid-race nutrition. Kipchoge favors a little-known Swedish drink called Maurten. Its main advantage, says Runner's World, is that it contains more carbohydrates than most sports beverages—a must if you want to keep feeding your muscles through those grueling kilometers. An assistant on a bicycle was helpfully on hand give Kipchoge his carbs—an estimated 60 to 100 grams of it in an hour, according to sports and exercise nutritionist Stephen Mears.
You probably won't need that much if you're just starting to do marathons. "Eliud was racing and thus had a higher caloric burn than the average beginner who is pacing more conservatively," Leuterio says. A single gel, he advises, contains around 80 calories, and should be enough for 30 to 45 minutes at a moderately aggressive pace. You should also down a 500mL electrolyte drink like Gatorade once an hour to fight dehydration.