THE Berghaus Limpet may have an odd name choice for a racing pack - after all, a limpet is a sea snail that hardly moves. In fact, when under duress, a limpet can be almost impossible to move from it's spot. Berghaus probably enjoys a little bit of that British tongue-in-cheek humor (yes, they are based in the UK, despite the German-sounding name). With the Limpet, they may be referring to how the pack remains securely on your back when you're trail running or mountain biking.
We loaded up the pack with your typical mountain biking supplies. A hydration bladder with 1.5 liters of water, a snack bar or two, a pump, a spare tube, and tools. We appreciated the number of pockets (and pockets within pockets!) that the Limpet has. It just made organizing stuff much easier, and at the same made them easy to get to. There's even a clip for securing your keys, and mesh side pockets for stashing a snack or a tool, for example. With the basics covered, we found that there was still a bit of space available. So we also put in a bunch of gadgets: a GoPro camera with spare batteries and mounts, a pair of high-power LED lights and their battery packs, and a set of red LED lights for road safety. We could've probably squeezed in a change of clothes, thanks to the Limpet's expandable gusset, but we promised our better half that we'd be home for dinner.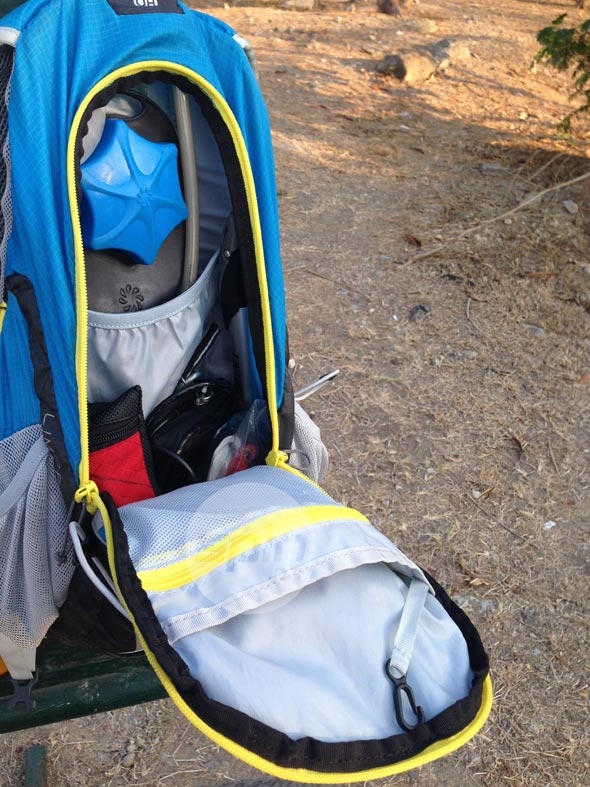 ADVERTISEMENT - CONTINUE READING BELOW ↓
Strapping the Limpet on is as straightforward as a backpack can get. A waist strap and sternum strap stabilize the load (and careful packing, such as putting the heaviest items at the bottom of the pack helps, too). There's also a generous amount of straps for the shoulders - which lets you adjust how high (or low) the pack rides on your back. Speaking of which, the Limpet has "pods" that contain plastic balls, designed to minimize contact with your back and improve air circulation - a boon for our sweltering summer.
With all straps adjusted to fit, we hit the road and trail, and immediately noticed that for all the adjustability that the long straps offer, they can also flap around in the breeze. It was a mild annoyance, however, and can be easily recitified by strategic placement of rubber bands. As we bounced down the trail, the Limpet did stay in place, just like it's mollusk namesake. The pack didn't shift, and all the straps stayed secure. The longish pods also seemed to distribute the load along our back, creating no hot spots. However, we found the waist straps a bit too thin - and while they didn't bother us during our rides, people of a more "jolly" physical disposition may find them a bit uncomfortable. We did like how the mesh pockets kept snacks and tools within easy reach, even while we were wearing the pack. Post-ride, the compression straps do a good job of holding our sweaty helmet.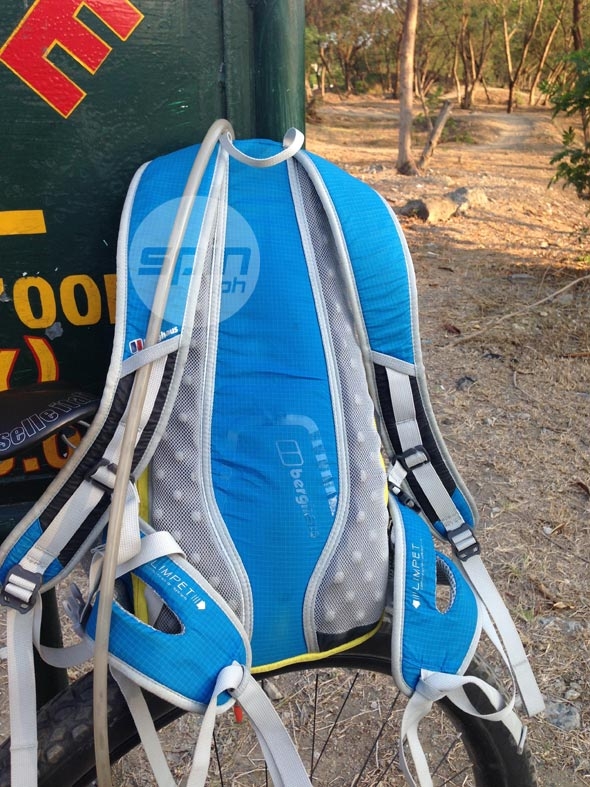 The pack's inherent stability also makes it perfect for trail running - though we doubt we'd be carrying tools, or a spare tube when going on a run! To manage lesser and lighter loads, the Limpet's compression straps also help pack everything down, pun intended, and keep things in place as you skip and bound your way on the trail.
There's clearly a lot to like with the Berghaus Limpet. It's a well-thought out pack that reflects the outdoor expertise of the British company. It's lightweight material offers a measure of protection from the elements, and the pack's low-profile lessens the chance of you snagging on a branch in tight trails. It's big enough for any adventure, while at the same time svelte enough for racing. And just like the mollusk, we had a hard time getting it off of our back - primarily because we hardly noticed it was there.
ADVERTISEMENT - CONTINUE READING BELOW ↓
Berghaus Limpet 10+ Pack
Specifications:
Dimensions (approx) 50cm (H) x 24cm (W) x 16cm (D)
Weight (approx.): 480g
Price: P2,495 at Toby's Sports