AS kids, we all sufferer from "new shoe syndrome" - a phenomenon that made us feel that we could run faster or jump higher thanks to our brand-new pair of sneakers. Back then, it could very well just be our excitement driving us to new levels of performance - perceived or otherwise.
Welcome to the modern world, then. If there's a pair of a sneakers that could very well improve your running, it could be something from Newton. While the bright colors may be a style statement shared by other sneaker brands, what sets these runners steps apart, or mikes ahead, if you prefer, are the philosophies and execution behind them.
Newton has been a proponent of mid foot running, a running style that has you striding on the middle part of your foot, just slightly behind the ball (in essence the widest part of your foot) - as opposed to the common heel-to-toe "rocking motion. From a physiological standpoint, this allows your joints to more effectively absorb the impact of your footfall, which means you run more efficiently and with less pain.
Every Newton shoe, and in this case the Newton Energy NR, is also a showcase of this belief. Let's start with the sole of the matter. The Energy's outsole features multi-density rubber - high wearing areas such as the midfoot (no surprise there) and heel have a more durable rubber. The midfoot area in particular has five of Newton's "action-reaction" lugs - an energy return system designed to put more spring in your step. The Energies also have a slight 6mm heel to toe drop - for reference barefoot running shoes have zero drop, while more cushioned shoes can have more than 8mm. The shoe's brightly-colored, lightweight upper is breathable and comfortable - a seamless interior reduces chafing if you choose to run in these without socks (triathletes, take note - these can potentially save you a few seconds in transition, too).
Continue reading below ↓
Recommended Videos
Swift wardrobe changes aside, what these shoes do is help you run faster. If you already have a midfoot running stride - most football and basketball players do, thanks to the need for quick changes of direction - then the process can be as straightforward as lacing them up and taking off. If you're still heeling and toeing, then you may need a few more runs to take everything in stride.
Out on the road, the Energy gives a firm but responsive ride. There's no wallowy, stepping on marshmallow feeling nor a pronounced "boing" as your feet turn over on pavement. The energy return from the lugs/foot pods is smooth and controlled. Probably the best way to describe it is it's like you're running with a constant, gentle tailwind. As far as data points go, we were able to post 5km times on the Energies that were faster than on our non-Newton shoes.
The Energy also addresses a few issues that runners who've been wearing other shoes have had with earlier Newtons. The older Newtons had 4 lugs which protruded quite a bit, and caused a feeling of instability when running slowly or even walking with them. The soles also wore out much faster compared to a non-Newton shoe. As mentioned earlier, the Energies now have more durable rubber on their lugs, which now number 5. These make the Energies a good "intro" shoe for those new to the brand. Some runners - us in particular - felt that the older models were a tad narrow. With the Energy's roomier toe box, our dogs were happier.
While not the cheapest pair in the market, the Energy packs more than its share of technology in a pair. More importantly, it rewards runners - especially those who are Newton-curious. Maybe we should call it "Newton shoe syndrome" instead.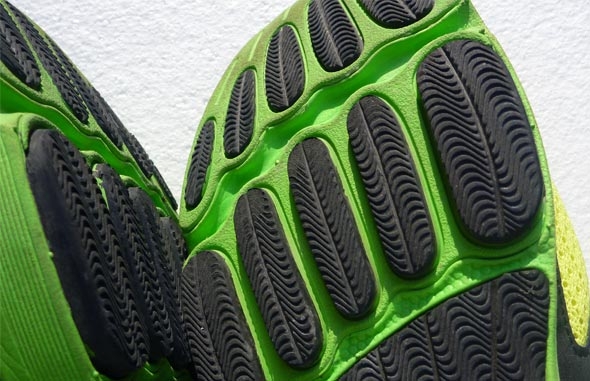 Newton Energy RN
Weight: around 230g
Price: P7,295 at Runnr and Toby's Sports