THE Merrell brand has long been associated with men and women with a penchant for the great outdoors.
It's no surprise that Merrell, one of the leading outdoor performance brands, recently launched its Out.Perform campaign with its AllOut collection for this summer.
For every adventure in whatever terrain, Merrell has the appropriate foot gear from its AllOut collection - "Out.Hike" for hiking/ and trekking explorations, "Out.Paddle" designed for water destinations and Out.Explore for road to off-road travels.
The brand said the idea is to empower people to challenge themselves in the great outdoors - to go outside and not settle for a life on the sidelines, to achieve and out perform.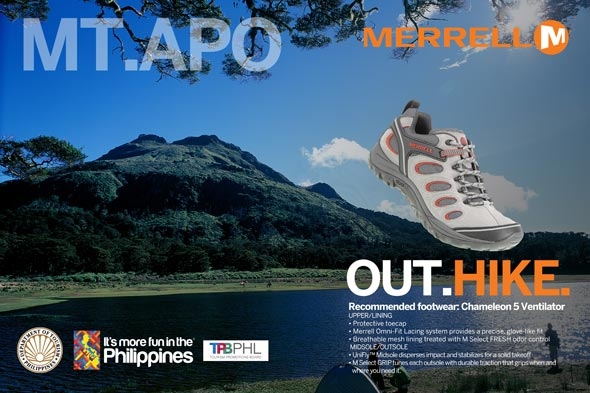 Continue reading below ↓
Recommended Videos
Out.Hike. For hiking and trekking expeditions, the Philippines has many places waiting to be explored. Go trekking at the world's smallest volcano, the stunning Taal Volcano - a volcano within a volcano - and be daring enough to go near its crater. On the other hand, Mt. Pinatubo is another volcanic wonder where you'd take a 4x4 rough ride and walk through the amazing lahar and rock formations that surround the trails. Another popular destination for trekking is Mt. Pulag where outdoor enthusiasts could enjoy nature's diversity with a trail that leads you to pine and mossy forests, as well as grassland. Take an outdoor adventure to include not just nature, but also history, with Mt. Pico de Loro, which once served as a Katipunan camp and watch tower. For these adventures, Merrell recommends its Chameleon, Proterra, AllOut Blaze or Moab, which have good traction, grip and cushioning.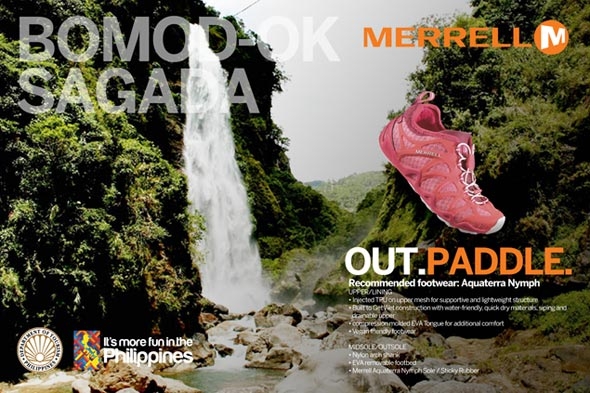 Out.Paddle. Those who fancy water adventures will have a grand time at Waterfall Circuit, offering a leisurely trek on a beautiful rain forest then down into a ravine where a mighty and huge waterfall await at Mt. Buntot Palos. After which, trekkers could cross a river into Ambon-ambon falls for quick dips. Another adventure waiting to be discovered is Mt. Gulugud-Baboy which means "pig's spine", set amidst a scuba diving hot spot. This trail combines a sea and summit journey - a favorite weekend hike for mountaineers and a good introductory climb for first timers. Wade in these waters in Merrell's Waterpro Maipo, Waterpor Gauley, Aquaterra Nymph and Enoki Strap, which have quick-dry material and non-slip soles for added safety.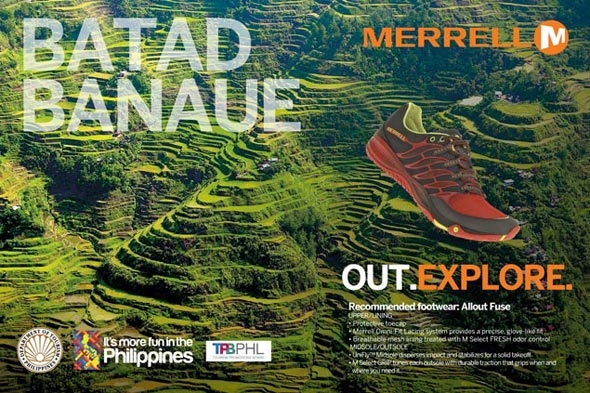 Out.Explore. For an unforgettable climb, Sagada is an outdoor enthusiast's sanctuary to commune with nature and enjoy a breathtaking view at its peak, a perfect horizon of vast mountains and sky. But for those who want to experience nature, culture and adventure in one package, visit Batad in Banaue, a quaint village sitting atop the amphitheater of rice terraces that date back to the country's prehistory circa 2,000 years ago. Another popular outdoor destination is Sierra Madre, ideal for spelunkers who want to explore the most sought-after caves replete with shining stalactites and stalagmites. Finish off the trek to one of the Sierra Madre summits for a panoramic view. For these outdoor explorations, Merrell has AllOut Fuse, AllOut rush and Mix Master Move footwear, providing versatility for road to off-road travel.
Merrell and the Department of Tourism has also launched the "Getaway to Adventure's" upcoming tours in partnership with trailadventours.com. Winners in the social media campaign will get a pair of Merrell footwear and a trip for two to a selected outdoor destination. Interested? Click on https://www.facebook.com/MerrellPhilippines