ASKED why he wanted to conquer the world's tallest mountain, Edmund Hillary, one of the first two climbers to officially reach the top of Mount Everest in 1953, didn't need a long speech to sugarcoat his motivation.
The mountaineer and explorer from New Zealand gave a short, yet logical answer.
"Because it's there," he simply said in an interview after the climb of 8,848 meters or a little over 29,000 feet.
Fast forward to present day in Manila, a much shorter, yet still imposing skyscraper was waiting to be scaled in the form of Shangri-La at the Fort, Manila hotel that was set to host the fourth edition of the Manila Vertical Run last Sunday, September 22.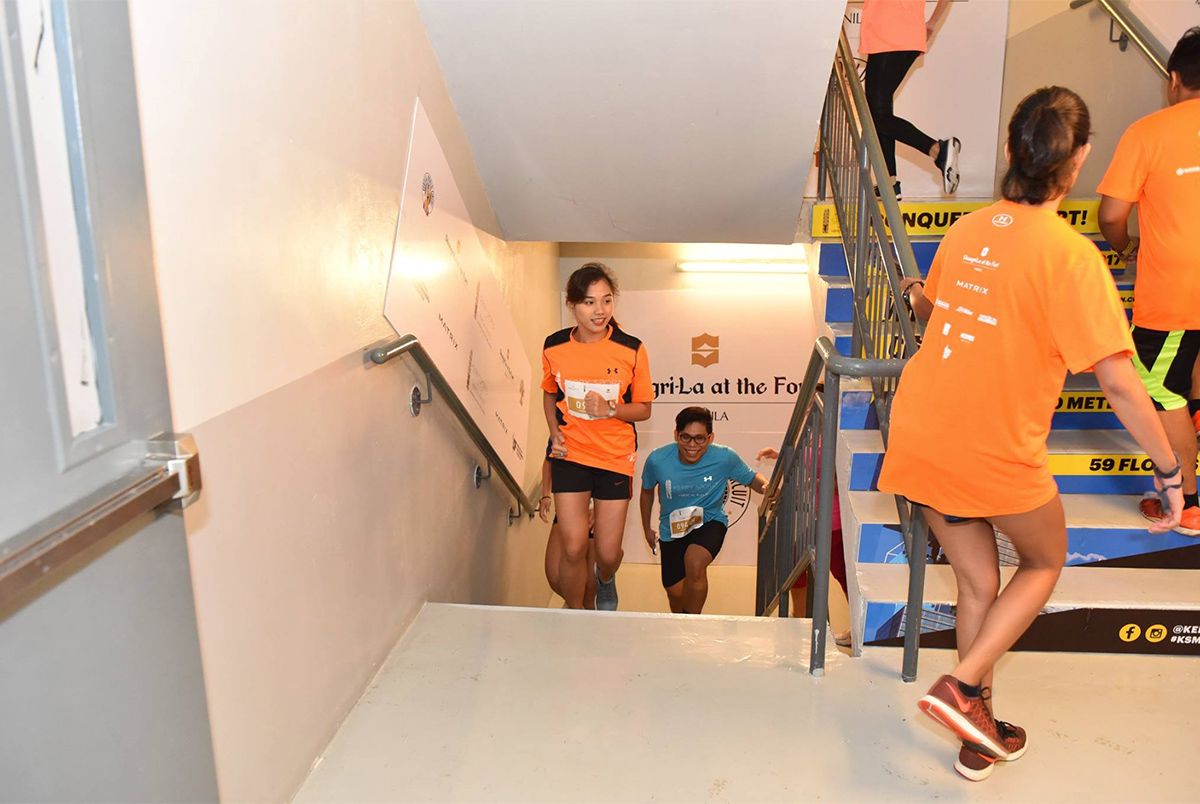 Continue reading below ↓
Recommended Videos
What is Vertical Run?
I found it interesting last year when I first learned about the relatively new kind of fun run that seeks to determine not the fastest runners, but the quickest stair climbers inside the fourth-tallest building in the metro with 63 floors at 250 meters tall.
Still, I didn't have any plan to join this year. I have never woken up in the wee hours of the morning to join a fun run, even at just five kilometers. Getting me to wake up early is as nearly impossible as seeing light traffic in Manila these days.
Not until my sweetheart, mi love, Isay, shared an online poster of the event, her way of saying we should try it. So why not? After all, we love trying new stuff together, from food to movies to places – in this case, a new fitness challenge.
Plus, the start of the race was not as early as in fun runs.
With the help of Kate, the new rose among the Spin.ph staff's thorns who covered the event's press launch, we managed to get complimentary race kits. We only wanted to try the Horizon Challenge of 39 floors for our first time (there was also a four-person Team Challenge of 59 floors and a Fun Climb of 22 floors), but the kits they were offering were only good for the Full Challenge of 59 floors, so we were forced to go all the way. Anyway, go big or go home, as they say. I joked Isay I could just carry her if she can't finish the race.
Preparation for Vertical Run
We beat the deadline for registration on September 10, but that was less than two weeks away from raceday, leaving us little time to prepare for the event, so I contented myself with minimal bodyweight squats at home to strengthen my legs, while Isay, being a member at her neighborhood gym, had the luxury of a personal trainer to assist her on a variety of leg exercises ahead of the run. She also availed of the last of the free training sessions also at the hotel the day before the race.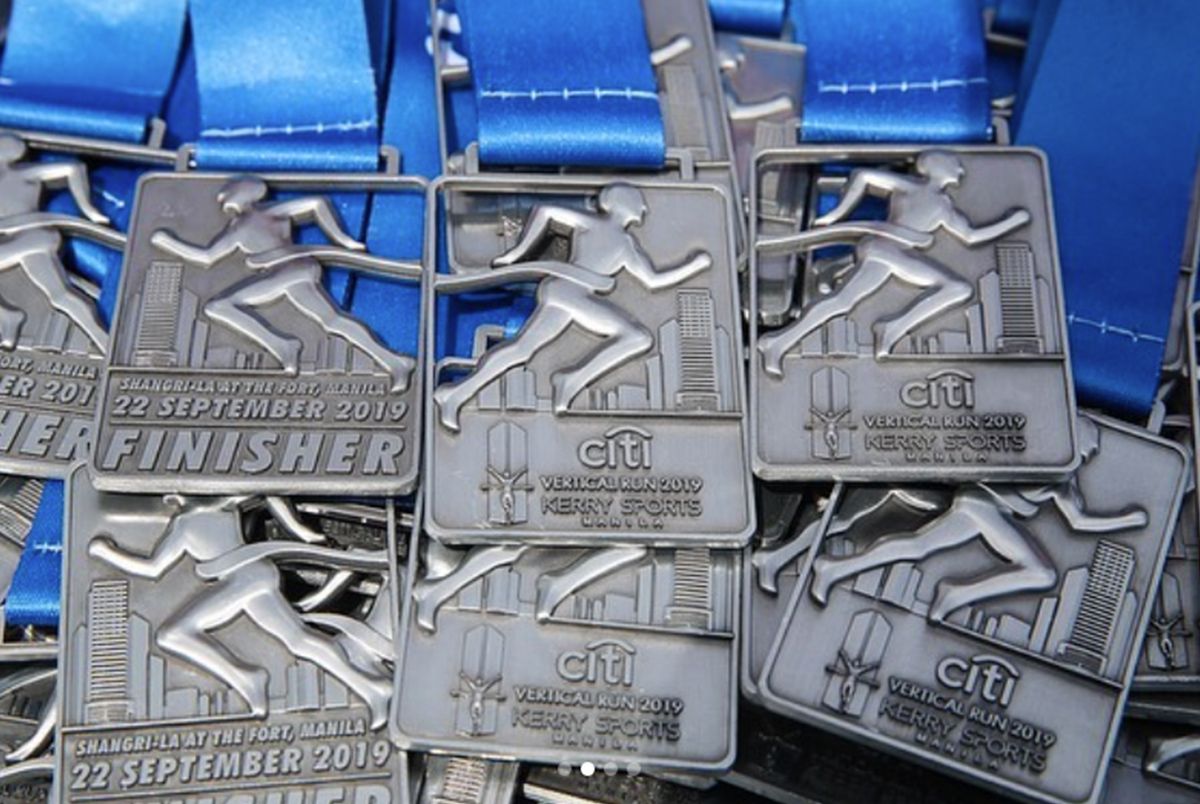 Raceday
Skipping breakfast to stay light, we arrived at the hotel a little past 9 a.m. and headed straight to the sixth floor for the warmup session where we followed an instructor and did some dynamic stretching on our own later. We had a few celebrity co-participants, including retired PBA star and current San Miguel assistant coach Jimmy Alapag, who gave a short talk before the warmup.
Already warm, loose, and hydrated, we went down to the second floor where the start line was located as we waited our turn for our wave to start (one wave of around 10 people each was released every five minutes to avoid congestion inside the stairwell). My start time was 10:59 a.m., while Isay's was 20 minutes later.
I was actually making do with my casual walking sneakers that could pass as running shoes, while Isay wore her go-to purple training shoes with knee-high purple compression socks and, as an accessory, slipped on a pair of weight training gloves to get a better grip on the rails and avoid blisters.
Finally hearing the go signal, I began the climb of 1,353 steps. I hovered with the pack at first then after the first few floors, made my move and overtook some of my batchmates. I'm used to climbing two steps at a time on regular stairs, so I turned to the same technique and that allowed me to gain some separation. I thought I could go on for a while longer, but I was surprised it took me just the seventh floor to slow down.
Breathing was steady, but I could feel my legs starting to tighten. I would sometimes hold on the rails for support, but I resorted to just using my hands to push down on my legs in the same motion as stepping on the stairs; I found it helpful, so I stuck with it.
I knew the full distance was a mere quarter of a kilometer – but the incline definitely made it tough. Where's the nearest elevator? I thought to myself. I climbed Mount Apo a few years ago, but this was a different animal.
Good thing I got a much-needed breather on the 22nd floor, where the first water station was situated. Drinking from a small cup of water and taking a few seconds to rest, I found my second wind and managed to increase my pace. But after a few floors, I slowed down again and stuck to this pace for the rest of the climb. I reached the 39th floor for the second water station and drank another small cup of water, although just half full. I realized later I didn't have to stop at that pitstop that caused me to lose some time.
Embarking on my final push, I would cross paths with several race staff each situated at some landing corners to cheer us on with their stick balloons, and soon each floor had one cheering staff as we approached the top flight.
With three floors left, I could feel my legs numbing, but shook it off as I heaved a sigh of relief when I finally reached the penthouse and crossed the finish line to the cheers of the earlier finishers and some other staff.
I knew it wasn't advisable to take a seat right after a run or any grueling activity, yet I felt so exhausted that I looked for the first seat I could find and sat on it for a few moments, reflecting on what had just transpired. Not bad for a first vertical run, I thought to myself. But I know I could've done better.
What makes me proud is seeing Isay cross the finish line minutes later as I gave her a hug and kiss after she reaped the rewards of her regular gym sessions. She didn't need carrying, after all.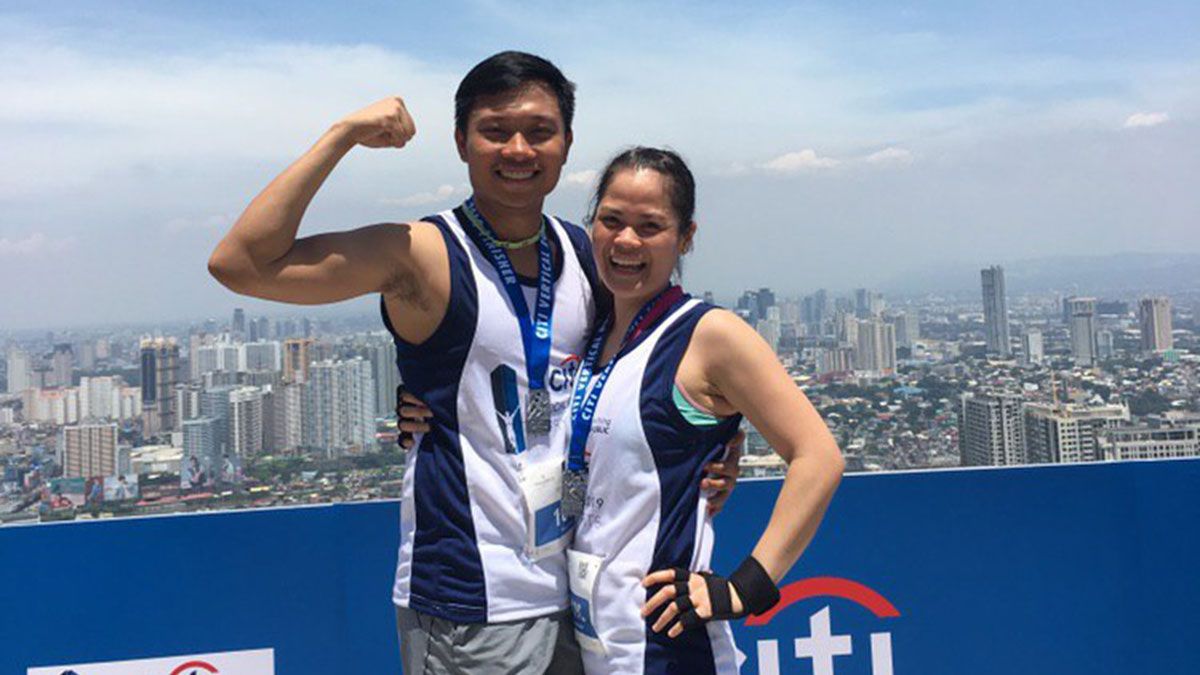 After freshening up, we walked to a nearby Italian restaurant and feasted on some medium-well lamb steak, Margherita pizza, and Rigatoni pasta for our first meal of the ay. The food seemed to digest so quickly that after a short walk, we got hungry again, so we devoured Pink's hotdogs and onion rings for merienda and early dinner. What a way to cap our day.
Checking the provisional results days later, we found out our official times - 13 minutes and 20 seconds for 64th spot for me - if my count was correct, while Isay finished at a little over 18 minutes.
While my result was nowhere near the fastest runner, Andrico Mahilum, a male runner in his 30s, who finished at an impressive seven minutes and 54 seconds, this was a rare – and probably only – time I can say I was better than coach Jimmy at something as the 41-year-old national treasure finished at 14:53. No need to challenge him to a three-point shootout.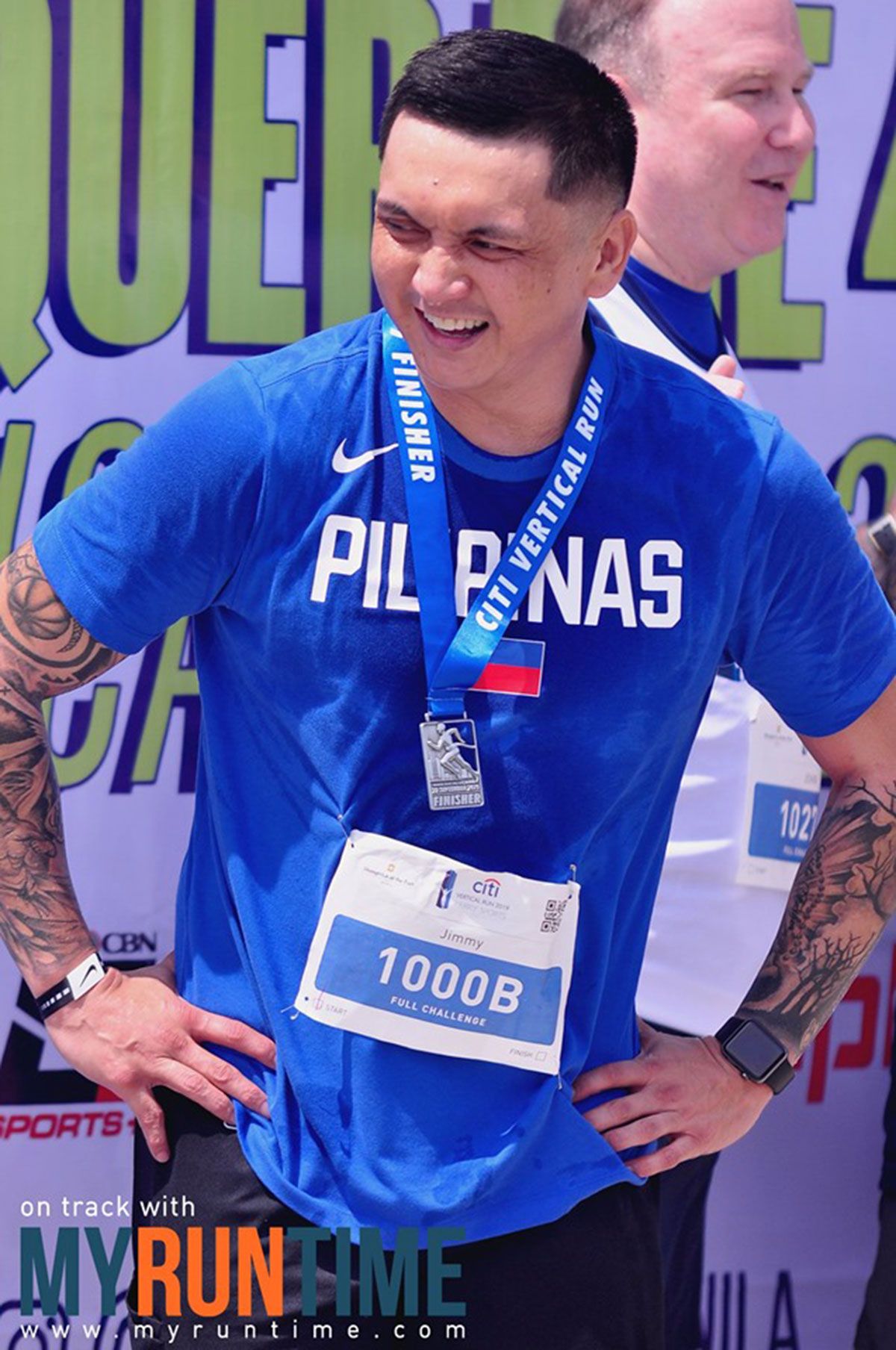 We originally just wanted to try this unique fun run, but it seems Isay's competitive side is prevailing as she's already eyeing a repeat next year so she can surpass her time. I don't mind doing the same. Like I said, I could've done better.
For those of you thinking about trying the Vertical Run, you don't need much motivation to do so.
Like Hillary said: because it's there.