THERE'S no easy way to go from casual to elite basketball player, as even the 'light' training college and professional players go through is no cakewalk especially for those who've barely cracked a roster of a varsity squad.
But Ateneo assistant coach Yuri Escueta bared that there is one slow but sure path to reaching elite status: repetition.
Escueta demonstrated several drills for explosiveness and footwork to some members of the media who are part of the Kyrie 3 'Cut Out of Nowhere' session on Saturday. And he made doing such exercises — from ladder drills, dribbling with tension bands, single leg squat jumps, among others — look easy in the same way college and professional players perform them during practice.
The former Ateneo standout went on to describe the second of a four-day Kyrie 3 experience as a 'light' training session but experiencing first-hand the grueling effects of a supposedly easy routine only raises one's respect to the players who persevere day in and day out through harder sessions to reach their basketball dreams.
[See Tab Baldwin points to mastering fundamentals first before dazzling like Kyrie Irving]
At one point during the session, I couldn't even distinguish between my left and right foot in going through the blitzing pace of the ladder drills. And even for someone who regularly plays hoops between sports coverages, I could hardly move my lower body a day after the intense experience.
Continue reading below ↓
Recommended Videos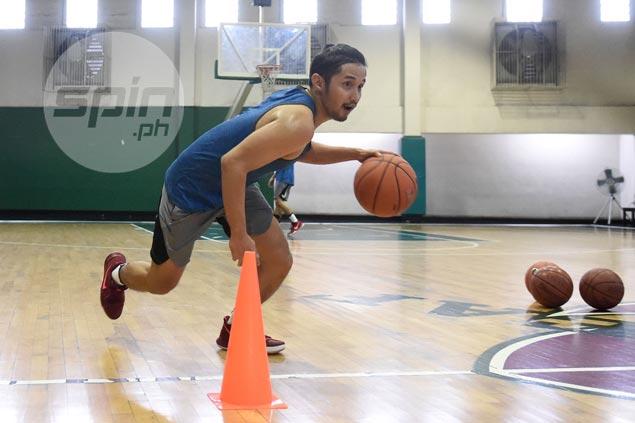 But Escueta assured that it only gets easier in time, especially if one is dedicated enough to repeat the drills over and over until it becomes natural.
With repetition — and a pair of shoes like NBA star Kyrie Irving's third signature sneakers with the traction that allows you to move at any direction at will — mastering these basic drills can be done easier to move a step closer to elite basketball level the same way the Cleveland Cavaliers guard has improved in his career.
"Yes (Pag ginawa with repetition magiging parang natural na lang), with those exercises and technique like staying low," Escueta said after the one-hour session at the Cloverleaf Gym in Makati.
"Yung repetition ng exercises, para lumakas muscles. Kasi yung explosiveness, makukuha sa legs mo," he added.