THE first thing that comes to mind when talking about NBA star Kyrie Irving is his ooh-inducing ball handling skills. But there's actually more to his crazy handles than just fancy dribbles and crossovers.
Footwork is an important aspect Irving works on to improve his ballhandling skills, and he does plenty of drills to accomplish that.
This was what five members of the media realized during the four-day Kyrie 3 Cut Out of Nowhere experience under Gilas consultant Tab Baldwin and Ateneo assistant coach Yuri Escueta.
The whole program was designed to enhance our dribbling skills, explosiveness, and most of all, footwork.
"Kahit na ang galing mo mag-dribble pag hindi mo nakuha yung technique ng footwork mo, yung defender mo di mo maiiwan," said Escueta.
"Ang galing mo nga mag-cross over, problema dun ka lang sa isang lugar. Yung handwork, partner sya ng footwork. Importante sya parehas," he added.
It's a lesson vital not just for Irving wannabes in this era where agile big men are a common sight, added Escueta who cited Anthony Davis as example.
The New Orleans Pelicans star has decent shooting and, of course, good ballhandling skills — both have helped him rise to elite status in the NBA.
Continue reading below ↓
Recommended Videos
"Si Anthony Davis sa labas naglalaro, galing ng ballhandling. Yung basketball ngayon mabilis na e. Nag-iba na yung laro so kailangan makasabay ng mga bigs," said Escueta.
Nike Philippines allowed us to experience a training regimen simillar to what Irving goes through. Below is a recap of the whole program: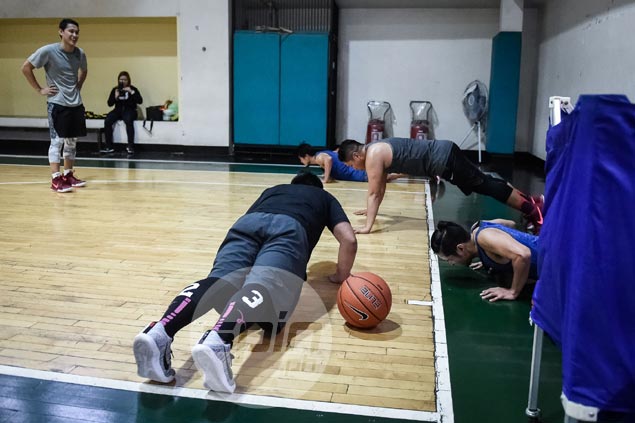 Day 1
The opening day was focused on footwork and handwork in a light training session, featuring basic exercises like ladder drills, squats and lunges using a medicine ball. We capped the session by attacking the rim with different finishes ala Irving.
Basics of footwork and handwork
I. Warm up
II. Exercises
- Squats with heavy ball
- Lunges with heavy ball
III. Footwork
-Line drills to sprints
-Line drills to sprints with ball
IV. Dribbling
-Stationary Dribbling
-Cone Dribble attacks
V. Finishes
-Dribble attack to different finishes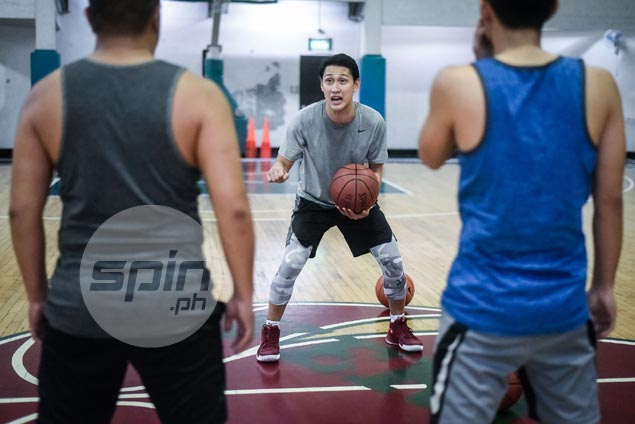 Day 2
The second day covered exercises to enhance explosiveness and rim attacks. While Escueta described the session to be just as light as the previous one, our bodies disagreed.
The first activity alone got our bodies aching for the rest of the week, as we had to do squat jumps with a heavy ball. Escueta also made us attack the rim with resistance bands, where you had to push your lower body to its limit.
But Escueta assured us after the session that it only gets easier with repetition.
Explosiveness and Rim attacks
I. Warm up
II. Exercises
-Squats jumps with heavy ball
-One leg squats jumps with heavy ball
III. Footwork
-Ladder drills
-Ladder drills with ball
IV. Dribbling
-Resistance bands
-Resistance bands cone dribble attacks
V.Finishes
-Multiple dribble attack to different finishes
Day 3
The training intensified on the third session. This time, we focused on improving speed and breaking a defender down.
We started with, guess what, exercises with a heavy ball. We had to jump from side to side with the heavy ball as though we were attacking the basket with a side-step move.
We worked on our speed after that with slalom and three-to-five dribble full-court drills.
Everything sounded easy, but believe me, I could hardly move after the session.
Speed with ball
I. Warm up
II. Exercises
-Lunges with heavy ball (moving)
-Side to side jumps with heavy ball
III. Footwork
-Cone dribbling layups
-Cone dribbling to jumpers
IV. Dribbling (working on speed)
-Slalom
-3-5 dribble drill (full court)
V. 1-on-1
-Slot defense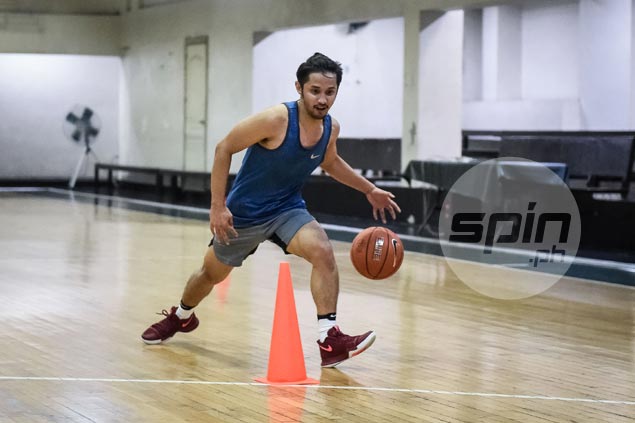 Day 4
The last day was basically the application of what we learned from the previous three sessions. And we showcased everything during the culminating activity: a race-to-five 1-on-1 game.
From cross over to side step to spin move to jump shots and layups, all of us strutted our wares as if we're trying to impress a scout or a coach in a tryout for a college team.
Final Day
I. Warm up
-Aerobic warmup/stretches
-Dribbling warmup
II. Footwork and handwork to finishes
-Diamond cone drills with ball to speed attacks
-Diamond cone dribbling to pull ups/step backs
III. Dribbling (working on reaction)
-War drill 1 on 1 on 1 on 1
-War Drill 1 on 2
-War drill 1 on 3
IV. Speed dribble
- 4-5 dribbles full court
V. 1 on 1 (first to 5)
-Slot defense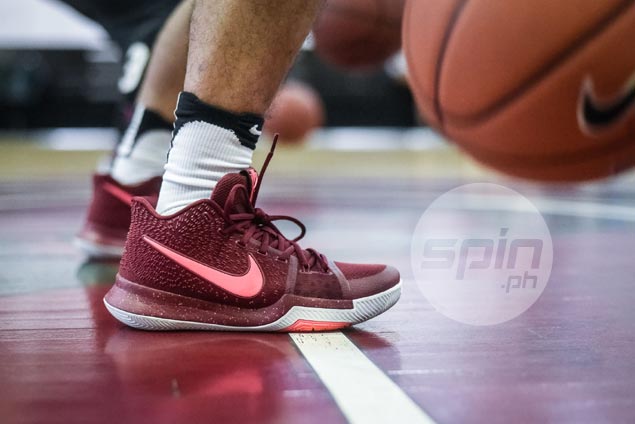 Conclusion
Painkillers became our best friends during the cutthroat four-day Cut Out of Nowhere experience. But it was all fun, nonetheless, that raised our respects for the players that we cover everyday.
If you follow the same regimen we underwent, which was patterned after Irving's training, you get closer to mastering those anklebreakers the same way as the Cavs star.
But as Baldwin said, mastering the fundamentals first is key before aspiring to become like the NBA champion.
"You can't really play the game well unless you can play the fundamentals," he said.
"There's so many other things you have to master because, actually, when you're playing the game you spend very little time with the ball and spend a lot playing defense, cutting... there's a lot to do without the ball."