"OORAH!"
You know it's not an ordinary race when you hear the echoes of 5.56mm rounds fired by sniper teams to greet your arrival, witness a fully armed squad in camouflaged war paint on maneuvers suddenly emerge from the jungle, stand alongside fellow runners in digital camouflage, and controlled explosions signaling the gun start.
Literally turning obstacles into opportunity, the Philippine Marine Corps opened the gates of Camp Gregorio Lim in Ternate, Cavite into a unique venue for a fun run dubbed Kareka Lakas Pilipinas.
Lt. Col. Stephen Cabanlet said more than 900 participants joined the event on Sunday, a number that was double his original projection and the largest since the race started back in 2012.
The race started at 0700 (7 a.m. for us civilians) from the beach where marines train in amphibious landings and Balikatan military exercises with their US counterparts.
After running several kilometers uphill, the participants were then required to crawl down a large tunnel via a web of ropes. Emerging from the tunnel, they landed on a large safety net.
Navigating a dry creek bed, the runners then tackled the marine obstacle course that included carrying a tire several hundred meters uphill, low crawl underneath barbed wire, climb a series of walls, take on monkey bars, maintain their balance on a log bridge and crawl once more in mud. And that was the easy part.
Continue reading below ↓
Recommended Videos
Having waded in a murky swamp, the runners emerged into a secluded beach that led to a rocky escarpment the marines call 'Spartan Hill' that had 45-degree inclines.
After the race, SPIN.ph caught up with the Marine Commandant and AFP Vice Chief of Staff, Major General Romeo Tanalgo, who said "(we) maintain a standard of physical fitness and this is how we train our marines. Ginagawa naming ito para ma-share sa mga civilians how we maintain our physical fitness."
"Apart from knowing our military, by knowing our training (the people will start) knowing our sacrifice," added Tanalgo, who acknowledged that sports is a force multiplier in the ongoing marine mission, noting the 1st Philippine Marine Marathon to commemorate their anniversary and the Football for Peace initiative for children in conflict areas such as Sulu, Tawi Tawi and Basilan.
"Tama na ang giyera. We can achieve peace through sports naman," he said.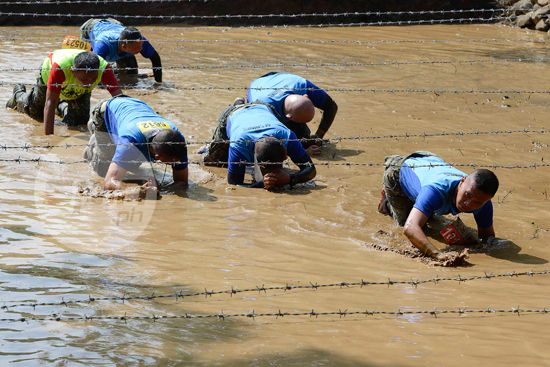 Two sets of winners were announced for the 10- and five-kilometer categories: one military (Bagsik) and the other civilian (Astig). Each winner received a trophy that featured two symbols dear to the Philippine Marines: their turtle mascot and a replica of the Commandant's Cup.
The first 100 finishers were given commemorative dog tags. All civilian finishers also received a certificate with the title of 'Honorary Marines.' For the post-race meal, citizens and servicemen all partook in a traditional 'boodle fight.'
It's interesting to note that the podium finishers of the 10K men category were all members of elite units: the Marine Force Recon took advantage of its 'home court' edge and finished first followed by an Army Scout Ranger while the PNP-Special Action Force completed the cast. Also given recognition were the fastest runners per rank as well as unit commanders.
The marines also showed a special fondness for 73-year old Pablo Francisco, who took home a trophy as the oldest competitor.
Cabanlet, known as an innovator who uses sports in supporting the PMC, said a portion of the registration fees would be used to help marines in the Wounded Warrior program.