WHO doesn't love sweets? Your day probably wouldn't be complete without getting a taste of any sugary treat.
But if you're someone who has both a sweet tooth and fitness targets to hit, avoiding sweets can be as hard as a smoker trying to quit his addiction.
What more if you're a baker who has plenty of tempting pastries just lying around?
One owner of an up-and-coming online bakeshop, though, seems to have figured out the perfect recipe.
Emilienne Luciana Gabrielle Vigier of Luciana's Maison-Bakery stays fit and healthy even in the constant presence of her best-selling cookies, revel bars, cinnamon rolls, and other delectable delights.
What's her secret?
"It took me years to discipline myself. I am also acidic so it's easier for me to resist since I always avoid a horrible stomachache," Luciana admits in an online interview with SPIN Life.
"But with all honesty, I am satisfied with just tasting sweets rather than having the whole chunk," she adds. "I always ask myself, 'Do I really need to eat this or do I deserve it?' It's really dedication and discipline."
ADVERTISEMENT - CONTINUE READING BELOW ↓
Consistency is also key for the French entrepreneur. She eats clean most of the time and she loves to work out as much as baking, sweating it out six times a week, always with a 30-to-45-minute cardio session appetizer either on an indoor bike or treadmill, before doing her main-course workout routine that differs daily. She makes sure to hit all muscle groups: working on her arms and back, legs, and full body twice a week each. Core work is always for dessert.
"I make sure to do it in the morning since it's what helps me start my day and keeps me going for the rest of the day," Luciana says, quick to add that she squeezes in a sweat session even on days that are busier with plenty of orders scheduled.
"If I don't work out, I won't have any energy to bake or do anything," she says. "I always prep most ingredients a day before so I won't take too long in the kitchen."
ADVERTISEMENT - CONTINUE READING BELOW ↓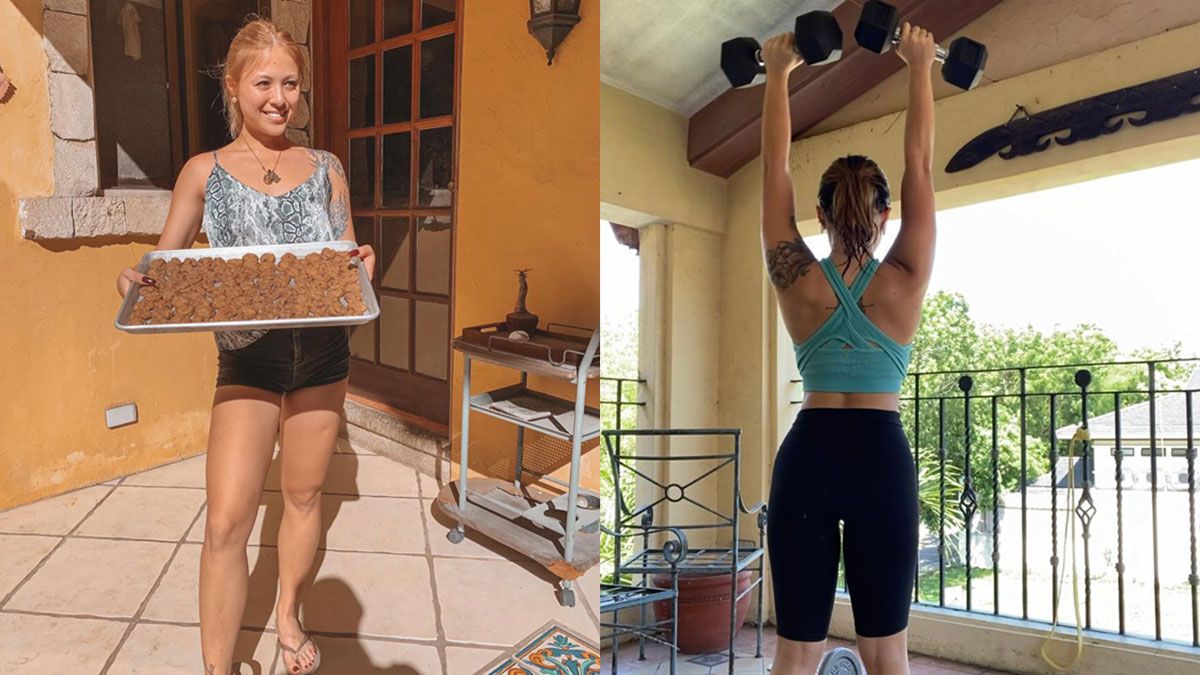 She needs all the energy she can get, considering she has been building her online business by herself since she opened less than a year ago after a few trials and errors of "practicing or mastering something that I really suck at" ⁠— all while studying Diplomacy in college.
When asked what she wants to be known for, Luciana says, "My hard work with my small business. My passion when it comes to something I really put work on and for being myself despite the toxic society that we have."
ADVERTISEMENT - CONTINUE READING BELOW ↓
She adds, though, "It's hard to answer this question because I am still so young and I still have a long way to go and experience new things," she adds, days after celebrating her 22nd birthday last June 9.
And all her hard work surely deserves a sweet reward. So she indulges herself with her mouthwatering treats from time to time ⁠— but, as she said earlier, only a portion. And what's the acceptable amount of sweets intake to still maintain a fit body?
"For me it would be one-third or one-half of a slice of whatever you like," she says. "But if it's a big slice, for me personally, just one-third of it."
It may be a sacrifice for people who can't live without sweets to limit their cravings to a bite. But it can lead to reaching your fitness goals.
"It takes time but if you put your right heart and mind into it, you'll reach your goal little by little. Progress takes time," Luciana says.
ADVERTISEMENT - CONTINUE READING BELOW ↓