ALTHOUGH there are various solutions to regain one's head of hair—such as topical treatments and hair supplements, or through wearing wigs, toupees, and hair weaves—these are only temporary solutions to one's hair loss troubles.
So if you're losing hair and you don't know what to do, have you considered getting a hair transplant?
"The only long-term and permanent solution that will bring back lost hair in places where they have disappeared is a hair transplant procedure. If you want to grow your own hair naturally and permanently, this is the only way to go," MAXiM Hair Restoration CEO Mac Fadra explains.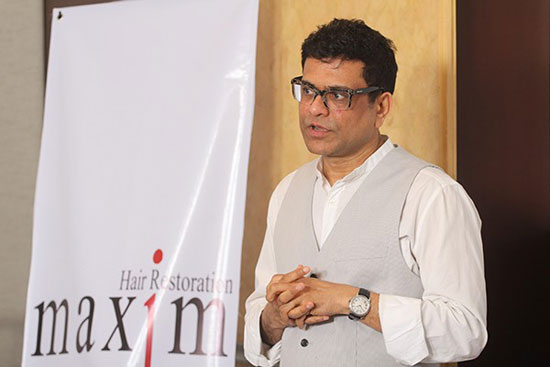 Continue reading below ↓
Recommended Videos
According to Fadra, a hair transplant is "a minor surgical procedure wherein doctors take hair from the back of your head and then transplants it to thinning areas." Contrary to popular belief, hair transplants do not restore your locks. Instead, it just fills in the gaps.
MAXiM Hair Restoration, a 13-year-old international hair transplant clinic established in New York City that opened in Manila in 2004, offers hair transplant procedures called the Follicular Unit Extraction (FUE) and the Follicular Unit Transplant (FUT).
FUE is an advanced no-stitch, no-linear scar hair transplant technique. On the other hand, FUT is the conventional way, which leaves a very thin linear scar at the back of your head, but it's covered by your existing hair. Both transplant procedures take only a few hours.
PBA legend Alvin Patrimonio was one of the clients who went to MAXiM to find a permanent solution for his thinning hair. He underwent FUE in August of last year.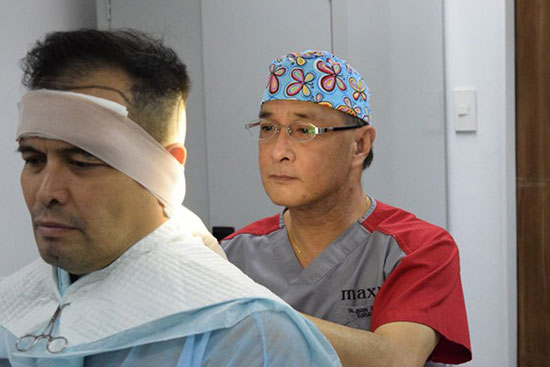 "I was losing my hair so I took medicines and applied topical treatments, but they didn't work for me," Patrimonio shares. "To be honest, I am really afraid of surgeries. During my playing years, I refused to undergo any surgery. But the people in MAXiM showed me how the procedure would go and showed the photos of their successful and happy clients, so I decided to give it a try."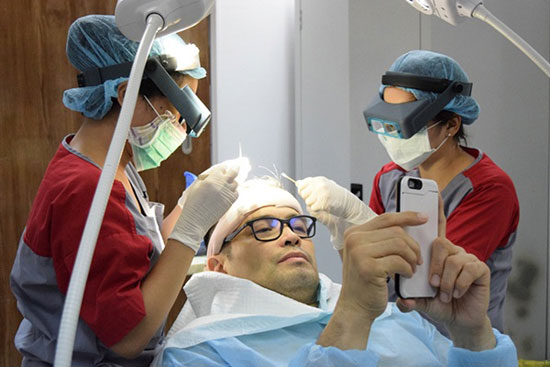 The PBA four-time MVP was hesitant at first because he thought it was going to hurt a lot, but surprisingly, there the procedure was totally pain-freel.
"During the procedure I was even just watching TV or playing with my cellphone. There was no discomfort at all," he said.
"Afterwards, the post-surgery hair care routine was explained to me. It was easy and hassle-free. Now, seven months later, I am really happy with the results. I no longer feel insecure whenever TV cameras focus on me. The results are permanent. And the hair on my head is all mine."
Before and after: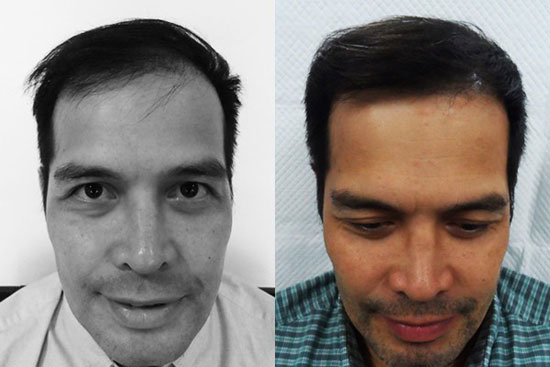 Patrimonio is just one of many men who swear by the hair transplant procedure. According to Fadra, their customers are men aged 25 to 75 years old. Although a lot of his clients are interested in the procedure, Fadra usually says no when he thinks a transplant is unnecessary.
"You have to be at least 21 years old to undergo transplant," he says. "Usually, you need just 1 to 3 sessions to achieve the look that you want. It takes 3 to 4 months until you see hair start growing. After a year, you'll see the full results."
If you're wondering if the results are permanent, they are. As for the after-care, Fadra says you don't need any special method for it, and the recovery takes just a day or two.
"You can shampoo, you can cut it. You don't want to use too much conditioners because that thins your hair," he advised. "Conditioners dry your hair. It looks shiny, but underneath it dries your hair. It looks shiny because you're straining it with all the oil. Anything you put artificially on your hair damages it. Better use natural organic shampoos or use Rogaine and Propecia to prevent further hair loss."
And FYI: The recovery period following a hair transplant is entirely dependent on the type of hair transplant procedure the patient selects.
FUT costs P80,000 per session, while FUE costs P125,000 per session. Contact MAXiM Hair Restoration at 818-6000 or 813-3001 for more details.
This story originally appeared on FHM.com.ph.