FRANZIA Executive Cycling Team looks to fuel their passion for biking some more in announcing a partnership with Italian cycling frames brand Colnago.
The team of executives, from Manila, Hong Kong, and Japan who get together for two biking events yearly, join friendly competitions and ultimately to maintain an active lifestyle. This year, this group of doctors, pilots, businessmen and corporate executives hope to elevate their experience in the team up with Colnago Manila
Known as the Ferrari of road bikes, Colnago is famous for their unique carbon steel road bike enhanced with their signature colors, and for their smooth, confidence-boosting handling of every machine they produce.
"Colnago has been a dream frame of mine since my high school days. The design geometry, lugs and paint designs of Ernesto Colnago is a mix of superb engineering science and art put together that made it an Italian pedigree heritage brand," said Team Franzia founder and Fly Ace Corporation President Lucio Cochanco.
"I am happy to be doing a partnership with Colnago for the whole team as the ride of Colnago frames is relaxing while being very responsive at the same time," he added.
This is the first time that Colnago will collaborate with an executive team in the world, wherein only 32 Colnago C-60 Special Team Franzia frames will be entirely handcrafted in Italy.
Continue reading below ↓
Recommended Videos
"Our partnership with Team Franzia is something that I have long envisioned for the company. It symbolizes a momentous union of two powerful forces and our unbreakable tradition of excellence and quality. And it couldn't have been a better occasion because this is also the first big partnership we're signing in the Philippines, which also coincides with the 85th birthday of our founder, Ernesto Colnago" said Colnago Philippines marketing head Dale Rosales.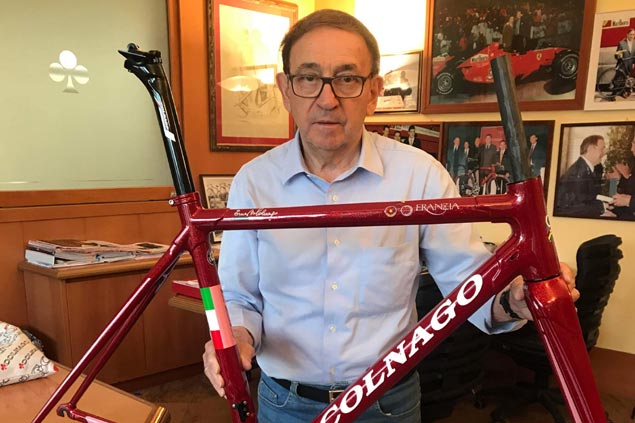 Aside from regular rides around Metro Manila or nearby towns , Team Franzia also organizes a Team Ride at least twice a year wherein all members from all over the country and those abroad meet to cycle together.
"The spirit of camaraderie and passion for the sport are the basic foundations of Team Franzia. Just like in any gatherings and celebration of success, family and friends share these two values – camaraderie and passion – with nothing less but the world's best-selling wine," shared Fly Ace Corporation marketing manager Abbie Ng-Reyes.
The group also hopes to inspire other executives who wish to enjoy a balanced life through cycling, whether competitive or recreational.
"A bike frame that's built for winning performance, such as Colnago, enhances the quality of performance of riders," said Cochanco. "Personally, it helps me to reach my goals in every bike ride or competition while pushing myself to do better and come out stronger each time. We hope that this partnership will be for many years as it inspires a positive energy among the hard-working executives of our time."
Fly Ace Corporation is one of the leading food and beverage consumer goods companies in the country today. Propelling limitless multiple-category growth by bringing the best of the world closer to Filipino consumers, Fly Ace Corporation's portfolio of food and beverage products includes house brands and exclusively distributed brands. To learn more about Fly Ace, visit www.flyacecorp.com.
Franzia Wines is available in California Red 750ml bottle & 3L box and Chillable Red 3L box. Franzia is exclusively distributed by Fly Ace Corporation and is available in leading supermarkets and wine stores nationwide. For more information about Franzia, visit www.franzia.com.