FITNESS First has launched the first-ever indoor triathlon training ground in all its clubs in Asia, found right in the heart of the metropolis at the Fitness First Platinum SM Aura Premiere in Bonifacio Global City.
The Fitness First Platinum's Multi Sports Zone at the SM Aura Premier in Bonifacio Global City was unveiled before the members of the media and the fitness community as well.
Triathletes of all levels, as well as sports and fitness enthusiasts, now have a world-class spot to train in swimming, biking and running without worrying about the searing heat of the summer sun or the unforgiving rains in the upcoming rainy season.
"We are very excited to introduce the new Indoor Triathlon program exclusive here at the Fitness First Platinum Aura Premier's Multi Sport Zone. We have invested in top-of-the-line equipment and have well-trained coaches to execute the program," said Mark Ellis, Fitness First Philippines Country Manager.
"We are bringing triathlon, one of the country's fastest growing sports, indoors in a safe and simulated environment. Experienced triathletes, triathlon coaches and even beginners can benefit from this program as it aims to train, strengthen and advance your triathlon skills, no matter what fitness level you're in," he added.
Continue reading below ↓
Recommended Videos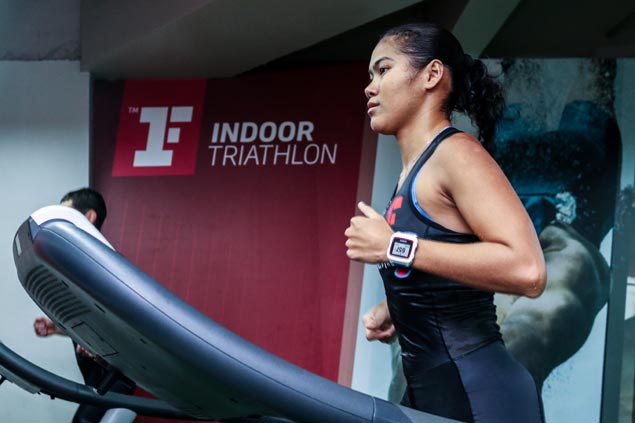 An indoor triathlon program helps beginners ease into the sport in a perfectly safe environment. The program is designed to slowly build their confidence to tackle longer distance triathlons in the future.
The Fitness First Platinum Aura's Multi-Sports Zone is also conducive indoor environment for advanced triathletes, used to racing under extreme conditions, to constantly improve their performance. It's also an accessible and safe environment to bike and run, away from the Metro's traffic and pollution.
Instead of travelling to far flung locations on weekends to train, triathletes can conveniently visit the facility at the heart of the city any day of the week and work on their swim, bike and run performance in preparation for the next big race. It is also open for groups to train together.
During the launch, the guests were given a tour of the facilities before an actual Indoor Triathlon Session was started. Several triathletes participated in the exciting event, which was a shortened version of the Indoor Tri Program.
The signature Indoor Triathlon program involved a 10-minute swim in the 3-lane, 24-meter pool, a 30-minute ride on the stationary bike, and finally a 20-minute run on the treadmill.
All distances were tallied then winners were determined based on the overall distance measured across the three disciplines.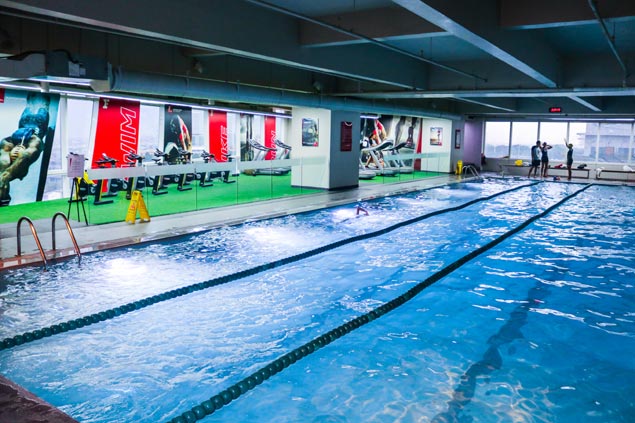 "We offer our members innovative activities to change their workout routine under one roof. Recently, we introduced popular classes such as Aerial Yoga, Pole Dancing and the Box Freestyle Group training," said Ellis.