IT'S a pleasant surprise to see a Nike shoe, a signature sneaker debut for Indiana Pacers star Paul George no less, that looks great but doesn't break the bank.
Being relatively affordable, though, can make you think that a bit of the quality could've somehow been sacrificed.
So SPIN.ph tested out George's first signature shoe the Nike PG1, and after a few sessions of the Full Court Ferocity Experience under La Salle conditioning coach Miggy Solitaria following head coach Aldin Ayo conducting the first one, here's our take on the important features.
FIT
Putting the shoe on is such a chore that you already break a sweat – but that's also a sign of how snug the shoe fits.
Indeed, once your foot is inside, it won't go anywhere, thanks to its 'full-bootie construction' that makes you feel your shoe is an extension of your foot, keeping it in place despite having only four lace loops.
For those with wide feet, though, you could try on a pair that's half a size bigger for a better fit.
SUPPORT
It's a low-cut shoe, but it feels secure enough to ease your concerns on possible ankle injuries.
The forefoot strap initially reminded me of what I felt was a useless similar strap on the Nike Air Zoom Drive shoes that I wore in the mid-2000s, but this one does provide extra support.
Continue reading below ↓
Recommended Videos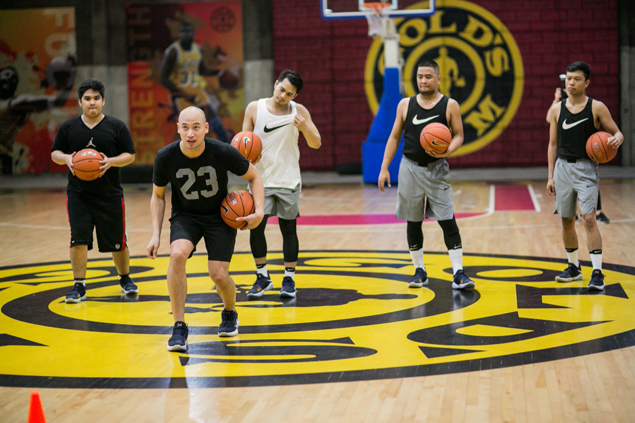 CUSHIONING
It feels more comfortable than the Kyrie 3 at first try, especially when running and changing directions, but it won't let your foot sink in the shoe and make you feel slower.
Credit that to its Zoom Air unit under the forefoot that gives you great responsiveness and quick reaction time as the technology absorbs the impact once it touches the floor.
TRACTION
The traction pattern, which looks like fish scales due to George's love for fishing (a hobby he shares with his father and namesake), definitely provides ultimate court grip.
I've tried it on wooden and synthetic courts and it doesn't slip on either floor. How long its grip can last remains to be seen, though.
OVERALL
For a shoe that sells for P5,795 – the most affordable in Nike's signature line – the PG 1 gives the most bang for every buck you spend.
The shoe, which weighs 13.5 oz., is perfect if you're a two-way player like George, giving you the cushion and grip that allow you to stay in front of the other team's best perimeter player on defense, and blow by defenders on the offensive end.