Primal Ape: The Beginnings
The idea to put up his own box came to Primal Ape founding partner and head coach Anton Sietereales and his partners in August 2014. It was an idea built out of passion to create his own community and introduce CrossFit in a less intimidating way, and in a bigger and better organized facility. The box's name, Primal Ape, invokes a going-back-to-basics vibe with some Paleo and primeval energy stirred in for good measure. Primal Ape is clear in its objective: To become the biggest (a massive 1,200 plus square meter facility) CrossFit box in the country, laden with state-of-the art equipment like Rogue (official CrossFit Games equipment), Concept 2 Rowers, and Dynamax wall balls, laid out with ample space for running (100-meter indoor track), lifting, rowing, and pretty much all the activities involved in CrossFit WODs (Workout Of The Day). Clean, comfortable, and functional shower room and toilets round out the total package. Primal Ape offers programs that fit practically every type of athlete: CrossFit, Boot Camp, Iron Mike's Barbell Club, Rowing WOD, Gymnastics, Yoga, and CrossFit Endurance.
To bolster Primal Ape's equity with the sports community and complete its vision of having a one-stop shop for athletes, the compound located at 2135 Don Chino Roces Avenue, Makati, also houses newly-opened multi-sport store Tri Temple and Habitual Coffee café. Business has been good: with box capacity of 300 to 350 members, the current student body comprises 150 paying members in less than three months of operation. To ensure quality instruction and coaching, classes are capped at 15-20 students per Crossfit class and 30 students for boot camp. The rule of thumb ratio for coach to athletes is 1:10 in order to maintain standard/quality of coaching.
Continue reading below ↓
Recommended Videos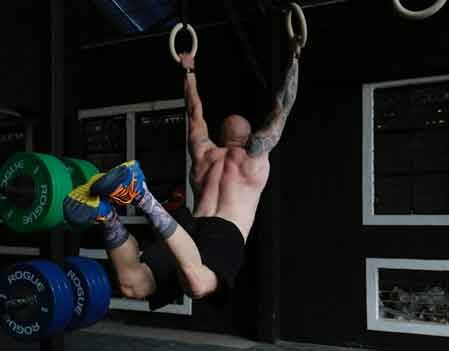 CrossFit: The Interview
Startline Bob (SB): How long can one actively do CrossFit?
Coach Anton (CA): In the Beasts Of The South East competition, I competed against a 52-year old, and he was flying through the workouts. I said to myself, 'I'm going to be that guy in 20 to 30 years.' Older guys may have a longer recovery time, but they can do well.
SB: Are there any age limits to starting CrossFit?
CA: Our youngest student is 14 (while the oldest is 65). Kids have no lifting workouts, and engage in more of functional movement using body weight. Kids have natural functional movement with little or no instruction. Teens have scaled down weights. At Primal Ape, we program for the best and scale for the rest.
SB: How does one start? Can a couch potato start anytime?
CA: The best way is to be consistent. Consistency is the key. The way you eat, sleep, and train determines that. And it's better to lose weight to move more and better. Crossfit is more intensity than volume. If you have good technique, then add intensity. If you have technique and intensity, then add volume. Modify movements until you get the technique right. Examples: for push up, on knees first before on toes; for air squat, sit back on a box first before actual air squat.
SB: What about women who say that CrossFit will bulk them up?
CA: CrossFit doesn't bulk women up, cupcakes do.
SB: What's the proper process of doing CrossFit?
CA: Good warm up (stretching and raising heart rate) and cool down are the recommended processes to properly move in and out of the main workout. (Performing this sequence) prevents injury, leaves you more active/flexible, and you can finish the workout more efficiently.
SB: Where is CrossFit as a sport in PH?
CA: Only two boxes competed in the first Manila Throwdown when it started; that competition featured twenty athletes on each side. Then, 3-4 boxes a year started opening. Now, after four years in PH, there are about 25 to 30 boxes across the country. Crossfit is all about communities coming together. There were a hundred participants (all local) in the last Manila Throwdown. Growth is not as fast as, say the US, because of the knowledge involved like nutrition, Olympic lifting, gymnastics, that are advantages to being in the sport. It's still a young sport.
SB: Does CrossFit in the PH have an organization or association?
CA: So far, there is no governing body or organized association among the boxes yet. In order to operate a Crossfit box, you need to be affiliated with Crossfit HQ in the US, and you can secure certification of level one Crossfit trainer. Crossfit HQ is very strict and will sic their lawyers on you if they find out you're operating under the radar (Author's Note: Some boxes that compete in the Manila Throwdown are not certified by Crossfit HQ). There are qualifying workouts that punch your ticket to the Throwdown, that have videos, to weed out any cheaters who might pad their performance if it was asked for on paper.
SB: What makes Crossfit so appealing (at least to those who have stuck with it)?
CA: The community. You rarely see a sport where you cheer the competition. When you're done with your workout, you go over to your competition and cheer him/her on to keep at it and finish. At a competition, I was approached by my friend who encouraged me to beat his performance so I would win the ring.
SB: Would you recommend Crossfit for endurance sport cross-training?
CA: CrossFit is highly recommended for endurance athletes, since there is such a program as CrossFit Endurance (Author's Note: Anton is a CrossFit Endurance coach). Whereas endurance sports normally follow volume, intensity, technique, Crossfit goes the other way, which prepares the body BEFORE the volume.
SB: Is there any particular body type that would best be suited for CrossFit?
CA: It would work for any body type. One thing: Check your ego at the door. Watching smaller guys or women do better or lift more than you can screw with your self-esteem. There's a bucket before you enter the work area where you leave your ego and retrieve after you're done working out.
SB: What else do I need to remember about doing CrossFit?
CA: Rest. You can work as much as five days a week as long as you rest. And listen to your body. Don't push. The more you recover, the more you can do. Be smart. Always check with your doctor.
SB: Why do you think CrossFit has more than its fair share of haters?
CA: I think the haters come from other sports whose business is affected, people who haven't tried the sport and judge from what they hear or read, and those affected by the growth of CrossFit due to what it has introduced (smarter workouts, more practical and functional fitness). CrossFit injury rate is being highlighted — but all other sports have that too (Author's Note: Running has the highest injury rate!).
SB: Tell us about upgrading and getting better at CrossFit.
CA: It's important to have a good mentor. In my case, it's (Fittest Man in Asia 2013 and CrossFit 673 Head Coach) Michael Mogard. Crossfit is scalable, everything is measurable, and it's constantly improving. You have to improve all aspects of your game including nutrition.
SB: Can I do CrossFit at home?
CA: Functional movement allows you to do your workout anywhere, using your body weight (air squats, push ups, and even running), though the box provides a community that pushes you.
SB: Where do you think CrossFit headed as far as Pinoy athletes are concerned?
CA: Pinoys are grinders and can really compete with the best in the world. The fittest man in the (CrossFit) world is only 5 foot 9. There's a good chance to compete given the anatomical structure of Filipinos. If you start young, have the knowledge, proper training, nutrition, discipline, you can definitely make it. The youngest CrossFit athlete in the CrossFit games is only 20 years old. I won't be surprised if a legit Pinoy (i.e. not a Fil-foreigner) will represent PH in CrossFit world competitions and excel. This is a sport that needs support, whether from government or the private sector, for it to prosper.
Primal Ape's 'About Us' tab on its website (www.primalapecf.com) aptly captures the ethos of CrossFit:
Primal Ape was created out of a passion for commitment to fitness. While we are the largest and best-equipped CrossFit box in the Philippines, our primary commitment is to work with you as an individual, and to train you as such, with the ultimate goal of making you the best athlete you can be.
Given this discriminating focus on individual fitness in a community-based sport, it's safe to say that CrossFit is in good hands, and is a sport that is here to stay.
-----------------------------------0----------------------------------
CrossFit-ted Quotes
CrossFit: Getting your ass handed to you everyday… and going back for more.
Your workout is my warm up.
CrossFit: Making a new muscle hurt everyday.
Don't look back. You're not going that way.
I welcome you to the community of people who have decided that easy will no longer suffice.
[Editor's note: For Part One of this two-part blog, click HERE]