CROSSFIT is all about functional fitness. It's about efficiency of body movement and time. I found that out (and more) after going through a lung-busting, muscle-straining, sweat-inducing trial endurance workout under head coach and founding partner Anton Sietereales at Primal Ape CrossFit box in Makati last month.
My only other CrossFit experience years ago saddled me with wall ball trauma, a thrown out back and repeat visits to my chiropractor and acupuncturist. When teammate Raoul invited me to give this workout a try, I initially balked, still wary of the sudden movements and imminent hurt resulting from such. Eventually, I reconsidered, quietly rationalizing that most experiences deserve a second chance. It turned out to be a good decision.
As with all physical activity, proper warm up and cool down are essential to ease the practitioner/participant in and out of the exercise. Add proper form and technique into the mix and you increase the probability of actually enjoying it. This is what Anton made sure each of the trial workout's participants experienced, prepping us on the principles of the workout and rules of safety when doing each activity for the first time. The main workout involved track running, box jumps, and my personal favorite, wall balls, followed by intense high-rep abdominal exercises and a cool down comprised of mostly yoga-based stretches. I may have been sore for a couple days after, but nothing that more stretching and some running couldn't take care of.
Continue reading below ↓
Recommended Videos
The entire session took less than an hour, but felt as hard as any grueling road or trail runs I have done, leaving me spent but satisfied. And this particular workout has the distinction of handing me my first DNF (Did Not Finish), as I was too drained to finish the required five sets within the stipulated 20-minute limit. It was, however, a most gratifying DNF.
Origins and Ethos
CrossFit was founded by Greg Glassman, an American who, as a teenage gymnast, wanted to be stronger than any gymnast he knew. He found working with dumbbells and a barbell, as opposed to other gymnasts who worked only with bodyweight, made him stronger. He also cycled considerably, and his competitive nature drove him to get better at whatever physical/athletic challenge he undertook. This pursuit brought the realization that he could find persons better than him in one area, but not in all areas; which prompted the question: What price are you paying for a certain expertise?
An article entitled The Origins Of Crossfit from theboxmag.com accurately captures the essence and culture of Crossfit:
In CrossFit's view, the goal is not to achieve specialized abilities and fitness that applies to one particular set of movements; the goal is general physical preparedness. The CrossFit ethos holds that adherents train to enhance 10 physical qualities: cardiovascular/respiratory endurance, stamina, strength, flexibility, power, speed, coordination, agility, balance, and accuracy. CrossFit also stresses repeatable, measurable results. There is heavy emphasis on specific weights, specific distances and specific movements over specific times. This allows athletes to make clear measurements of their performance.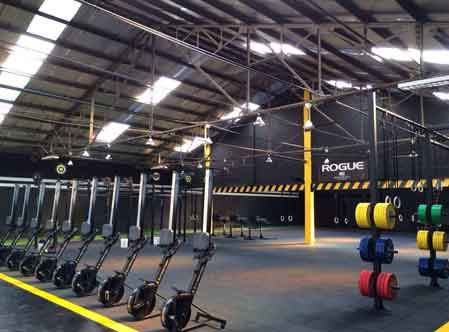 The Workouts: History and Girl Names
Glassman developed the notoriously excruciating Fran workout, 21-15-9 of thrusters (front squat and push press) followed by pull-ups, in his garage as a teenager. He threw up after completing the workout, but that spurred him to run to his neighbor's house and put him through the same ordeal. CrossFit's short-duration, high-intensity workouts are geared to simulate the feelings athletes and fighters feel during real competition.
And the girl names? Angie, Elizabeth, Chelsea, and Diane, some of the earliest names to appear (2003) among the WODs (Workout Of The Day), are easier to mention than to explain the entire workout sequence. Jokingly, Glassman explains, as in the case of Fran, which leaves you crushed and exhausted, "any workout that leaves you flat on your back, staring up at the sky, wondering what the hell happened, deserves a girl's name."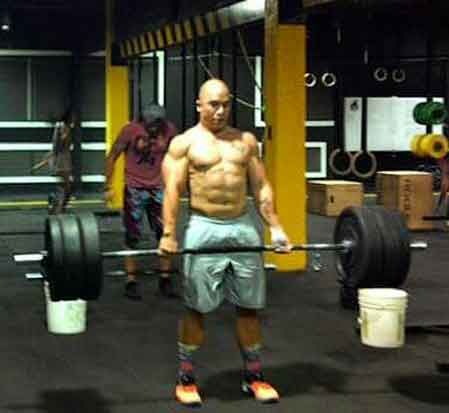 Anton Meets Fran
A varsity basketball player from grade school to college, Coach Anton had always been an above-average athlete, easily off-setting any ill effects of smoking and drinking with hard-charging workouts at the gym or on the court. When he caught the running bug some years ago, Anton took on five marathons in three years, without as much preparation as most people did. He promptly injured himself by tearing his meniscus and his athletic pursuit ground to a halt. But the smoking and drinking continued. Without the exercise, Anton ballooned to a portly 245 pounds! With the weight piling on, he had to find a way to tip the scales back to a healthy normal, but he couldn't go back to running anymore.
Over drinks one evening, while discussing his dilemma of getting back in shape, his friends suggested he try CrossFit. And it was here that he first met Fran. Here's how Muscle and Fitness writer Rob Orlando describes the WOD that is Fran in his article 'How do you measure up to CrossFit's "Fran" Workout?':
Fran is recognized as THE benchmark, because even though many CrossFit workouts don't look like much on paper, Fran in especially deceptive. A 95-pound barbell is pretty light, and pull-ups just take practice. But after two minutes, even elite athletes hit a wall, struggling to maintain speed and intensity.
The key to approaching Fran is to proceed with caution. Drop the weight down to 65 pounds and perform assisted pull-ups if you have to. If you think 90 total reps is a piece of cake and attack it full bore, you'll have extreme soreness at best, and rhabdomyolysis — a life-threatening condition where broken down muscle tissue can actually poison your blood — at worst.
Long story short, Anton didn't finish within the 20-minute time cap, promptly threw up - but was hooked. It was love at first puke. Being a competitive athlete his whole life, that first encounter with Fran sparked Anton's zealous streak, bolstered further after seeing how one guy finished in five minutes and a girl (!) do better than him.
After some helpings of humble pie and closer study of the sport, Anton noticed that the functional movement taught by CrossFit was new and effective, something that he was never aware of despite his long athletic experience. CrossFit, which also teaches mobility, was not a part of his fitness regimen as a hoops player. When Crossfit Manila opened its second box in Fort Bonifacio, which was conveniently near his home, Anton signed up as a member and began his CrossFit journey. His initial motives for joining (make friends, lose weight, go drinking after) were in no way a departure from life before his injury. But a visit to the first 'Beasts Of The Southeast' competition in Brunei hosted by Asia regional champion and future mentor Michael Mogard changed all that. Witnessing the show of strength and endurance along with feeling the energy of competition and community was a wake-up call that got Anton training smarter. To do that, he stopped smoking cold turkey, worked out properly, monitored his nutrition, and got better rest and recovery. The focus on smart training resulted in a renewed confidence and newfound passion for health, leading to his current place as founding partner and head coach of Primal Ape.
In part two of CrossFit Goes Primal, we'll learn more about Primal Ape (www.primalapecf.com), how to get into CrossFit, and where the sport is headed.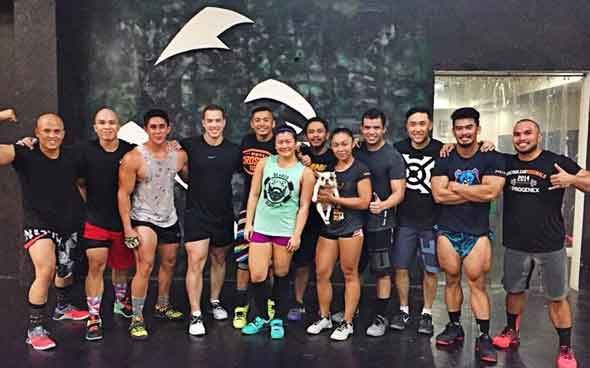 ---------------------------------0--------------------------------
Keeping It Honest
In a major multi-sport event held recently, rough sea conditions made it difficult for a lot of participants to negotiate the swim course, prompting race organizers to adjust the cut-off time to enable more swimmers to make it past the swim leg and continue on to the bike and run legs. Much as it may be interpreted as a show of consideration due to force majeure coupled with compassion for underprepared athletes, here's my take: Triathlon is not for everyone.
The well-intentioned time adjustment did not escape the attention of the community, which touched off much discussion on social media. How do you explain entire batches of participants clocking the same swim times? Even more absurd were the swim-to-bike transition times that were over half an hour long! With that kind of transition, I could have had a leisurely breakfast, showered, and put on a fresh kit for the bike leg.
As an observer of sport, I don't recall ever witnessing any amateur or professional contest that bent backward to accommodate or accede to any pressure from participants or officiating. As a participant, I have yet to experience having my race time adjusted so that I fall within a stipulated cut-off time or acceptable norm so as not to be disqualified.
I'd like to know whose interests were at stake when the cut-off time was extended. I've been in races where the leg or the entire race was ditched for safety reasons, but this particular race only had hundreds of athletes who would be disqualified for not swimming fast enough to make cut-off time. There's no shame in being disqualified. For whatever reasons you might have, you just didn't make it. You live to race another day.
Case in point: The TNF 100 in Nuvali, wherein I raced the 50km division. Of the over 200 runners who signed up for the 100km division, only 49 finished the race. As many as two jeeploads of runners were brought back to the start on the first cut-off point alone. Did I hear any complaints? No. Protests? Not that I heard of. But here's what resounded on Facebook posts and comments from the DQ'd (disqualified) participants once the dust had settled: That was one tough race, and I will be back next year to make cut-off and finish.
Triathlon is such a young sport and deservedly needs to be kept honest, lest it fall into the same dingy pit as other once illustrious sports. If we want this sport to be taken seriously, then we damn well better be serious about it. That includes the enforcement of rules. Because when the fundamentals become subject to the influence of intimidation, favor, and relations, it will be most difficult to convince all others to tread the straight and narrow. And that spells the beginning of the end.
---------------------------------0--------------------------------
All compromise is based on give and take, but there can be no give and take on fundamentals. Any compromise on mere fundamentals is a surrender. For it is all give and no take.
- Mahatma Gandhi