TRIATHLETES are set for a treat with the first full Ironman race in the Philippines on June 3 at Subic.
But rewarding as it is to cross the finish line after swimming 3.86 kilometers, biking 180.25 km, and running 42.2K, the race powered by Century Tuna is so tough that it demands many hours of training and a lot of self-discipline.
While it's no easy feat, finishing a full Ironman is not impossible. Just ask Century Tuna Tri-Hard team member Celma 'Chang' Hilalia.
At age 52, Hilalia finished strong at the Ironman World Championship in Kona, Hawaii last year—this after taking up triathlon at age 46 and joining group runs and races just eight years ago.
Such feat required a lot of sacrifice for Hitalia. She made major adjustments to her daily routine to meet the demands of training for all three disciplines of triathlon and still have ample time for other things. Her dedication, though, paid off with her second-place finish in her age-group in her first Ironman 70.3 race at Langkawi in 2014.
In 2016, Hitalia finished strong in two more Ironman 70.3 races in Hefei and Xiamen, China—the latter earning her a coveted spot in the 2017 Ironman World Championship in Kona, Hawaii.
Continue reading below ↓
Recommended Videos
"It was always a goal to qualify since I embraced triathlon as part of my life," said Hitalia, who was aware she had to sacrifice some more in training for Kona.
Hitalia spent seven months building her strength, and conditioning to endure the Ironman's swim, bike, and run legs. In between, she joined a number of races to check her progress. With the help of her teammates at Century Tuna Tri-Hard, she also trained in different conditions—hot weather, strong winds, and uphill routes—essentially what the Kona race was known for.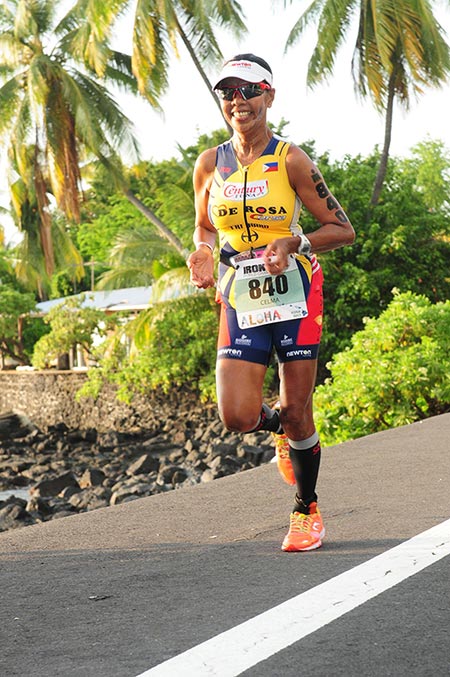 Still, all that preparation was not enough to prepare her for the struggles she faced in Kona.
Hitalia struggled with the water conditions and the brutal bike leg.
"Starting off with more than 600 female age groupers was really a struggle. I kept my calm and stuck with my rhythm," she recalled. "The hills were punishing, the heat and humidity were harsh, and it was crazy windy."
Fatigue started creeping in during the 42K run part, where she had thoughts of giving up. But powered by the crowd, Hitalia soldiered on to cross the finish line and described the experience as nothing but amazing.
"The cheers from the crowd, the festive mood, and the red carpet made it an overwhelming experience. Suddenly all the pain subsided and all my hard work became reality. The happiness when you finally hear your name being called out is surreal," Hitalia said.
Knowing what it takes to finish the grueling race and the elation that takes over, Hitalia wishes for her fellow Pinoy triathletes to experience the same feeling. But she gives one important advice for those looking to join the Century Tuna Ironman Philippines: Respect the distance.
"Train right, work with a certified coach, and come in adequately prepared. When race day comes, enjoy the experience," Hitalia said.