Age is more than just a number. It tells a complex story about your body, especially if you know how old it really is compared to how old you are.
If that's too complicated and confusing, Fitness First helps clear things up with the launch of BioScore and CustomFit in its latest line of health and fitness innovations.
According to Fitness First, BioScore is able to determine a person's biological or fitness age as compared to one's chronological age, describing this new tool as "a bespoke health and fitness assessment."
Unlike other health and fitness assessments, BioScore looks beyond bodyweight or body fat percentage and instead focuses on other key metrics. Conducted by a trained specialist, the BioScore assessment comprises a series of health and fitness tests and a lifestyle questionnaire in order to obtain a more holistic picture of a person's health.
The health test looks at the status of key vital statistics including height-to-waist ratio, lung function and blood pressure. The fitness test includes a series of short and simple exercises to assess aerobic fitness, power, strength, flexibility, agility and core endurance. Exercises include a TRX row, standing jumps, core endurance drills, hexagonal agility, and a 500m row. Then the lifestyle questionnaire completes the assessment with a test to determine lifestyle choices in and out of the gym, such as nutrition, stress levels, sleep and drinking habits that greatly affect one's health.
Continue reading below ↓
Recommended Videos
After the assessment, the results from all three tests will be analyzed to determine one's BioScore – a number which will either be higher or lower than one's actual age. A person's BioScore is the difference between the biological age and actual age, and this will be either a plus (+) or a minus (-) score displayed in years. For example, a person whose actual age is 33 years old, but whose assessment scores result in him or her being 30 years old will have a BioScore of -3.
Complementing BioScore is the CustomFit app, the other proprietary tool that Fitness First is making available to the public in January for free on both iOS and Android platforms.
The digital training system was designed by Fitness First around the Theory of Intrinsic Motivation (focusing on the elements of competence, autonomy and relatedness) coupled with the desire of its users to get fit. It features a library of over 800 exercises (with video content) and a Fitness LogicTM system, which will get to know users' preferences and deliver a set of inspiring personalized workouts to their phones.
Through CustomFit, users will be able to track, analyze and share their progress, while comparing their Personal Bests with other fitness enthusiasts via leaderboards. It will also be able to collect data such as steps, weight and height from any devices that push data to Apple Health and Google Health, and collect its own data such as workout frequency and length, as well as calories burned, which users can use to fine tune their fitness programs.
All a user needs to do to get started is to answer four questions ranging from their fitness goals to their experience level. CustomFit will then generate a selection of personalized workouts, based on those preferences. It also features 200 bodyweight exercises so users can work out at home or the outdoors.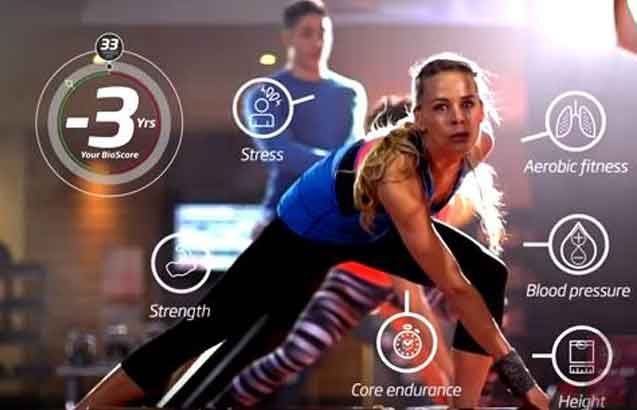 The launch coincided with the premiere of the second season of Fit for Fashion, a reality TV contest that pits 14 contestants from Australia, the US and Asia.
Fit for Fashion is the first ever reality TV show that brings fashion and fitness together, and is co-sponsored by Fitness First, the Imagine Group and ZALORA. In Season 2, the contestants will come together to work with internationally acclaimed fashion personalities and be put through their paces by international fitness trainers.
Over the course of 10 episodes, the show will challenge contestants to push themselves to their physical and mental limits. Contestants will go through grueling challenges weekly and one of them will be eliminated every week until only one winner is left. Kyle Ramirez, who represented the Philippines in the show, knows the challenging grind of the show's tests first hand.
"The fitness challenge were nothing as I imagined them to be, more intense than I expected. With fashion, I thought I had an edge with my little bit of experience [as a model]. But being out there, the pressure was intense and the challenges weren't as simple as they looked," the 22-year-old host-model-deejay told SPIN.ph.
A key difference for the second season of this one-of-a-kind contest is the use of BioScore and CustomFit in measuring the progress of the competitors of the show, which also aims to encourage viewers to start their own transformational journeys.
"The show gives us the opportunity to present our latest innovations… our digital exercise systems," said Fitness First Country Manager Mark Ellis.
In conjunction with the premiere of Season 2 which will air on January 13, 7:00 p.m. on Star World Philippines, users of CustomFit will be able to access premium content in the form of the Fitness First 10-week Get Fit Program.
Some members of the media who were invited to the premier showing of Fit for Fashion at SM Aura were later given a chance to try out the new technology at Fitness First's flagship branch.
Fitness First is one of the largest fitness brands in the world and the largest in Southeast Asia. There are 90 Fitness First clubs across Hong Kong, Indonesia, Malaysia, Philippines, Thailand and Singapore, with a combined membership size of more than 215,000.