AT the grand launch of Anta Sports' first Philippine flagship store in SM Megamall, we were able to get up close and personal — or at least as close as the glass display would allow — with the Anta Klay Thompson KT4 x East Bay Times sneakers.
There's really no other shoe quite like these 'dyaryo' kicks.
Actual newspaper articles of the Golden State sharpshooter's exploits are plastered all over the upper and midsole, with headlines like "Record Broken," "Slump Busted," "In Klay They Trust," and (presumably) a Chinese language slug of Thompson's 60-point pillaging of Paul George's Indiana Pacers way back in 2016. It's definitely a bold choice of sneaker design.
Continue reading below ↓
Recommended Videos
Unfortunately, you'll be hard pressed to cop a pair of your own, as this is a pair that's extremely limited edition.
You can, however, get shoes that look real close. On sale in Anta's flagship store is the Anta KT4 "Signal," which features removable patches. These velcro decals — which give little hat tips to Klay's career — can be stuck all over the shoe uppers, so you can customize your kicks' looks to be as sleek or as crazy as you like. Looking to refresh your style for another day? Put on a new set of patches. They're not as flashy as the East Bay Times's newspaper headlines, but they do have that same graphic-design flair.
A little chat with in-store personnel at Anta, however, revealed that they've only got 10 of these pairs left. And it's only opening day. So act fast. The KT4 Signal retails for P7,995.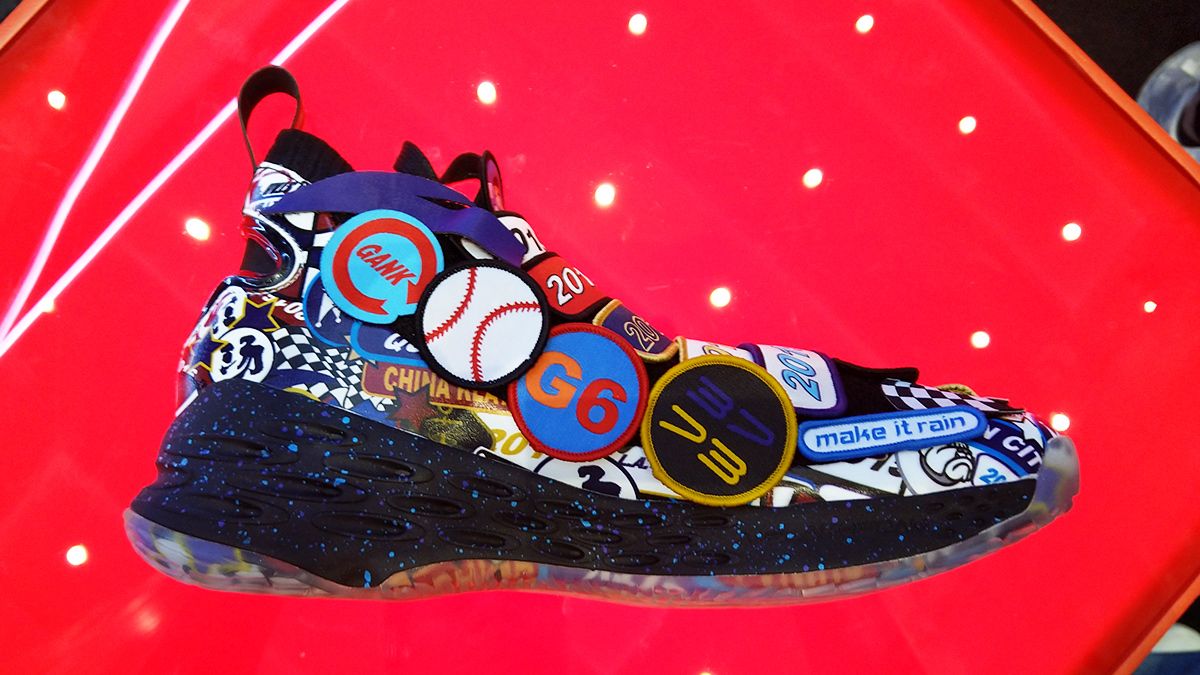 You can find the Anta Sports flagship store at the 2nd floor of the SM Megamall Atrium.
Days after Thompson signed a $190-million max contract extension with the Warriors when free agency opened late June, Anta celebrated it by releasing 200 pairs of the KT4, which is inspired by Klay's pregame ritual of reading a newspaper.
Klay fans and sneakerheads had mixed feelings about Thompson's newest signature shoe.
Some had good things to say.
"Pretty dope, I like the silhouette of the shoe," Twitter user Negrodomis (@CrockettDaren)
Fellow Twitter user CJM_ (@CadenMiller2k19) somehow agreed.
"The colorway isn't the best but the actually silhouette is pretty clean."
Most reactions, though, were negative.
"These are the ugliest things I've ever seen," Twitter user Uncle Drew (@MikeyK_TellEm) said.
Another Twitter user in Machine Gun Bacon (@BrokeSaturdays) had his own negative version.
"200 pairs might be 199 too many."
Runrepeat.com, at least, had two sides of the story – as far as the performance of the generic version of the KT4 is concerned, giving eight reasons to buy the shoe – and four reasons not to cop it.
Here are some of the positives:
- Majority of commenters say that the materials used on these Anta basketball shoes fell premium
- Numerous KT 4 wearers notice that the underlining of the upper helps keep the shoes from overstretching.
- The impact protection from Anta KT 4 is amazing, says some reviewers.
- These basketball shoes feel light on foot, based on several comments.
- Many shoe owners like the fit of these kicks.
Here are some of the negative ones:
- Most of the users are unhappy about the high offset brought about by the A-Flash Foam cushion.
- Some reviewers are hesitant to use these basketball shoes on outdoor courts because the outsole feels very soft.
For the rest of the critical sneakerheads out there, what do you think?