FOR Gilas Pilipinas and Rain or Shine forward Gabe Norwood, there's no move that can electrify a basketball fan more than the slam dunk.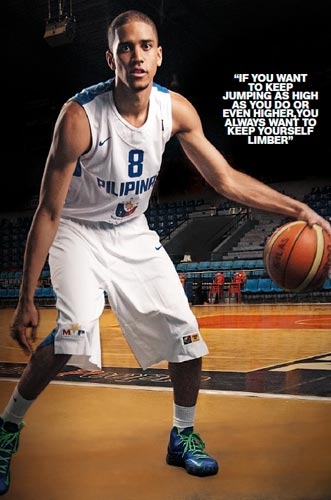 "While some people say it's just two points, I really think it's a high-energy play that can get the crowd involved and, a lot of times, swing momentum [your team's way]," he shares.
To keep his feet fleet and those hammers coming, Norwood subscribes to these three easy steps:
DOWN-PAT YOUR TECHNIQUE
As with any sport, mastering the movements specific to the game requires great attention to detail. Look closely at your take-off and stick to a consistent technique that feels most natural to you. "Now, there are two-foot jumpers and one-foot jumpers," Norwood notes.
"Personally, I'm more comfortable jumping off with two feet, so I can get my balance underneath me and explode up. I'll have a lot of body control to be able to jump higher."
ALWAYS STRETCH IT OUT
You can't expect to maintain the height of your jumps if you frequently neglect to warm up your joints and muscles before the game. "Somewhere down the line, you're going to get older. And if you want to keep jumping as high as you do or even higher, you always want to keep yourself limber," Norwood points out.
MAKE IT SECOND NATURE
Go for exercises that mimic jumps. For Norwood, the key to improved strength, enhanced stability, and peak vertical elevation is to do lighter squats.
"I've gone from doing 225 pounds to 135. This basically means there's less stress on your knees...it's basically pressure that you can control better," he says.