TAKE a page out of the Scout Rangers' fitness manual and see how real elite training will help you win against any challenge in your own battlefield.
Gloomy skies greet us as we arrive at Camp Tecson, home of the First Scout Ranger Regiment, in San Miguel, Bulacan.
In the wild, rain is a photo shoot's natural enemy, and we are obviously worried. The Scout Rangers, though, are just the opposite. "Aba, Ranger weather today ah," quips one of the officers.
They say it with a hint of pride, not sarcasm. Despite the wet conditions, one group is doing fitness drills in a muddy field, while others are running around the camp in full battle gear, chanting in unison. Not even the stench from a nearby piggery can distract them — they've been training for battles tougher than the overpowering smell of pig shit. Battles bigger, even, than the rest of us can imagine.
Since the 1950s, the First Scout Ranger Regiment has been fighting against an ever-evolving enemy. Initially trained for anti-guerilla warfare, the Rangers battled the Hukbalahap (short for Hukbong Bayan Laban sa Hapon) and the New People's Army, then the Moro International Liberation Front and the Abu Sayyaf rebels. They now add faceless terrorist cells to their list of threats to national security, and they've toughened up their training to adjust to the new demands of their changing battlefield.
Continue reading below ↓
Recommended Videos
The Roots of the Rangers
Established by former Armed Forces of the Philippines Vice Chief of Staff and Defense Secretary Rafael Ileto in 1950, the Scout Ranger was the first elite Philippine military group. Their motto is "We Strike," emblazoned in army patches under an image of an army knife. The philosophy and training of these so-called Musangs (the local term for civet cats) are extreme, with the goal of producing soldiers ready to be deployed in the most dangerous combat situations in the archipelago.
As one Scout Ranger officer admits, their training is designed to prepare them for all the "wild possibilities of war." According to Combat Medic Cesar Candelaria, M.D., Scout Rangers are bred like People's Champ Manny Pacquiao. Like the boxer's preparation for a big bout, their training is progressive and intensive — with lives at stake, rather than just pride and honor. They go through daily and constant physical-fitness activities, punishing mental and psychological exercises, and coordinated team-dynamics training in high-pressure situations.
Lest we forget, they do this day and night, rain or shine, in sickness and in health. Which begs the question: Do you think you're fit enough?
Passing a 'Simple' Military Fitness Test
If you think you're Scout Ranger material, you first have to pass the Armed Forces of the Philippines' sanctioned physical assessment. The standard military physical fitness test (PFT) involves timed pushups and situps plus a 3.2-kilometer run, shares Captain Mark Cimini, First Scout Ranger Regiment course director. The Scout Ranger version adds two more exercises: timed pullups and "inverted crawls." This Ranger PFT is meant to "separate the chaff from the grain" with roughly 30 percent of the trainees leaving, admits Capt. Cimini.
While on training, Scout Rangers are also banned from smoking and drinking, the penalty for which is to be immediately kicked out of the camp. They also cannot get sick for more than 72 hours. "We're developing not just ultra-athletic soldiers, but also sturdy ones," Dr. Candelaria justifies.
To any gym rat, these PFT requirements look easy. A 3K run? Piece of cake. Forty-two pushups— in two long minutes? Mincemeat. But moving up to the big leagues — aka the Scout Ranger training camp — is a far different story.
Dr. Candelaria describes the Scout Ranger physical training as a mix of boxing and triathlon. It aims to combine a triathlete's endurance with a boxer's brute force and precision (try shooting a rifle accurately after an uphill dash). Every day starts with a run that increases in distance as the training progresses. On the first weeks of a 6-month training, morning runs last for 5 kilometers. Come the last few weeks, the distance is 21 kilometers or more.
In the early days, trainees used to wear rigid combat boots, but there are now specialized combat footwear with better sole and ankle support for running. And the cadets really need it, as this "Ranger Cabuzky's Blog" entry written by a Scout Ranger in training reveals: "Normal na ang tumatakbo ng 15 to 20 K tuwing umaga at may dala pa kaming 20-kg ruck pati M-16 rifle."
Runs are also time-based to simulate battle scenarios wherein Scout Rangers often dash to a location, carrying a heavy backpack and a rifle. Scout Rangers, in fact, spend most of the day running. They rarely walk from one location to another, Dr. Candelaria says. You walk, you're bound to eat push-ups. You don't meet the cut-off time for the run, a mase-mase or mass punishment is coming your way.
He adds that similar to some physical-fitness programs in gyms, Scout Ranger training is focused on developing three areas: muscle endurance, strength, and cardiovascular toughness. For cardio development, the "Army Dozen" (see "The Dirty Dozen") is done as daily calisthenics. It lasts for at least 30 minutes nonstop. Depending on how the course director wants it programmed, it can be done throughout the day.
Strength training, on the other hand, involves weight training that simulates "lifting heavy rifles or carrying people on stretchers." Scout Rangers can't afford the luxury of air-conditioned gyms, with pipe-in music and wall-to-wall mirrors that allow them to flex and gloat. Instead, they heft weights while running outdoors, under the heat of the sun or the pouring of heavy rain, even while they eat.
Developing Willpower and Resilience
For all their tendency to exhaustion, our bodies are designed to adapt. Put under constant physical ordeal, they eventually develop muscle resistance to render a harrowing daily routine a little more bearable. In the case of some people, however, it's the will and not the body that lacks resilience.
"One of the things that the student will learn to love and hate about the training is the conditioning exercises," Lt. Col. Dennis Eclarin writes in the Scout Ranger Combat Guide. Conditioning drills are the norm, but some trainers will push the envelope and challenge cadets to finish, say, a 100-kilometer run. The exercises are changed up every day to develop not only lung power but also strength of will. "Whether or not they finish, the run will show their mental toughness," says Dr. Candelaria.
But there's more to their mental conditioning than just pounding pavement. Daily exams come as regularly as meals. Plus, they're often sleep-deprived since training days last from 4 AM up to 10 PM or longer. Worse, trainees are forced to go through a week without proper sleep...all in the name of mental fortitude.
This is not without purpose, stresses Lt. Col. Eclarin. The unpredictability and intensity of the training not only helps to develop physically ready combatants, but also instills valuable leadership traits — commitment, tenacity, courage, and confidence — in every Ranger. Even punishment sessions are lessons in training.
Yes, punishment sessions. The Scout Rangers go through the daily aforementioned mase-mase, which involves group exercises that last four to five hours. These are given at the discretion of a training officer whenever there are "infractions." To foster group bonding and team building, mase-mase — usually uninterrupted calisthenics — is done "one-to-sawa," Lt. Col. Eclarin says.
Scout Ranger training may seem like too outrageous and outdated a system in light of the functional training trend that dominates the usual fitness debates. But when you compare the demands of the Scout Rangers' profession to the relative calm of civilian life, extreme preparations are undeniably in order. Even before "functional training" was a gym buzzword, the Musangs were already aware of what functional fitness really requires: a body that's always ready — physically and mentally — for anything.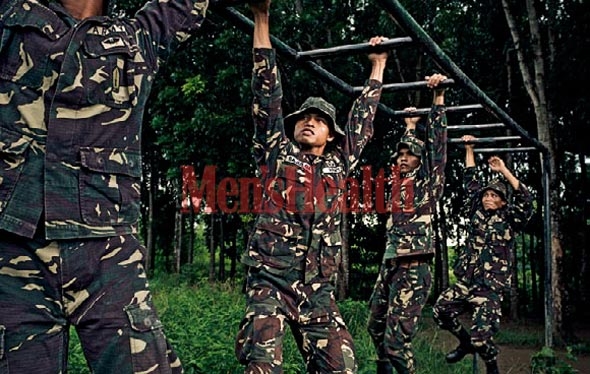 Functionally Fit, Army-Style
Take the principles of army training and apply them to your own gym sessions
1. The Army Way
Train your movement, such as pushing, pulling, planking, stepping, and squatting, rather than just making your muscles pop.
Your Move Instead of isolation exercises, pick compound movements that use more of your body's major muscle groups.
2. The Army Way Train on two feet. Mobility works on the battlefield and the ball field.
Your Move Instead of parking yourself on a chair or a bench, pick exercises that begin or are done in a standing position. Learn to control your weight in a full range of motion while keeping good form.
3. The Army Way Train to your side and three-quarters view, not just to the space in front of you.
Your Move Try exercises with rotational movements to target muscles that are usually ignored. Standing Russian twists and woodchoppers are two good examples.
4. The Army Way Train your speed and agility.
Your Move Don't just hit the heavy weights all the time. Try doing circuits with lighter weights that make you move fast. As for cardio, opt for intervals instead of a slow and steady pace.
5. The Army Way Train the reduction of force—the ability to land and catch and absorb force and decelerate—as often as you train the production of force.
Your Move For jumping exercises, learn how to land properly to avoid injuries. When running, figure out your all-out pace and your relaxed one and know when it's time to shift gears during a run.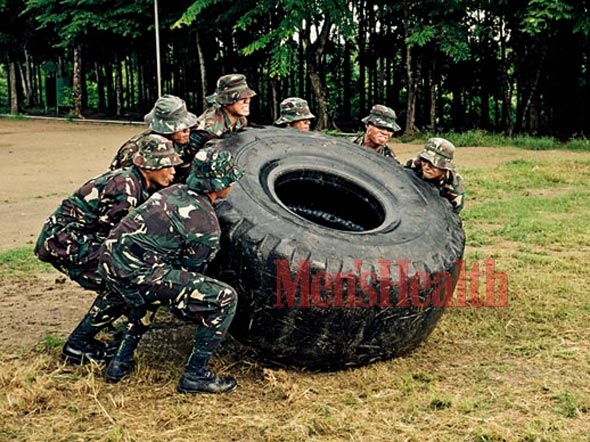 Must-Do Moves
The Dirty Dozen
The warmup of the Scout Rangers is the ultimate bodyweight workout, bar none
Being able to carry and move your own weight is a true test of fitness. With function in mind, the Scout Rangers' main exercise routine, called the Army Dozen, consists of bodyweight movements designed to build practical strength, balance, and muscle endurance. And because the only equipment you need is your own body, you can work out anywhere, anytime.
DIRECTIONS : Do each exercise for the specified number of reps, going from one to the other until you complete all 12. Shouting "sir, yes sir" per rep is optional.
Bend and Reach
Stand with your legs 12 inches apart and your arms raised high. Bend your body down and stretch your arms between your legs as far back as you can, then go back to the starting position. Do 8 reps.
Turn and Bounce
Stand with your arms outstretched on each side, palms facing upward. Twist your body as far as you can
in an alternating clockwise, counterclockwise motion, your waist serving as the pivot point. Use four counts to complete each twist for a rep. Complete 10 reps per side.
Bottoms Up
Begin in the push-up position. Bring both your feet closer to your body; that's 2 counts. Repeat the movement until you do four counts; that's 1 rep. Do 8 to 10 reps.
Four-count Push-up
Assume the pushup position and bend at your elbows as you bring your chest close to the floor. Keep your body straight at all times. That's one count. Then bring your body up; that's another count. Repeat the movement until you do four counts, which makes a rep. Complete 8 reps.
High Jumper
Stand with your heels together and your knees slightly bent. Keep your hands at your sides with your elbows bent as if you're ready to leap vertically, then jump as high as you can while extending your arms up. Make sure your palms are open and facing each other and your toes arepointing downwards. That's a rep. Do 8 reps.
Jumping Jacks
Stand at attention. As you raise your hands, spread your legs simultaneously in a jump. Do four counts; that's a rep. Repeat eight times.
Mountain Climber
Start in a standing position, then assume the position of a sprinter ready to race. Instead of running forward, however, kick back one leg after the other as if you're climbing a wall. Do four counts; that's a rep. Repeat 8 times.
Trunk Twister
Stand with your legs 12 inches apart. Put both arms behind your head, then bend down with each elbow reaching for the opposite knee. Do 8 reps for each knee.
Side Bender
Stand with your legs apart and your arms raised high. Start bending to one side then back to the center, then to the other side and back. That's a rep. Repeat 8 to 10 times.
8-count Push-Up
This is a squat thrust combined with a pushup. Start in a standing position, then drop on all fours to assume the pushup position. Do the 4-count pushup, then go back to a standing position. That's a rep. Repeat 8 to 10 times.
Squat Bender
Stand with your legs apart and your hands on your waist. Squat down with your arms stretched outward, palms facing the floor. Go back to a standing position, then bend down from your waist as you reach for your toes, and stand back up. That's a rep. Repeat 8 to 10 times.
Squat Thrust
Start in a standing position. Bend forward with your palms touching the ground, then kick back both legs as far as possible to assume the pushup position. Reverse the movement until you go back to the starting position. That's a rep. Repeat 8 to 10 times.