GIVEN that you are of average physical fitness, you can bike from Cubao to SM Mall of Asia in about an hour and a half via side streets. Push it a bit further, and a round trip back to Cubao via España and Quezon Avenue will take roughly three hours. Now, imagine doing that exact same trip during rush hour on a payday Friday.
On a bike, you practically fly past standstill traffic. It is also the most practical and economical way of getting around the metropolis. Those who already commute this way (like myself) know this. Of course, there are a few limitations: Finding a safe parking spot is always a challenge, and you're constantly lugging a change of clothes around. But clever bike commuters will find a way to overcome these challenges easily.
For non-cyclists, though, hopping on a bike to get around during a workday is just unimaginable. Used to the comforts of air-conditioned buses and taxis, they'll complain about being exposed to sweltering heat or torrential rains. The uneducated and the stuck-up will turn their noses, deriding the bike as a poor man's ride. Safety-oriented individuals usually assume that riding a bicycle on a public road is downright dangerous.
Continue reading below ↓
Recommended Videos
Only the last reason is something other than pure bullsh*t, so I can't help but pat the MMDA's back for the creation of bike lanes along some major thoroughfares. This valiant effort hopes to increase foot and bicycle traffic, and decrease vehicle congestion and pollution. The newest bike lanes are the 2.105K stretch on the northbound lane of EDSA from Ortigas to Santolan, and the 982.6-meter one on White Plains from EDSA to Temple Drive. The other established lanes are on Remedios Circle in Malate, Manila (3.15K); Marcos Highway from Evangelista Street to Sumulong Highway in Marikina City (9.14K); southbound EDSA from Magallanes to Ayala Avenue in Makati City (1K); and Commonwealth Avenue from University Avenue to Tandang Sora in Quezon City (2.92K).
Sidewalk This Way
To be honest, these so-called bike lanes are essentially just sidewalks. An avid cyclist already rides on the road alongside cars, buses, and jeeps because it is much safer and faster than riding where pedestrians walk. But I'm not knocking these converted sidewalks—these lanes are actually located in very strategic places.
Thanks to the sprawling organic chaos that is Metro Manila, it is relatively safe to get around using back roads—Quezon City to Makati, for example, can be cut through via New Manila and Mandaluyong. In a clever way, these bike lanes bridge the gap for newcomers still unfamiliar with alternate routes by providing a safe place to ride in high-vehicle-volume and high-speed areas like EDSA, where riding a bicycle (or even walking, for that matter) is most dangerous.
The bigger question is whether the urban commuter is ready to swing a leg over the saddle and start pedaling. News flash: There's no better time. If you're an uninitiated cyclist, you won't be too shocked when you finally hit the road, as long as you find the nearest bike lanes and use them. It also helps to be prepared (see "Know Your Bike Lanes" and "A Biker's Etiquette"). Bike advocates want to see even more bike lanes created. It would be fantastic for Manila to become a bike-friendly city like Copenhagen or Amsterdam, but the reality is that the roads here are too congested as it is. A bike lane that would begin right outside your house and continue to wherever you need to go is probably asking for too much. Making space for a bike lane that runs alongside vehicular traffic will probably cause a backlash toward cyclists.
Vicious Cycles
As a cyclist in the Philippines, I'm aware of the risks of being on the road. It's just you and two wheels against the world, so anything can happen out there, and the best defense is to be a smart (and fit) bike rider. It takes some guts to ride alongside traffic, but not everyone will want to do that, especially in areas where the risks are greater. So, the MMDA is doing something right by giving cyclists an option. There's plenty of room for improvement. For one, the bike lane, particularly along Marcos Highway, is used as a parking space by some establishments along the road. It would also be nice to see some bike-lane integration with the buses and trains, too. Hopping on and off public transport with your bike will make the commute even easier.
The bicycle grants its owners freedom from gasoline costs and traffic, and the absence of a proper bike-lane system hasn't done much to keep us off our two-wheeled steeds. But now that there are a few designated bike paths in strategic locations, maybe more people will be turned on to go around on pedal power alone. And with "Carmageddon" looming because of the construction of the Skyway extension, riding a bicycle will probably be more enticing than ever.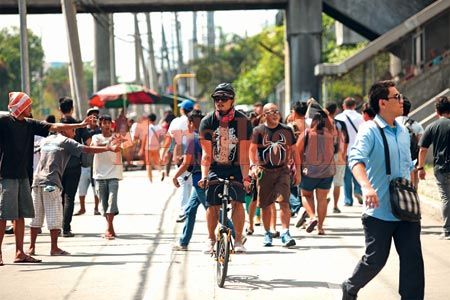 Insane In the lane
Hit Manila's six major bike lanes armed with guts, speed, and this essential intel:
Ortigas to Santolan along EDSA northbound (2.105K)
This section has always been helpful for cyclists who want to avoid the buses that cram the approach to the EDSA-Santolan intersection. Cutting through Camp Aguinaldo without leaving your ID is prohibited. To continue north, we recommend taking the inner roads toward Araneta Center from Santolan after the bike lane ends.
White Plains from EDSA to Temple Drive in Quezon City (982.6 meters)
Staying on the bike lane on White Plains is wise after it gets dark. Motorists tend to accelerate hard and fast on this road after turning right to escape EDSA gridlock.
Marcos Highway from Evangelista Street to Sumulong Highway in Marikina City (9.14K)
It is rare to see cyclists using this bike lane. Hardcore riders doing the climb to Sierra Madre, Bugarin, and Antipolo Church would rather cycle beside the Marcos Highway center island. Still, this lane is one of the best when it comes to signage, size, and surface.
Magallanes to Ayala Avenue along EDSA in Makati City (1K)
This is a helpful lane for those who want to ride southward. It bridges the gaps from McKinley, Pasong Tamo, and beyond.
Commonwealth Avenue from University Avenue to Tandang Sora in Quezon City (2.92K)
Commonwealth is a war zone. Use the lane if you can, but if you're heading to Novaliches, La Mesa Dam, or Norzagaray, you have no choice but to dice it out with crazy public-transport drivers.
You can and will get stuck in standstill traffic beside jeepneys, cars, and tricycles. Still, the bike-lane network in this city is one of the best. Just avoid the major roads; lanes outside of the city center lead to hidden pockets of natural beauty.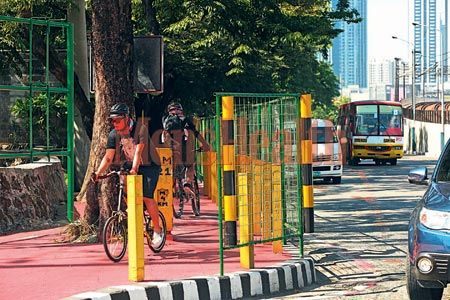 A Biker's Etiquette
5 simple rules to live and bike by
1. Keep your cool. If you get cut off, avoid road rage. Don't have a superiority complex because you ride a bike. The road is meant to be shared by everybody.
2. Adjust your speed. It can't be helped that the bike lane will be used as a parking area or a sidewalk, based on the prevailing conditions. If you use a road bike and ride quickly, it is probably safer to stay off the bike lane.
3. Follow the rules of the road. Do not ride down one-way streets or run red lights. Doing so increases your risk of getting hurt. It also makes the rest of the bikers look bad.
4. Keep a good distance when riding beside parked cars. Drivers might open their doors. Be aware of this so you don't get "doored."
5. Show respect for everyoneyou share the road with. There's no need to be the king.