10 o' clock in the morning, on a weekday, in a gym. By all rights, this place should Be deserted.
But this gym, just off the side of Marcos Highway and a block away from the best post-workout pancit you'll ever have in your life, is alive. Not prettily, either. It's all humid concrete and muffled dance music and people who are too busy lifting iron to take a fitness selfie. Every corner is packed with equipment, and the layout leans toward the jam-packed. There's a tractor tire squatting under the monkey bars. The dance-cum- Zumba-cum-yoga studio is wedged between an MMA octagon and a boxing ring. If, in an unfortunate and unlikely accident, you Tarzan off the suspension trainers and over the second-floor railing, you'll meet your end at the foot of the rock-climbing wall.
Right now, Fil-Am model John Spainhour is on those jiggly vibration plates, trying to keep both his balance and a straight face. "I guess I'm going to learn how to twerk?" he asks. Stepping off, he says, "This is a really good place. My usual gym just has weights. Sometimes, one of the trainers hangs up a TRX, so I get to use them from time to time. But this place has lots of stuff." He shrugs. "It's too bad it's so far."
Continue reading below ↓
Recommended Videos
Later, shirt off, he stacks 20-kilogram plates on both ends of a barbell, and, with a huff, cleans it off the floor. His face contorts momentarily, then goes back to its usual good-humored slackness. We've got the full cover-shoot setup going, and our photographer's two light banks pop and flash with every click.
"One more?" requests the photographer.
Spainhour obliges. We're smack in the middle of the gym. A couple of people steal momentary looks, but, unusually for a cover shoot, no one sidles up to stare. They're just too busy working out, man.
BULLSEYE
For the promotional rounds of the 2012 Century Tuna Superbods competition, the marketers had the bright idea of going with a military theme, decking their contestants, male and female alike, in fatigues. Even endorser Anne Curtis got into the act, playing camo-cute with a khaki one-piece and an olive-green beret. Instead of shirts, the guys had on dog tags.
It turned out to be a self-fulfilling prophecy. The guy who ended up winning, John Spainhour, had actually volunteered in the US military, and served for five years in the US Marines. His dog tag had been more than just decoration for his pecs.
"It's a special breed of people," says Spainhour of the Corps. When he graduated boot camp, his marksmanship score was the highest in his class. The Marines then sent him to Sniper School, generally acknowledged to be one of the toughest in the world with a 60-percent dropout rate. Before he left the military, he was just a point away from a perfect score in his last qualification.
The US military made good use of his skills, deploying the sharpshooter to Iraq as a scout sniper. So yes, he's been in combat. Multiple times. "If you put us with people that don't do what we do, they won't understand us," Spainhour comments. "They'll actually be kinda scared and would be like, 'These guys are psychos,' but it's just the way we end up."
There's no way sighting a target down a scope and pulling the trigger won't change you. In an anthropological study of Israeli army snipers, however, researcher Neta Bar came upon a surprising conclusion: Snipers might be the most compassionate soldiers in the military. She attributes it to the fact that they, unlike fighter pilots or tank commanders, are looking up close, for minutes at a time, at the people they kill. "The snipers simultaneously deploy distancing mechanisms aimed at dehumanizing enemies and constantly recognize their basic humanity," she writes in her study published in Third World Quarterly.
In addition, the Marines prize certain qualities in their marksmen. "Students should possess a high degree of maturity, equanimity, and common sense," or so goes the Scout Sniper recruitment bulletin. Only the best and most experienced infantry members should apply, it warns. It ends with a final admonition: "There are no second chances at the school." But there are second chances in life. And Spainhour took it.
IN FIGHTING CONDITION
Spainhour is soft-spoken to the point of almost not speaking at all, so it's hard to believe he used to be a Marine sniper. You imagine a granite-faced, stone-cold soldier; instead, the guy has a sheepish smile and a self-deprecating sense of humor, the kind that makes him go up the monkey bars at the tail end of our shoot—and hoot like an ape.
Just seconds before, he'd shrugged off 60 kilos in a power clean and a front squat and press. "In high school before I joined the military, I was really skinny," he remembers. His body type and sport of choice (cross-country running) couldn't hold onto muscle, and whatever weight he gained slipped away from him like a wet eel.
"In the Marine Corps, though, that's where I made most of my gains," he shares. It wasn't just about the constant physical fitness tests. "I had to worry about other aspects of being fit." That included stuffing a backpack with food, water, and supplies to last a week, and then going on grueling runs...10-, 15-, 20-, 25-mile slogs, multiple times a week.
These days, it's all about the maintenance. "The thing is, it's hard for me to gain muscle and it's also easy for me to lose my muscle," Spainhour says. He hits the gym 3 to 4 times a week, and despite leaving the Marines, he still tries his damnedest to make sure his strength, power, and conditioning still pass barrack-inspection standards.
He focuses on free weights most of the time, though he occasionally likes to pick up a sledgehammer and slam it across a tire. Like any guy who works out, he considers leg day a nightmare; his marksman's patience doesn't apply to lower-body workouts. "When you work out chests, in your arms...you could feel it immediately. I've never really been motivated to do legs because it's not something that you see often," he confesses. He has also cut down on the cardio, because "there's no big need for it in modeling."
Ah, modeling. To anyone else, the story of a soldier who, after five years of fighting in the war in Iraq, traveled to the other side of the world in order to be a model is probably a strange, inexplicable yarn. To Spainhour, it's pretty straightforward: He just packed his bags and got on the plane. "I figured it wouldn't be much harder than being in the military," he says, laughing. "Why didn't I do it sooner?"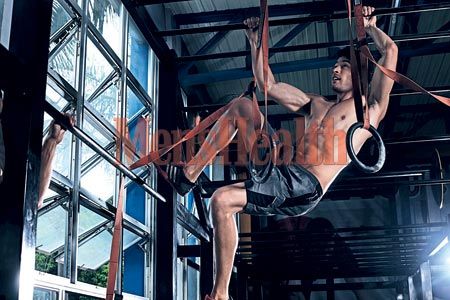 CORPS EXERCISES
One of the Marine Corps' favorite sayings, generally attributed to General William Thornson, goes, "There are only two kinds of people who understand Marines: Marines and the enemy. Everyone else has a second opinion."
Talk to anyone who has ever worked with Spainhour the model (not Spainhour the Marine) and you'll be told he's the quiet type. In parties, he has to be coaxed into the group.
Introversion, he admits, is part of who he is, possibly because his résumé sets him apart from most other people in a room. "I've noticed that in some of the younger models...this is all they know in life," he notes warily. "They haven't experienced what really matters. Some of them go straight into a lifestyle of glamour, with everyone telling them that they're pretty and good-looking because they're doing catalog shoots, fashion, all of this." The ones he considers his closest friends are his old buddies in the Marines.
Runways and fashion shows are a world away from what he used to do, but Spainhour knows he's trained for it all the same. In his opinion, the biggest thing he has picked up from the Corps isn't a high-powered rifle—it's adaptability. "In the military, they don't really hold your hand or tell you how to live," he declares. "They might hold your hand on what they require of you, but in everything else, you gotta really figure out how to do it yourself." He also values the discipline he has picked up on the field. It's his biggest wartime souvenir.
As second shots at careers go, Spainhour the sharpshooter is on target, as always. Despite his easygoing humor and photogenic new job, he can't help but be true to the jarhead in him. "Once a Marine, always a Marine," goes another favorite Corps saying. Much has been written about the defining culture of the leathernecks. They are at the forefront of every war or zone of conflict (it isn't Army units, for example, that guard US embassies in foreign lands), and both training and culture combine, as military columnist George F. Will observed, into the "cultivation of an ethos [that produces] hard people in a soft age."
The shoot-slash-exercises done, Spainhour tears through the post-workout pancit like tissue paper. In a few hours, he'll head off, through gridlock and humid summer rain, to a press con, where he'll be announced as the Philippines' bet to Mister World 2014. The day after, he'll fly to London to compete. Spainhour has survived the war, but even here in the home front, every day is just one more battle.
SO YOU WANT TO BE A SCOUT SNIPER?
To get into US Marine Sniper School like John Spainhour did, you need to make the cut in a ton of requirements, including 20/20 vision, a clean muster record, and an expert-level qualification in firing rifles. There's also this physical test:
To get a perfect score
3-mile (4.8K) run in 18 minutes
100 situps/crunches in 2 minutes
20 dead-hang pullups (no swinging or kipping)
For most fitness beginners, one pullup is already the ultimate challenge. What more 20? Andrew Benibe, fitness trainer at Maic's Gym in Marikina, gives these tips to improve your hang.
1. Start with a chin-up, meaning an underhand grip. "Medyo mas madali compared sa overhand. Sa overhand, mas magwo-work sa iyo yung lats eh. Pag underhand, biceps. Kahit beginner ka, basta may strength ang biceps mo, pwede na."
2. Do simple hangs. "From there, slowly go down and stretch your arms. Try it for a couple of reps. Do it every day or every other day, but don't overdo it."
3 . Work on your grip. "Hang on a bar and time for 1 or 2 minutes. Do wrist curls para magkaroon ng strength ang forearm."
BUILD MILITARY-GRADE MUSCLE
These four exercises—two that build strength, two that build explosive power—will prepare you for your daily battles. Their functional movement ensures that you won't just look good, you'll perform more effectively, too. Take some pointers from strength and conditioning coach Christian Dominguez, M.S., C.S.C.S.
a. Barbell Cleans
This a very complicated and technical move. An explosive exercise, it mimics a jump—there's the triple extension of your ankles, knees, and hips to lift the bar up, then the pull to heft it up to your shoulders, and, finally, a catch.
Watch For: Be mindful of your form in the last phase. "When you do barbell cleans, the bar should be rested on the shoulders," Dominguez recommends, "and the elbows should be pointed forward."
B. Suspension Chest Press
"This is an upper-body, horizontal push," says Dominguez. You're hanging from ceiling-hooked straps, though, and this instability will involve your core, since you have to steady yourself.
Watch For: "What you see in a normal push-up should still be seen here," Dominguez stresses. That means your butt shouldn't be sticking up. Too hard for you? Adjust the difficulty by getting into a more upright position.
C. Barbell Front Squat to Press
"Ang maganda sa kanya is that it builds maximal strength," comments Dominguez. With the heavy weight of the barbell, the front squat to press is a controlled compound exercise that moves your entire body, working the glutes and the quads before moving upward to hit every other major muscle group, ending in an upward press that activates your shoulders and core.
Watch For: "If you can, make your buttocks a little below parallel when you start," Dominguez suggests. "You can maximize your strength."
D. Medicine-Ball Slams
Another power move, medicine ball slams target your upper body for a good shakedown. "This is a really good exercise that you can give to soccer players for their throw-ins, basketball players for passes, and martial artists for slams and throws," describes Dominguez.
Watch For: Remember, you have to engage your entire body to reap max benefits. Don't just rely on your arms and shoulders to lift and throw the ball. "Contraction of the abdominals is important," Dominguez says.