SUBIC - A former ice hockey player from Canada was the fastest man in the 2015 ASTC Asian Triathlon Cup held at the Subic Freeport on Sunday.
Racing in the Philippines for the first time, Tyler Mislawchuk crossed the finish line in one hour 47 minutes and 56 seconds to rule the men's standard elite race, 20 seconds ahead of Daniel Coleman of Australia who was just ahead of another Canadian, Alexis Lepage.
The 20-year-old Manitoba native swam through a school of jellyfish in the warm waters off Malawaan then built a huge gap in the bike stage - enough to hold off his closest pursuers with a blazing finish in the last two kilometers.
"The run part was the most difficult. I struggled through the first half with stomach pains – I might have taken too much liquids during the bike—but I was able to get my breathing down and digest a bit and was able to get back in the second half," said Milawchuk, whose runner's build of 1.7 meters and 125 lbs prompted him to shift from competitive hockey to triathlon four years ago.
Japan's Chika Sato retained her women's elite title with a time of 2:26:30 despite being stung by a jellyfish on her left leg in the swim course. Taking the silver medal was Hideko Kikuchi while Australia's Laura Dennis earned the bronze.
Continue reading below ↓
Recommended Videos
The 29-year old-Sato came second out of the water and managed to maintain her positioning in the bike part before making a move in the run portion by using her knowledge of Subic's streets and corners.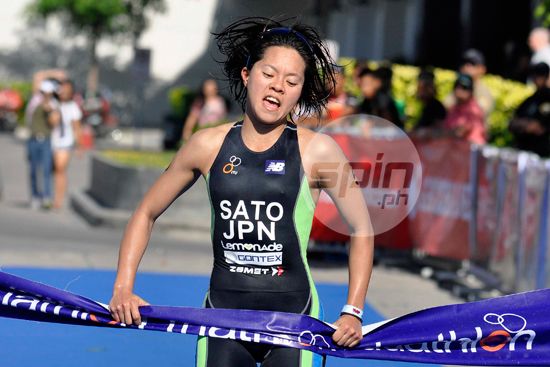 A total of 66 international elite athletes took part in the annual race on a standard race course covering a 1.5km swim-40km bike-10km run that also serves a qualifying event. The ITU-sanctioned event also had sprint and mini-sprint distances.
Olongapo's John Leerams Chicano and recently arrived Fil-Am Kim Kilgroe led the Filipino effort in the absence of several members of the national team who are currently training overseas for the upcoming Southeast Asian Games.
Despite being an annual event, this year's Asian Cup was not without hiccups. Several participants complained that there was a lack of adequate control measures such as traffic signs and traffic marshals, resulting in several athletes making wrong turns in various parts of the course, particularly the part leading to Transition 2 inside the Harbour Point Mall.
Qatar-based Alan San Diego said he ran an additional kilometer after a corner sign was blown down by the wind and there was no one to tell him where to go after he went past it.
Other complaints ranged from athletes being refused a post-race meal by organizers despite wearing their race bibs, a lack of proper medical staff to assist race participants and marshals leaving their posts in the route despite the race still being in progress.
"I hope (local organizers) could make improvements in future events. We are anxious to uphold a certain level of standards in our races," observed a visiting ASTC official.
SPIN.ph is a media partner of the event sponsored by New Balance, Standard Insurance, Gatorade, Century Tuna, Harbor Point, Ayala Malls, Asian Centre for Insulation, Subic Bay Metropolitan Authority (SBMA) Tourism Department, Subic Traveler's Hotel, East West Building Technology, Inc., Resort's World Manila, Camayan Resort, Ocean Adventure, The Lighthouse Marina Resort, Seafood Island, Magaul Bird Park at Jestcamp, OGIO, PTT, StatMed, Omega Pro, 2Go Express, RaceDay, Kikay Runner, SBR.ph, Multisport, PinoyFitness.com, Travelife Magazine and XPS TV.