AND the technical term you use for the aerial maneuvers you do on the pole are called 'tricks?' Seriously? After the affirmative reply, my juvenile mind lets out a snicker followed by the expected follow-up snide comment, 'So when they spin on the pole, they're actually turning tricks, right?' Of course I know better than to verbalize that in the presence of two hard-bodied pole dancers who could easily kick my sorry ass in between sips of fruit shakes during this interview.
It's the middle of the week just after the workday, and I'm talking to Margaret Jade Chua Lao and Kayleen Ortiz, members of Polecats Manila, recognized as the first organized pole dance group in the Philippines. What business does an active lifestyle blogger have with professional pole dancers, you ask. Plenty. Pole dancing is one tough sport, and after watching just the warm-ups, I was convinced that this form of performing art has both the strength training and the cardio workout needed to keep its practitioners fit and strong. Pole dancing calls for mental toughness as well: the routines (okay, the 'tricks') are complicated as hell, and performing them in front of an audience can be nothing short of unnerving.
Continue reading below ↓
Recommended Videos
Organized Fun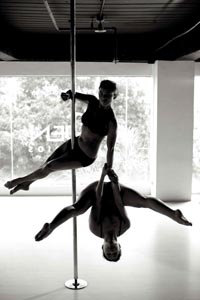 Polecats Manila (PM) traces its beginnings to students at a pole-dancing class three years ago, who shared a common passion, enjoyed each another's company, and wanted to organize themselves to teach and perform what is technically termed aerial art. An eclectic mix of personalities ranging from ballet dancers and artists to debaters and nine-to-fivers, and with ages ranging from 23 to 37, the 15 (12 females, 3 males) members that make up the Polecats are one, big, happy family where everyone gets along swimmingly. They've managed to keep it that way with an efficient and logical 'all Or nothing' policy where taking in new members of the troupe is concerned. The group must be unanimous in its decision to accept a new member — a single 'nay' vote bars entry into this exclusive club. And apprenticeship is strictly by invitation.
Students learn discipline from the get-go. Promptness is a must, and latecomers are barred from attending class for the reason that missing the warm-ups at the beginning could and would result in injuries during the session. There's also the reason of common courtesy, since everyone else makes the effort to come on time.
Professional and Progressive
Beneath the sunny and bubbly exteriors lie professionalism and progressive thinking where the business of pole dancing is concerned. There's work to be done, and each of the members has her/his responsibility in running this tight ship of highly energetic and naturally cheerful individuals. Everyone seems to have a job assigned, and hearing Margaret and Kayleen rattle off the names and positions made me aware that this is more than just your ordinary dance company. To name a few, duties include company manager, project head for apprenticeship, head choreographer, studio development manager, creative director, business development, finance, and trainer. There's also pole dancer.
With the way they run their company, it shouldn't come as a surprise that PM has their entire 2013 calendar of events planned out, and has a mission/vision to stand on.
To stay ahead of the curve, PM members enhance their knowledge by taking classes from visiting experts or from trips abroad. The result: new tricks and routines to teach and more groundbreaking introductions into other aerial art forms, such as the recently introduced Silk and Hoop variants. And as much as it is organized fun, that doesn't stop the Polecats from looking to do something different each time they perform. Ever seen an entire pole dancing show with a philharmonic for musical accompaniment? Didn't think so.
The Student Body and Beauty Hazards
Students' ages range from 15 (chaperoned by her grandmother to every class) to 60, boasting of the wide appeal of this challenging dance/fitness form. The classes culminate with a recital that has the students excited over performing for their friends and family. In keeping with their 'daring to be different' spirit, previous years' recitals have featured burlesque and rock themes, with Broadway as this year's chosen motif. Then there's the inspiring anecdote of the plus size model who found her happy place in pole dancing, as this was one activity that she could simultaneously enjoy doing as well as excel at, having tried various sports in the past that didn't agree with her generous physique.
Is there a certain body type or conditioning needed to excel in pole dancing? Big thighs are an advantage (see plus size model) as they grip the pole with more surface area. A strong core and powerful arms are also a plus, which explains why some students supplement their aerial art classes with yoga and body weight exercises. Sweating is not good for pole dancing as it reduces surface tension resulting in the dancer slipping and sliding off the pole. I knew there was a reason I couldn't ever join the Polecats.
There are what I would term 'beauty hazards' that go with the territory. The use of skin lotion is discouraged as it lubricates the skin and impedes good gripping action. Am told that most of the company has very dry skin, though I couldn't tell from watching them impress with their twists and turns several feet off the floor. So much for baby smooth skin. Calluses and bruises are also commonplace, though these taper over time, as skill level increases. The most serious injuries include wrist sprains and pulled muscles. I'll take that over motorcycle crashes anytime.
Educating The Masses and Drawing The Lines
In a society that is supposedly liberal but reeks of conservatism, the ill informed's impressions of pole dancing still requires some amount of re-education. Smoky barrooms, skimpily clad women, and 'Total Eclipse of the Heart' blasting through the sound system are stereotypical images that are part of the challenge that the Polecats face, which they are tackling head on. It's during their public performances and regular classes that they are able to correct the faulty notion that tossing money onstage (an actual experience during one of PM's early performances) or stuffing bills down brassieres or G-strings (no experiences here, thankfully) are de rigueur during pole dancing performances.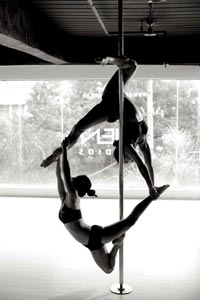 Aren't you afraid of getting approached by more aggressive members in the audience who are not satisfied with just watching during your performance? No, comes the answer — we're more afraid for them, since our tricks involve spinning and kicking, which may result in impalement by a boot or stiletto heel.
The Polecats avoid performing sexy and seductive tricks, opting for more acrobatic routines that highlight both the beauty and skill that come with pole dancing. PM is also most careful about the projects or gigs they accept. They've done mostly corporate accounts, and have been invited back to some, proving that the appeal of pole dancing is not a one-off affair. PM will not accept invitations that will compromise their company's image; these include men's magazines or consumer products that promote promiscuity as perceived by the public (e.g. condoms, erectile dysfunction treatment drugs). Surprisingly, it was an alcoholic beverage brand that hired the Polecats that turned out to be most conservative where their routine was concerned. The client required a dance check, which stipulated later that costumes had to cover torsos and the performance would not include any 'open leg' tricks.
Meet The Police
The Polecats aren't without their ready and able support crew. Spouses, boyfriends, and family members affectionately called The Police (pronounced 'Pole lease'), form a formidable foundation that assists, protects, and promotes the group in their respective capacities and capabilities. Screening of members is as stringent as Polecat membership, following the 'all or nothing' unanimous vote policy. The Police have been indispensable as consultants, engineers, cheerleaders, and in Margaret's case, musical accompaniment. An accomplished concert pianist and proud of her daughter's dance career, Margaret's mother, along with a soprano, accompanied Margaret in one of her pole dance routines.
Working It and Making It Work
I watch in amazement as the 10 Polecats members hoist themselves on their poles (which incidentally have personalized names), twisting and turning like graceful serpents slithering up and down bamboo stalks. The suppleness of their bodies and technical agility of their tricks are products of hours of practice and rehearsal, of putting in the hours and ignoring the time it takes to get each routine right. There is more pressure in synchronized pole routines, especially when working in pairs, where your partner's safety is literally in your hands. There is more flexibility in solo numbers, where improvisation and ad-libs are essential to enhance a performance and/or cover mistakes.
Both Margaret and Kayleen are surprised at how much and how fast their once small group of friends with a common passion has grown, and they have every reason to celebrate another year of practicing and promoting aerial art. After listening to them talk non-stop about their love for this lifestyle, it isn't hard for me to appreciate how they and their fellow members have stayed hooked on pole dancing and its related forms. And it's also no wonder that their tribe continues to grow.
The Polecats are an outstanding case of what happens when you have enough passion and purpose to turn what you love into what you live.
--------------------------------0---------------------------------
Polecats Manila offers classes at the Wellness Alliance located at the 22nd floor, Strata 100 Building, F. Ortigas Jr. Avenue, Ortigas Center, Pasig City.
Contact Info
Mobile: 0917-700-POLE (7653)
Facebook: facebook.com/polecatsmanila
Web Page: www.polecatsmanila.com