REPORTS are in, and they're all positive: Tiger Woods is back, and he's said to be hitting the ball pure and long again.
We'll see for ourselves, tomorrow, Friday, when Woods begins another comeback as he plays the Hero World Challenge in Nassau, Bahamas, where he tees off with 17 other professionals, all current stars of the game.
We wait with anticipation and trepidation. Since he left the game with a back injury four years ago, Woods has made several comebacks, the last of which was last February. In all of them, Woods either had to withdraw or cut short his return. Many have given up hope he would ever return, or, if he did, if he could ever play at the level that made him one of the world's most intimidating athletes.
"Not only did he beat people physically, he destroyed the guys in his group mentally. They completely unraveled," said Patrick Reed, recalling the Woods of old.
Reed will be one of 18 players in Nassau and has said he'd love to see Woods play at the old level again and give him a chance to compete against it.
Justin Thomas, 24, ranked third in the world, was equally profuse with praise after seeing Woods during a practice round. "People are going to be shocked at how good his game looks," said Thomas, winner of the PGA Championship and the FedEx Cup this year.
Thomas will have the best seat in the house for Tiger's return. He's been chosen by Woods to be his playing partner in the tournament's first two rounds. There will be no cut in the unsanctioned PGA event, and Woods is assured of playing four rounds. This is, of course, assuming his back holds.
More compliments came after Tiger gave the world a glimpse of his progress from back fusion surgery last April, his fourth operation since 2014.
World No. 1 Dustin Johnson, who played with Woods last week with fellow professional Brad Faxon and President Trump, said: "His speed was back. He played a lot better than he did in San Diego, for sure." Johnson was referring to the tournament early this year where Woods was cut after just two rounds. 
Johnson added, "He's healthy. To me, he looks strong. He's swinging with speed."
Woods himself admits that he is not the player he was many years ago. Age has caught up. In his words, "Father time has won again."
But no one is counting Woods out — not his rivals and not Tiger himself. He badly wants to turn back the clock, which is unlikely, but not altogether impossible.
It is hard to take the fight away from a guy who has won 79 times on the PGA Tour, including 14 major championships. He also appears eager to play against the millennials whose games he inspired — the very same young golf stars who've been waiting to pit their best game against his.  
Tiger's caddie Joe LaCava, trying to read his boss's mind, said Woods will probably see the coming tournament as "unfinished business."
The young stars, he said, made names for themselves during Tiger's long absence and have never competed alongside Tiger. 
"I think he wants to show how it used to be with me," LaCava said in a New York Times interview.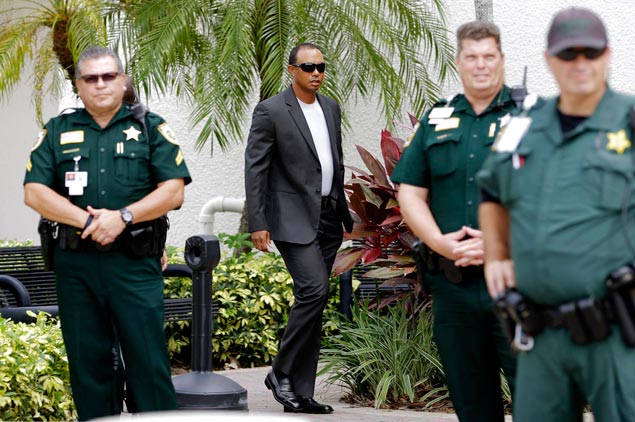 During a press conference last Monday, Woods also said he is playing for his two children, Sam, 10, and Charlie, 8. He said the kids were very young when he was at his prime, and so have never understood, nor appreciated, what their dad was about, except for what they saw on YouTube.
Now that they're older, Tiger feels it's time to show them how it used to be for their dad.
"I want them to see what I've been able to do my entire career," Woods told reporters. "I don't know how long I'm going to be playing, but I want them to come to a few events, I want them to feel it, I want them to understand it a little bit more."
There will be no circus-like crowd in the Bahamas, but the golf world will surely stay tuned in to watch, one more time, whether Tiger's comeback will be the mother of all comebacks.
Whether he wins on Sunday is not important. What many want is to see Tiger finish the tournament in one piece, with no pain, no back issues. To Tiger fans, all he needs is to keep playing, and that's a victory right there.