KIAWAH, South Carolina — Think all grasses are the same? Not for the world's best golfers at the PGA Championship. Many won't be sure what they're facing with The Ocean Course's paspalum surfaces.
The course was switched to seashore paspalum grass in 2003 because of upkeep problems caused by its next-door neighbor, the Atlantic Ocean.
"Paspalum is a grass that I'm not sure we've ever played a (PGA) Tour event on before," Luke Donald said this week.
The world's No. 1 player better adjust in a hurry. For all the talk of super-sized titanium drivers and long putters, the biggest factor in the year's final major might just be who successfully figures out the seaside layout's paspalum fairways and greens.
Count Rory McIlroy, the 2011 US Open champion, among those with an edge. Not only did he successfully spell paspalum during Wednesday's media session, he often plays on the surface at The Bear's Club in Florida. "So it's actually quite nice," he said.
Even better, McIlroy said, is that paspalum has more grip and lets him freely fire at pins without worrying he'll roll too far past. "It just really grabs the ball. So you can be aggressive with your chip shots and definitely (be) aggressive with your wedge shots, too," he said.
Paspalum was the perfect strain for The Ocean Course, said longtime superintendent Jeff Stone. The course was built by Pete Dye for the 1991 Ryder Cup, but the Bermuda grass used then — while superfast and responsible for one of the most dramatic cup matches in history — could not withstand the waves and ocean spray that continually carried salt water onto the course and leeched into the irrigation system.
A heartier grass was essential if The Ocean Course hoped to re-build its championship credentials. Dye, Stone and others settled on seashore paspalum, a grass that withstood ocean elements.
Turf grass researcher Ronny Duncan traced paspalum's East Coast origins back hundreds of years to the slave trade of the 1700s and theorized it arrived on Southern shores off slave ships, according to the University of Georgia's Research Magazine.
Duncan found evidence of paspalum grass in several ports where slave ships regularly landed, including Sullivan's Island near Charleston, South Carolina.
"I feel total confident that's how these fine-textured grasses came to the United States," he said.
Duncan told The Associated Press by phone Wednesday that he regularly gets calls from course owners and architects interested in adding paspalum. The advantage, he said, is it can flourish in both fresh water and salt water, sort of like a hybrid car engine that performs with gas and electricity. "That sort of makes it the new kid on the block," Duncan said.
For those seeking the Wanamaker Trophy this week, all that matters is playing the paspalum in as few strokes as possible.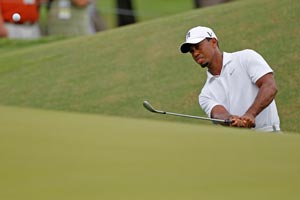 Tiger Woods practiced at The Ocean Course on July 31, the day after about two inches of rain fell. While conditions were soft and squishy, the four-time PGA champion didn't wind up with many mud balls in the fairway. He also found the greens solid and able to hold.
"Having paspalum greens is different," Woods said. "I've only played on paspalum greens one time. But they drain great. They are going to be firm."
Stone, the course superintendent, said about six inches of rain has fallen on the island the past two weeks—something that might've worried him if his greens were grown with Bermuda or bent grass. "I don't have to worry about this," he said. "We'll be fine."
But what about the players?
US Open champion Webb Simpson says changing surfaces from course to course make it necessary to study a little agronomy along with your short game. While the US Open at The Olympic Club featured slick, glass-like greens, Simpson expects truer, slower rolls at The Ocean Course. "But at the same time, you can look too hard into it," he said. "So it's all a balance of trying to figure out the kind of in-between."
Adam Scott, the British Open runner-up, said most professionals practice on courses with slower, paspalum greens and won't be that surprised by what they find on The Ocean Course. "It's very consistent," he said. "So if you can adapt to it this week, there's no reason why you can't play well on it."