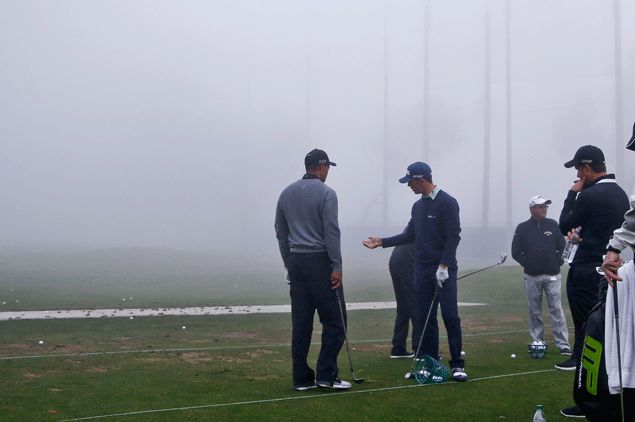 SAN DIEGO — Tiger Woods is at Torrey Pines and the center of attention, just like always.
Just not like this.
Woods was on the practice range on Wednesday morning at the Farmers Insurance Open, working with swing consultant Chris Como. Billy Horschel and Pat Perez looked on, not in awe, but as though they wanted to help. The pro-am was delayed two hours because of fog, which was only fitting.
Woods looks lost right now. At the very least, the view is blurred.
And returning to a golf course where he has won eight times, including a third U.S. Open title in 2008, hasn't raised anyone's hopes — maybe not even his. It was rare to hear Woods talk so openly about trying to get his game in shape for the Masters, which is still two months away.
"The whole idea is to make sure that I'm ready for Augusta, so I got a lot of rounds to play between now and then," Woods said.
He is coming off an 82 at the Phoenix Open, the worst score of his career, to miss the cut by 12 shots. In his previous competition at the unofficial Hero World Challenge, he tied for last in the 18-man field. Before that, he missed the cut at the PGA Championship.
Woods used to look unbeatable, especially on a course like Torrey Pines. At the moment, that's not the case.
"Everyone out here is human," Rickie Fowler said. "We all understand the struggles out here as far as good golf and bad golf and the ups and downs of the game. That's just part of the process if you're working on new stuff or just having a bad day."
"I hope he turns it around," Perez said.
Woods was at the peak of his powers in 2008 when a caddie stood behind the 18th green at Torrey Pines to watch him finish up a 67 on the South Course in the opening round. The caddie said, "He just won two tournaments with one round." Sure enough, Woods won the PGA Tour event by eight shots that week, and then he won the U.S. Open that summer on a left leg that was in shambles.
ADVERTISEMENT - CONTINUE READING BELOW
Even two years ago, Woods destroyed the field at Torrey Pines when he was leading by eight shots on the back nine until play became so slow that he rushed his way in, dropped a few shots and only won by four.
That now seems like a long time ago.
Even though it's February, Woods might be at a critical juncture when the Farmers Insurance Open gets started Thursday. Another poor performance, especially with his hard-to-watch short game, and the criticism and analysis is only going to increase. Worse yet, his tournaments might decrease.
Woods has plunged to No. 56 in the world and is not eligible for the World Golf Championship at Doral next month. He typically would play the Honda Classic and Doral in consecutive weeks in south Florida, take a week off, play Bay Hill and then have two weeks off before the Masters.
If he doesn't qualify for Doral, he would have only three tournaments — all of them with 36-hole cuts — before Augusta.
"If I happen to play well enough to get into Doral, then great," Woods said. "I got four more rounds there. If I don't, then still trying to peak for Augusta. ... But I have to go out and earn my way there (Doral). I'm just going to have to play better than I did last week."
The road to the Masters has never looked like such an uphill climb.
Phil Mickelson, a three-time winner at Torrey Pines and the longest rival to Woods, isn't quite ready to write him off.
"I think that Tiger's going to have the last laugh," Mickelson said Wednesday. "I think that his short game, historically, is one of the best of all time. I think his golf game is probably the best of all time.
"I just don't see that lasting more than a week or two."
ADVERTISEMENT - CONTINUE READING BELOW
Woods starts on the North Course with Horschel and Fowler. The North Course used to be the easier of the two courses. For Woods, nothing has come easily of late.