DEL Monte's Reymon Jaraula buried two long putts to achieve a dream championship, one that sent the playoff to another hole and another beating multi-titled Tony Lascuña to claim the ICTSI Pueblo de Oro Championship on Saturday in Cagayan de Oro.
On a course that provided all the ingredients to an ending replete with thrill and suspense and marked by shift in fortunes, Lascuña appeared all set to snapping a long title drought with a victory on the first playoff hole until Jaraula drilled in an improbable par-saving putt from 26 feet to force extension in the P2.5 million sixth leg of the 10th season of the Philippine Golf Tour.
On their third trip on the 418-yard No. 18 in the day, both hit their approach shots in almost the same distance, some two pins atop the hole with Lascuña putting first that came inches short. Gaining a good read from that Lascuña flubbed bid, Jaraula deftly stroke the putt that gathered steam on its downward slope before disappearing into the cup, sparking a wild celebration from a gallery that had backed up the Del Monte find who calls Pueblo de Oro his home from Day One.
"I just couldn't believe that I finally won," said Jaraula, who kept on trying to put it all together in a fruitless chase for a maiden crown since he broke into the pro ranks in 2013.
But he used as motivation his meltdown at Aboitiz Invitational at Wack Wack last week which he led through 36 holes before winding up joint eighth with disastrous 76-77 in the last two rounds.
At Pueblo de Oro, he nailed the elusive win and joined the elite circle of winners on the Philippine Golf Tour, with a P450,000 check in hand.
Lascuña finished with flourish in regulation, pulling off a couple of chip shots in the last four, including an eagle on No. 15 and the last for birdie on the 72nd hole that spiked his closing 67 and tied him with Jaraula, who carded a 70, at 17-under 271.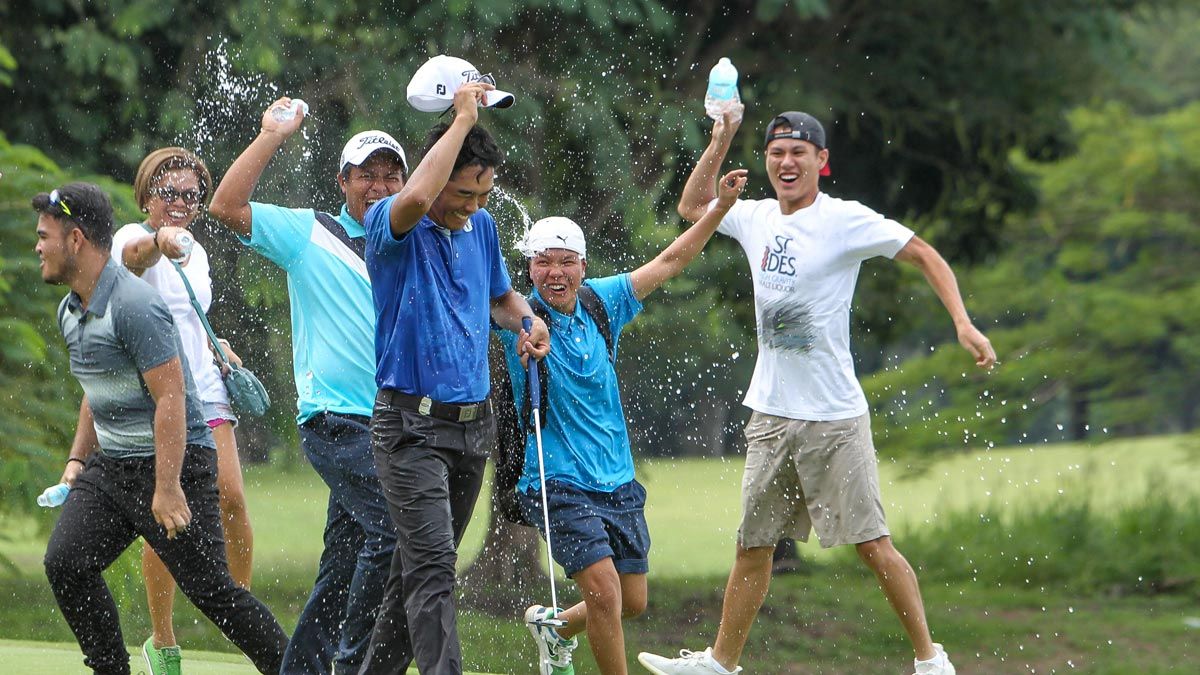 After Jaraula missed the green on the first playoff hole and chipped over three pins short of target, the amiable Davaoeño ace reached No. 18 in two for a birdie chance from 12 feet. But Jaraula rolled in that pressure-packed putt from long range, stunning Lascuña no less while the gallery erupted.
Lascuña cracked and missed his putt, firing up Jaraula and the crowd all the more and leaving the former winless since Forest Hills in 2017.
"That was a long putt. But that's golf. I thought I hit it right on the second playoff hole but it fell short," said Lascuna, who settled for P295,000.
In command with a birdie-birdie start, Jaraula played cautiously in the finishing holes, enabling Lascuña and at least two others to stay in the title hunt.
"I tried to play it safe, knowing that I'm in control but Lascuna made some clutch shots in regulation," said Jaraula. "But I stayed focused and tried not to let the pressure take the best of me. I took some gamble shots and aimed for the pin in playoff and they paid off."
Jhonnel Ababa tied Jaraula at 16-under in one stretch but stumbled at the finish and finished with a 67, the same output by Ira Alido as they fell short by one stroke to join the playoff. They shared third place at 272 and received P151,250 each.
Jay Bayron struggled in the final round and groped for a 73, dropping to joint fifth at 276 with Albin Engino and Michael Bibat, who shot a 68 and 69, respectively, while Zanieboy Gialon rallied with a 68 to end up solo eighth at 277 with Johvanie Abaño ending up ninth at 278 after a 72.
Thai Kammalas Namuangruk proved as the lone foreign player in the top 10, fighting back with a 68 to finish tied with Ferdie Aunzo, who matched par 72, at 280 in the event organized by Pilipinas Golf Tournaments, Inc. and backed by Custom Clubmakers, Meralco, Champion, Summit Mineral Water, K&G Golf Apparel, BDO, Sharp, KZG, PLDT and M.Y. Shokai Technology, Inc.
Recommended Videos