ANGELO Que had a fine start in the morning highlighted by an 18th-hole birdie, Tony Lascuna made a late afternoon charge that went awry with a final-hole bogey, and the two veterans wound up tied for the lead at 70 after Wednesday's first round of the Wack Wack Championship.
The two stars remained hot after their showdown in the Asian Tour season ender in Malaysia where they tied for fifth place behind European Ryder Cup star Sergio Garcia, overshadowing the chasing pack of Charles Hong, big-hitting Orlan Sumcad, Solomon Gines and James Ryan Lam at 71.
"The conditions are good, the fairways are great and the greens are perfect. Wack Wack did an excellent job of maintaining this course," said Que, who had two runner-up finishes at Eastridge and Southwoods while spending most of the season campaigning on the Asian Tour.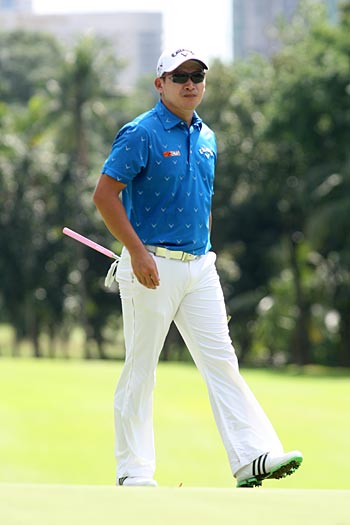 Que, thrice a winner on the Asian Tour including a Philippine Open romp at Wack Wack in 2008, birdied the last hole for nines of 34-36 in the tournament offering P450,000 to the winner.
Lascuna, looking to seal the top spot in the Order of Merit, strung up three birdies from No. 3 but fell that final-hole bogey to end up with nines of 33-37 in the final leg of the 15-stage circuit organized by Pilipinas Golf Tournaments, Inc.
Despite his last-hole mishap, Lascuna is he is happy with his round.
"I just felt good out there," said Lascuna, who underwent a swing change midway through the season. "I'm really confident now and playing well with my new swing."
Sherwood and Aboitiz Invitational champion Elmer Salvador, the only one in the field who could steal the overall title from Lascuna, had a 72 that was matched by defending champion Frankie Miñoza, Carl Santos-Ocampo and John Salvador.
Jay Bayron, who topped the Asian Development Tour's Order of Merit, shot a 73 as did Terence Macatangay and Arnold Villacencio.
Zanie Boy Gialon, a two-leg winner this year like Lascuna and Salvador, turned in a 74 after bogeying two of the last three holes and shared 15th spot with Dante Becierra, Christopher delos Santos, Clyde Mondilla, Joenard Rates and Rey Pagunsan.
Teenage star Miguel Tabuena, winner of two legs this season, bogeyed three of the last six and tumbled to joint 25th with a 76.
Juvic Pagunsan, winner of four legs last year, hobbled with a dismal seven-under 79 in the event sponsored by International Container Terminal Services Inc. and backed by Empire Golf, Titleist, Footjoy, Callaway, TaylorMade, Mizuno, Srixon, Nike Golf, Custom Clubmakers and Sharp with Balls, Studio 23, Pinoygolfer.com and Inquirer Golf as media partners.