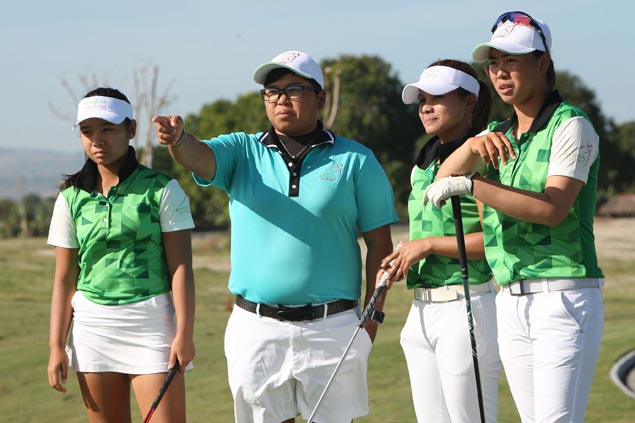 ALL eyes will be on Yuka Saso as the Filipinas try to equalize with Team Southeast Asia in the Pradera Verde Ladies Challenge 2 starting on Monday at the Pradera Golf and Country Club in Lubao, Pampanga.
Winner of the Philippine Ladies Open champion and the Greenfield leg of the Ladies Philippine Golf Tour, Saso will try to cap a brilliant two-week display of individual skills with a victory in team play.
The visiting squad, featuring some of the best players from Thailand, Malaysia, Singapore and Indonesia, won the first staging of the event by nine points.
Saso did not see action last year and the 16-year-old star is now expected to boost the team composed of Philippine Ladies Open runner-up Mikha Fortuna, Harmie Constantino, Nicole Abelar, Tomi Arejola, Sofia Chabon, Bernice Olivarez-Ilas, Kristine Torralba, Kayla Nocum and 13-year-olds Annyka Cayabyab and Laurea Duque.
The event starts with a scramble in the morning among five teams before play shifts to alternate shot in the afternoon. The two sides will play best ball on Tuesday then back to alternate shot format in the afternoon. The 10 singles matches are set on Wednesday.
"Of course, our goal is to retain the crown. We also have new players and we hope they will blend in well with those who played last year," said Team SEA co-captain Phunampa Pornperapan of Thailand.
"We're optimistic of our chances. Though Onkanok (Soisuwan) is the only holdover from the Thai group plus two youngsters, our team is keen for competition and we are quite positive of our chances to be champion again," said the other co-captain Jantsonn Kan of Malaysia.
Also in the SEA team are Kultida Pramphun and Pinkaew Trachentong, Indonesia's Michela Tjan and 13-year-olds Pimkwan Chookaew and Phannarai Meesom-us of Thailand and Singapore's Shannon Tan, Malaysia's Ashley Lau, Audrey Tan and Zulaikah Nurzian with veteran Winnie Ng.
ADVERTISEMENT - CONTINUE READING BELOW