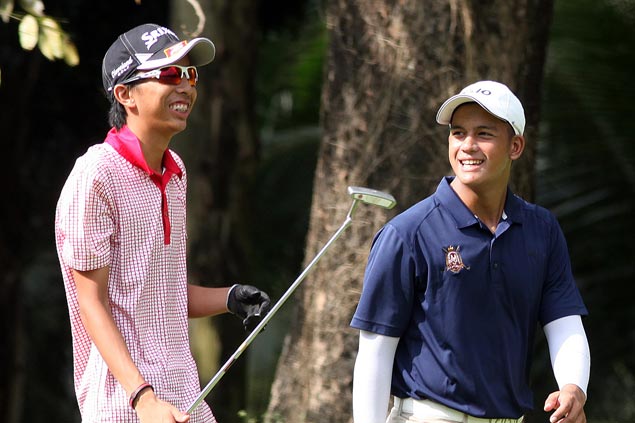 RYAN Monsalve and Lanz Uy look to make it to the top this time in the National Doubles Amateur Golf Championship starting on Wednesday at Camp Aguinaldo Golf Club in Quezon City.
Monsalve and Uy fell short of their bid for the overall crown last year, bowing to the Carl Corpus-Yuto Katsuragawa tandem and settling for the Group I honors in the season-ending tournament of the PLDT Group National Amateur Golf Tour event.
Intense action is expected right on opening day, a four-ball (best ball) format before play shifts to aggregate in the second day with the final round featuring the two-ball, foursome (alternate shot) format in the tournament organized by the National Golf Association of the Philippines.
Monsalve and Uy launch their title drive in the company of Ivan Monsalve and Gabby Macalaguim after the group of Aniceto Mandanas-Carlo Quimson and Paolo Wong-Don Petil.
Others expected to figure in the title chase are Gab Manotoc and Lester Lagman, the father-son tandem of Eddie Bagtas and Leandro Bagtas, Kristoffer Arevalo and Sharon Park, the Dan Cruz-Luis Guerrero team, and Rupert Zaragosa-Adrian Romero.
Harmie Constantino, a national team mainstay, is also seeing action at the flat but tight layout she calls home as she teams up with Joseph Orbito, while Laurea Duque and Sunshine Zhang also look to pull off a surprise in the event.
Others in the field are Santino Gatmaytan-Tomita Arejola, Rocky Brobio-Carlo Gatmaytan, Sean Ramos-Jed Dy, Annika Guangko-David Guangko, Paolo Uy-Justine Magsino, Matthew Abalos-Kristine Torralba, Felicia Medalla-Clare Legaspi.